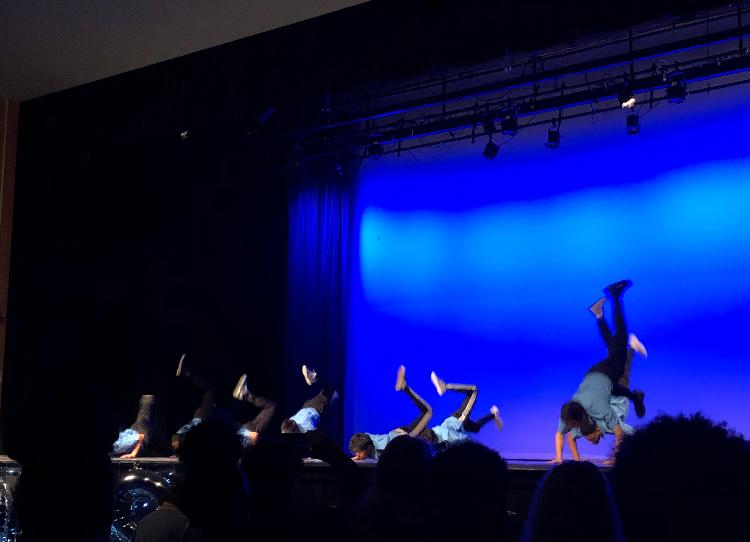 Madel
eMotions Dance Company performed their annual fall show in the auditorium on Friday, Nov 22 in front of a full house of students, parents and family. eMotions' Hip Hop, Modern, Breakdance, and Popping groups performed dances all choreographed by students. 
Senior Alex Pantazopol reflected on his preparation leading up to the show.
 "There was a lot of hard work and weekends spent on choreo and cleaning one dance, plus class time and after school practices. We also put a lot of work into the non-dance aspect of the show, like a photoshoot with Jin Park for the posters and tickets, setting up the auditorium, and figuring out lights and music," he said.
Preparing for a show isn't just fun, he said. 
"It was pretty stressful cleaning dances and fixing lighting and music the day of, but there was also a lot of energy in the team we could feel in anticipation for the show," Pantazopol said. "But it's worth it." 
After his last fall show, Pantazopol said he felt a lot of emotions. 
"It was awesome. Every time we go through a show, it's such a good feeling in the days after, just thinking about it and talking about it with the breakdance guys as well," he said. "This year it's starting to kick in, though, the realization that I'm a senior and not going to have this for much longer. All the extra school work, college apps, and external stress that piles up just makes me realize how much I love dance and am going to miss it. So, with every year I feel like the show feels more passionate for us dancers."