Don Toliver reveals his true self in 'Life Of A Don'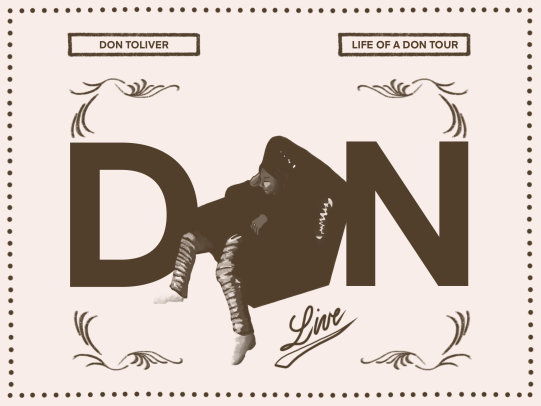 Don Toliver is on one of the hottest runs in the hip-hop industry right now. Signing with Travis Scott's label, Cactus Jack, Toliver shocked listeners with his perfect feature on "Can't Say," a track from Travis Scott's record-breaking "Astroworld" album.
In 2020, he released his breakthrough mixtape, "Heaven Or Hell." The project included two songs that peaked within the top five of the Billboard Hot 100: "No Idea" and "After Party."
Three years after his feature on "Can't Say", the Houston-based rapper announced the follow-up project. His first ever studio album, "Life Of A Don," was originally set to release in July – but got pushed back to the fall.
When Oct. 8 rolled around, Toliver's album was released, and the project lived up to the hype. Did it top "Heaven or Hell" as Don's best album? Not yet, but regardless, "Life Of A Don" has incredible playback value, and is nearly a guaranteed classic.
Separating "Life Of A Don" from his other albums isn't that hard. The flow and melodies are different from what we've been accustomed to hearing. Each song presents an alternate point of view on his life, but each one is different in their own way. Here's the top five tracks from the album:
5. Drugs N Hella Melodies
There are normal melodies, and there are hella melodies. What a name.
"Life Of A Don's" second single, "Drugs N Hella Melodies" features Toliver and Spanish pop star Kali Uchis. The rhythm is probably the most unique in an album full of unique rhythms.
The song combined and compared love and drug use nicely. It's too catchy to not give it a listen, c'mon now.
4. What You Need
The title is basically the focal point of the album.
Despite basic production, the first released song on the album provides a perfect transition from "Flocky Flocky." The chorus is unbelievable and combined with Don's unique singing voice? *Mwah*
3. Crossfaded
"Crossfaded" is the perfect verb to describe this song.
The beat is out of this world, and it really shows the full power of computerized beats. This upbeat tune is provided by futuristic rhythms and a unique flow.
Once again, another catchy song. So catchy that words don't really do it justice.
2. Way Bigger
Prioritizing lyrics worked out in Don Toliver's favor, this song is a future hit.
The song gets off to a fast start – conveying "Life Of A Don's" theme of the fast life. Toliver writes about a girl leaving him for a rich guy, a court case and his supposedly endless money.
His fast rap benefited from using a classic remixed U.K. drill beat. His use of harmonies make this song that much better.
1. Swangin' on Westheimer
This should be the undisputed best song on the album.
"Swangin' On Westheimer" is a tribute to the iconic Houston street and late night adventures. Toliver modernizes an old-school melody which makes listeners like myself addicted. The opening verse starts with a serenade directed to his old girlfriend. "I might lie sometimes, don't believe the hype, babe."
The short-lived introductory verse leads to relaxing synths provided by one of the world's best music engineers, Mike Dean. Just like the previous tracks, Toliver tries to convince his girl that he's the one she needs ("I guess it can't get no easy, I know you need me," Toliver sings). This time, however, he absolutely perfects the rhythm which helps get his point across to the listener.
With that being said …
A classic that possesses playback value with each song having the potential to be on playlists across the nation. That being said …
Despite a lot of competition this year, "Life Of A Don" stands out as a potential candidate for 2021 Album of the Year. For fans of slow paced, wavy music (or Frank Ocean fans), this one's definitely worth the listen.
Leave a Comment