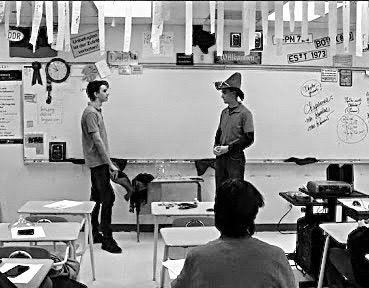 Photos provided by Dawson Benner
Senior Dawson Benner, vice president of the German Club, sat down with a Three Penny Press reporter recently to talk about the German Club and some of his favorite parts of the German culture – specifically his love for German pretzels. 
Why should students join German club?
It's a really good opportunity to not only practice your German but also to meet new people who share your own interests, even if German isn't your biggest passion. That's where I met one of my best friends, who I make music with today. It's a good opportunity to gain speaking practice for the AP exam.
Tell me about the German Club's upcoming plans. 
We occasionally hold events that target speaking. Students are given a topic and they are able to talk about it. They earn speaking points from doing this, which are bonus points for their class. It practices their speaking skills and ability to think on the fly, which is helpful in German and other classes.
What is your favorite German word? Why?
Hopla, because it's a funny word. It means oops or whoops. I remember Herr Rossow, the German teacher, saying it one time when he messed up back in my first year of German. It's become a sort of class joke. It captures the whole spirit of the class. It's really lighthearted, not too focused on mistakes, rather, focused on learning from them and having a good time.
What is your favorite part of German Club? Why?
It has to be the competitions we do. It's a really fun way to bring together students from every level, whether it's their first year taking German or they're a native speaker. We all work together to help the school come out on top. It's nice to see people from different levels collaborating on the same assignment.
What plans do you have for online meetings?
We had our first meeting about a week ago and we had a pretty good turnout, around 15-20 people. We played a Kahoot and we had an online activity where you draw something and people have to guess what it is, sort of like a Pictionary. We plan to continue with our normal events, which include German holidays such as Oktoberfest and other holidays like Christmas. We also learn about German history such as the Berlin Wall. Our meetings focus on talking about the culture and then helping the students learn about it in a fun way, like a game or something collaborative. Luckily, a lot of that we can continue to do online through powerpoints and Kahoots.
What is your favorite German food?
I'm a big fan of their pretzels. When I went to Germany, the pretzels were a lot better than anything I've tasted in the U.S. They were very warm and fluffy. It was also nice because the pretzels tasted the same at every restaurant there, so it was sort of like a symbol of unity in Germany through food.
What personal achievements have you made through German Club?
The last three years in a row we've received second overall in Texas. I participated in group events like scavenger hunts and skits, which we normally place first in, as well as extemporaneous speaking. Our only problem is that we don't have enough students in the club to match some of the other competing schools' numbers. Last year, we had 34 students compete and the school that beat us had 100. I'm always trying to get the lower-level students to compete because a lot of the activities are very fun and are good ways to practice German.