Love for equestrian: horseback riding becomes senior's passion
At age 4, she visited the horse-riding barn, Foxfire Farms, for the first time. She saw an open field of green, luscious grass. Surrounding her were brown, grey and shiny black horses.  They looked like giants compared to her. To her left stood an outdoor arena filled with horse jumping courses. She watched as the professionals soared through the air on their stallions. At this moment she knew she wanted to be just like them.
Senior Miranda Chodzko has been riding horses ever since that eye-opening day at the barn. Chodzko has acquired 16 awards throughout her 10 years of riding. This year's riding season alone, she has won five first place awards and three second place in events like fence jumping.
"It's nice to see that she has found something that she enjoys," Chodzko's sister Cassandra said. "I enjoy watching her compete because she is a good rider."
In the summer before sixth grade, Chodzko's riding instructor found a horse for sale. After trying out the horse, the equestrian fell in love. The horse was hers. Silver, a sturdy grey quarter horse, became one of Chodzko's most prized possessions. Still, the excitement that came with owning a horse also came with the responsibility of caring for one.
"When I first got her she was a ranch horse that wasn't ridden often and out of shape," Chodzko said. "In these past few years I was able to train her to reach a competitive riding level.
Years of grooming, feeding, hoof brushing and training taught the senior responsibility. Owning a horse didn't just mean learning to perform jumps in front of a crowd. It taught her to properly take care of something that was important to her.
"Working with such a strong animal can be difficult and frustrating at times," Chodzko said. "Going through the process of training a horse has taught me a lot about patience."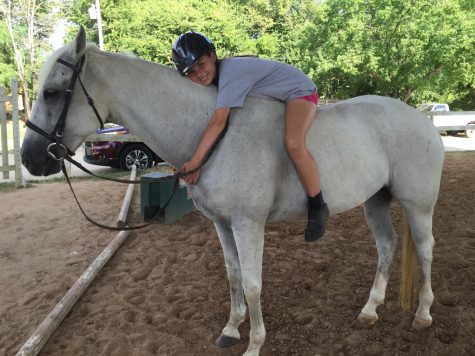 At age 6, she flew into a fence after being bucked off a horse she was practicing with. She lied on the ground covered in dirt and writhing in pain, her elbow fractured. But for Chodzko, this injury didn't instill fear in her. It didn't make her want to quit. Instead, it only proved to her how much she enjoyed horseback riding.
"I knew riding would be a long-term thing because even at my most challenging and scary moment I didn't think about quitting," Chodzko said. "I loved the sport just the same."
The equestrian's challenges didn't start and end with an elbow injury though. 
The barn where she first learned to ride closed, leaving her to scout out a new facility. It was a tough transition for the rider to make because she had to leave behind countless memories. This barn had watched her grow up. They were like family.
"It was very hard to leave," Chodzko said. "Not only because that's where everything started, but because I was very close to the family."
At first it was difficult for Chodzko to find a new barn. Nothing could compare to her old one. After months of not knowing where she would end up, she eventually found a new barn, her forever home.  
"Even though I miss my original barn, I'm happy at my new one and the progress I've made here," Chodzko said.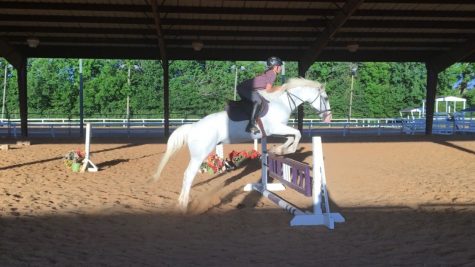 Chodzko hopes to continue riding horses in college. Whether it's joining an equestrian team or riding her horse in her spare time, she wants to keep this hobby a part of her life for as long as possible. For Chodzko, the freedom of horseback riding is a feeling that she cherishes and does not want to give up.
"I just love being able to go out whenever I want to and ride," Chodzko said. "I love doing my own thing."