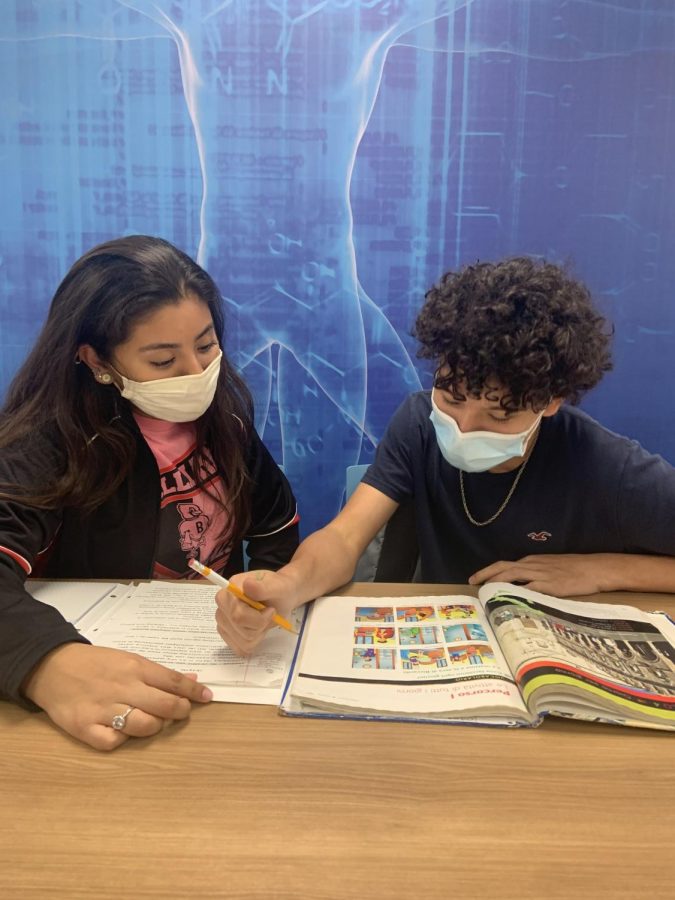 Photo by Salma Abuzaher
On the night of Dec. 24, families gather around their Christmas trees after popping firecrackers to open presents and drink Caliente, a hot Guatemalan fruit drink.
Celebrating Christmas on Christmas Eve rather than on the 25th is one of the many Hispanic traditions that plays into the blended culture of many first-generation Americans. Junior Ivanna Gonzalez is no exception.
Another tradition Gonzalez's family has is playing Lotería – a Mexican board game similar to bingo – the days leading up to Christmas.
"It's a tradition for my family and I to play Lotería especially during Christmastime," Gonzalez said. "It's really fun and gets competitive. We sit around the tree, sometimes on the couch, and play for hours. When my parents came to the United States they brought a lot of their traditions from Guatemala which were passed down to me."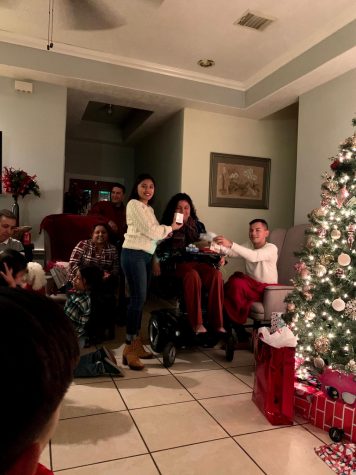 Gonzalez, whose parents were born and raised in Coatepeque, Guatemala, was born and raised here in the U.S. Although all of Gonzalez's family has immigrated to the U.S. and her parents know English, they continue to implement their Guatemalan culture into their day-to-day lives.
"It starts with the food we eat every day. It's food that my mom learned from her grandma," Gonzalez said. "It is so good and full of flavor. My favorites are caldo de panza, ceviche and tacos de puerco."
As a result of being a blend of two cultures, Gonzalez is also a polyglot.
"My favorite thing is being able to speak both languages," Gonzalez said. "Also, when I'm speaking Spanish with my friends, they have different types of words and dialects I pick up on as well."
While Gonzalez enjoys her culture being a blend of two worlds, being the first born in the U.S. has presented its challenges, like striving to do academically well.
"I always feel academic pressure to do well in school," Gonzalez said. "My mom is my number one model because she came to this country not knowing English but that never stopped her."
Gonzalez's mom came to the U.S. when she was 17. Despite there being a language barrier and having to leave her own mom behind among other struggles, life in the U.S. was a fresh start for her compared to her life in Guatemala.
"In Guatemala, my mom was the black sheep of the family because she used to do crazy stuff like jump off of trees and total cars and other things," Gonzalez said. "The U.S. gave her new opportunities because now she has her degree in medicine and she's a Certified Medical Assistant."
Because her mom sacrificed leaving her family back home for a better future, Gonzalez feels pressure to achieve success being born and raised in the U.S.
"One of my goals is to attend John Hopkins Medical School and become a cardiothoracic surgeon to be able to change the horrible system because if you don't have medical insurance they won't treat you or they will treat you very poorly," Gonzalez said. "There is always this pressure on me because I would be the first one in my family to have and go straight into a white collar career."
Additionally, Gonzalez faces the trouble of fitting in at school because of her background.
"Being in AP classes, there's not a lot of Hispanics in the classes," Gonzalez said. "So I feel different, sometimes left out. I speak Spanish, I'm Guatemalan, and that's different from who I see in most of my classes, so I feel extra pressure just trying to do my best and represent who I am in those classes."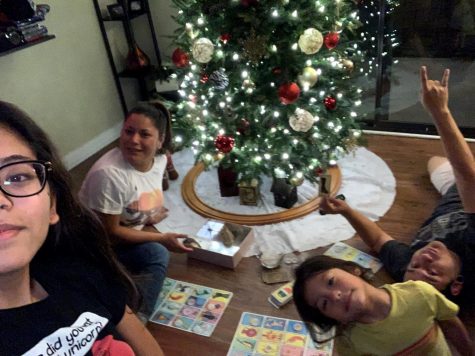 Because her parents' classes were different than her own, Gonzalez continues to feel pressure to reach her parents' expectations.
"When my parents were in school, they were in ESL classes," Gonzalez said. "So it's different for me. I was born and raised here, there's a level of expectations they're wanting to see from me. Even though school gets hard, I know I have to keep going because of the pressure I feel to make my mom proud."
Not only does Gonzalez struggle to face the pressure of succeeding for her mom, but for her other family members as well.
"Being a first-generation American sets me as an example to my cousins that live in Guatemala and also my cousins here even though they were born here," Gonzalez said. "To me it's an honor to have been able to be born here and not in Guatemala because there is a lot of crime worse than in the United states."
Gonzalez's cousin, freshman Ian Alecio, thinks of Gonzalez as a role model.
"Ivanna is always telling me to try my best," Alecio said. "She helps me with schoolwork and overall I see her always trying to stay on top of her work, so that really sets an example for me especially because we are both first-generation Americans making our families proud."
Another struggle Gonzalez faces is the stares and dirty looks she receives when speaking Spanish.
"I sometimes see people look at me when I speak Spanish with friends or with my family," Gonzalez said. "Sometimes they just stare or shoot a dirty look. Spanish is just as much of my culture as English and being first-generation American means I'm going to speak both."
Although being a first-generation American is a struggle for Gonzalez, she is still proud to represent both cultures.
"As a first-generation American, I have two sides: my serious side from here and my crazy party side that Hispanics have," Gonzalez said. "Even though I face a lot of pressure to succeed for my parents, being first-generation makes me appreciate being Guatemalan but getting the honor and opportunities of being born here."