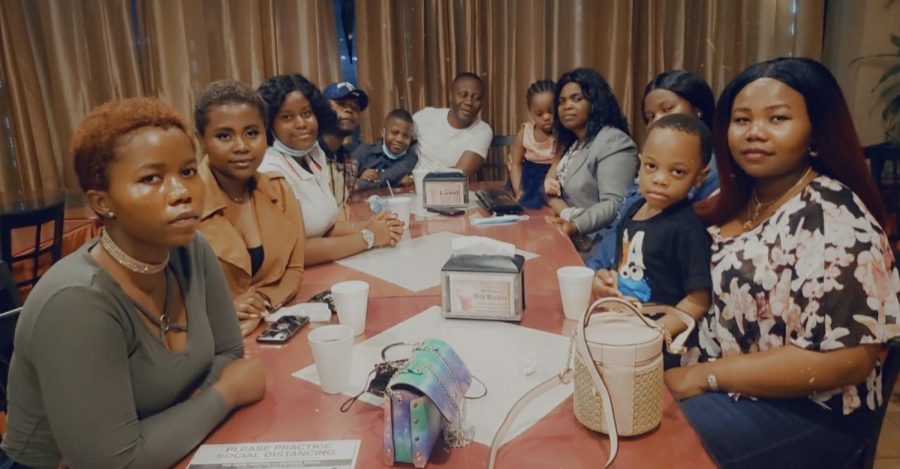 Photo provided by Winnie Chuma
Stuck in the middle: growing up with nine siblings
October 20, 2021
Stopping in the thrift store aisle, her dad holds up a small child's dress. Listening to 2017 pop music on the store's speakers, Winnie Chuma and her younger sister Irene exchange knowing glances. Their father confirms their suspicions when he remarks how he wishes a girl in their family was still small enough to fit into such a pretty dress.
"I remember thinking, 'please, please God just don't,'" senior Winnie said.
Around nine months later, in June 2018, baby Queen Chuma arrives. The Chuma family now numbers 11 members.
"It's like having a lot of friends," 9-year-old Benjamin Chuma said. "You can never get lonely here."
Born in the Democratic Republic of Congo, the Chumas' parents raised their four oldest children: Binja Chuma, 24, Alice Chuma, 22, Emmanuel Chuma, 21 and Pascaline Chuma, 20, Winnie, 17, and Irene Chuma, 14, were born in Uganda, along with 9-year-old Benjamin.
"I was so happy when Benjamin was born, but it was a lot of kids already, and I was praying and praying that he would be the last one," Winnie said.
After immigrating to Houston in January 2015, the family welcomed David, now 4, and Queen, now 3. "I did want a little sister," freshman Irene Chuma said. "I was happy when she was born because l wanted someone to mess around with, and play with their hair and all that."
But as the family continued to grow, so did the logistical issues.
"My dad literally had to get a van, we can never ride in a normal car together," Winnie said.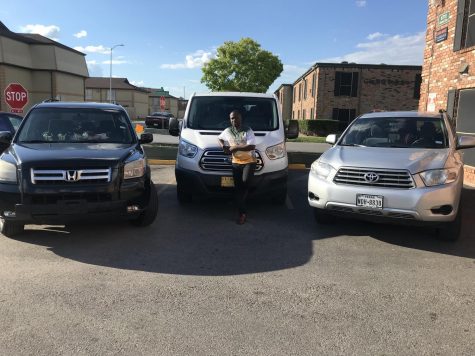 After joining her sister at Bellaire this year, Irene began seeking time away from her siblings so she could concentrate on schoolwork.
"Sometimes it's just too much noise, and you just want to be alone," Irene said. "You can't do that. They're like everywhere you go."
Parading around in public with a family the size of the Chumas' also encourages never-ending questions. Benjamin Chuma already anticipates the usual inquiries, gaping mouths and shocked expressions.
"It's always 'How do you have nine siblings?', 'Is that even normal?', 'Where are you from?', and 'Y'all are all from the same parents?'" Benjamin Chuma said. "They always repeat the number back to me, like "nine?""
The number of large families continues to shrink in the United States, where the average children per household now stands at 1.93. Compared to the Democratic Republic of Congo, where children per household average at 6.6. The difference in family sizes led the Chumas to understand the onslaught of questioning.
"I understand it's not easy to have a lot of kids because it's hard for our parents to both go to work; ours have to work around our schedules and stuff," Winnie said. "But where we're from, it's common to have a lot of kids. My dad had I think over 12 siblings. It's how they grew up, so having a lot of kids is normal for them, and my dad loves kids."
Despite the common misconceptions and assumptions, Winnie loves to talk about her life with nine siblings, from their buzzing apartment to their extravagant gatherings.
"It may sound fun, but it's hard," Winnie said. "It's a lot of responsibility, but it also comes with a lot of benefits."
A packed household
The Chumas organize their morning routine down to the minute. While each sibling follows an individual schedule with a unique mode of transportation, they all simultaneously help each other get out the door.
"In the morning we wake up the person who leaves the next earliest," Irene said. "Everyone has their set schedule with a specific departure time. I'll have to leave first so I wake up first, and after I wake up and I'm done and I'm about to leave, I wake my brother because he's the next person who leaves, and then it's like a chain until the last person leaves."
In the afternoon, detailed coordination and several bus routes bring the Chumas back home. That's when the chores start.
"I'm in charge of washing the dishes, Irene cleans the house, and then the two of us and my mom cook," Winnie said. "The little ones play around and read."
With the constant responsibilities, the siblings said they grew up a little faster.
"I feel like people in our family are more mature. We do a whole lot of things independently, but since we're a lot of kids we have to help each other out and since our siblings are older than us, we get a lot of advice," Winnie said.
Before school started, the Chuma family used to gather for prayer each night. But with the siblings coming home late from volleyball games and with heaping homework loads, the night routine became less frequent.
"It's just too much to do and we can't handle it in one day," Irene said.
Winne and Irene share one room, and their younger siblings Benjamin, David and Queen share another. Occasionally, the reality of sharing such close quarters with the younger children brings the Chumas into conflict.
"If you have anything nice, they find it," Irene said. "Recently I bought gum and I left it in my backpack, and then I had a game on Saturday, so my little brother got all the gum and ate the whole pack."
Winnie shares the same sentiment, and said her tolerance and patience had to improve significantly to co-exist with her little brothers and sisters.
"Benjamin is annoying, but in a good way," Winnie said. "He's one of those kids that you tell, "don't leave your clothes on my bed", and they go and do the exact thing. Everyday I'll make my bed and when I come home, all the blankets and pillows are on the floor. I decided to just give up making my bed."
The two highschoolers, Irene and Winnie, also experience their own unique disagreements.
"My clothes can fit her and her clothes can fit me," Winnie said. "But most of the time, she is the one who wears my clothes without asking me, and it causes a lot of problems."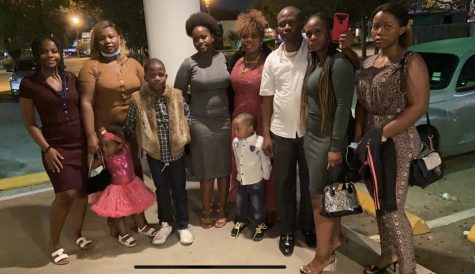 However, the Chumas' parents place a lot emphasis on strong family bonds, and their father aims to hold complete family gatherings every month. When these events roll around, the whole family sets aside their differences.
Connoisseurs of a good time and family traditions
A multitude of conversations drift through the air, mixing French, Swahili, Luganda and English. The volume increases as laughter breaks out and the smaller siblings cheer over homemade meals and games of Uno. Masters of logistics, the Chumas pride themselves on their family gatherings.
"It's always a fun vibe, we joke around and bring up memories," Irene said. "There's also a lot of arguing going on, but in a fun way."
While the women plan the events and cook the meals, the men drive around town running errands to pick up items to facilitate the large events. Although scheduling poses an issue since all of the older siblings live independently, the family strives to assemble for family reunions, birthdays and holidays like Christmas, Thanksgiving and New Years.
"At New Years, we always get together, pray and thank God that we made it to another year together," Irene said.
With all the siblings rarely together, the Chumas' father uses the opportunity for family reflections.
"We talk about stuff we could improve," Winnie said. "Like how we're acting or just general judgements and stuff like that. We talk about issues if we're having any, it's just like speaking your mind."
Strong bonds among the nine
When a group of siblings reaches nine, Winnie said smaller subgroups inevitably begin to form. Among the Chumas, the groups are split between the older and younger siblings.
"The older siblings are closer, because when you're older you can do things like text each other," WInnie said. "And even though we don't live next to each other, we can coordinate easily."
Sometimes the older Chuma siblings hang out on their own, leaving the younger ones at home.
"If you take the younger ones outside, you're babysitting them," Winnie said. "I feel like I'm closer with my older siblings. The younger ones too, but the bond is different."
Irene said the younger ones, Benjamin, David and Queen, notoriously pick favorites.
"All the younger siblings have a favorite," Irene said. "Queen likes me the most, she's always mentioning me and every time we hang out together she hangs out with me. But the favorites change a lot."
Both Irene and Winnie are grateful to be somewhere in the middle among the age groups.
"As one of the middle children, I get a lot of benefits," Winnie said. "If I need something and my mom and dad can't or won't get it for me, then my older siblings always will. You always have someone to spend time with, and you always have something to wear. And you never run out of things because someone always has it."
Above all, the two sisters express gratitude for the peculiar circumstances of their family.
"The good thing is everyone has their unique mindset," Irene said. "Each person can have a different opinion or point of view, so there's lots of ideas we can bounce off of each other. We get previews of experiences we might have in the future from our older siblings. Everyone knows about different things, so there's never like a time where you don't know about something. It's great."