Photo provided by Angelina Pascali.
I set my suitcase down in the corner of the room and sat on my twin sized bed, pushed against the wall. As my host mom called: "Angelina, è ora di cenare!" I thought to myself: what am I doing here?
This past summer, I spent three weeks studying abroad in Rome, Italy. Three weeks arguing with shop owners in Italian. Three weeks playing soccer with my host brothers in the backyard garden. Three weeks eating more carbs than any human should consume in their lifetime. I spent three weeks trying to get by in a country that was completely foreign to where I grew up. I miss it every single day.
I, as a 16 year old, traveled 5,691 miles across the ocean to spend three weeks of my life, alone, in a completely different place than I've lived my entire life. This was a challenge for me, especially since the entire school year prior was virtual. I hadn't been in a classic social setting in over a year.
My emotions were like a roller coaster. On the plane I was ready. I felt as if I was prepared for anything. When I was in the Fiumicino Airport line waiting to get tested for COVID-19 and being handed forms to fill out in Italian, I was worried. And when my host mom set my first overflowing bowl of pasta in front of me, I was terrified. But by the second day, I knew I didn't want to leave.
The majority of my days were filled with school. The day started with a sweet type of pastry and a morning cappuccino. I would then walk to the metro station and ride 16 stops to Barberini and run after the bus that would drop me right in front of the bookstore next to my school.
I spent the school day learning Italian with people from all over the world and of all different ages. My teacher, Matteo, only spoke to us in Italian and sometimes Spanish since a lot of my classmates were from Spanish-speaking countries. The program that I traveled with, EF, was different from other study abroad programs, such as CIEE, since the students were from countries all across the world.
The clique that I found myself in was made up of one girl from Germany, two from Mexico, one from Slovakia and one from the Czech Republic. To say I just learned about Italian culture would be an understatement.
I spent my days speaking Italian at school, in the streets and at home; and then trying to learn small phrases in my friends' mother tongues. Every second of my three weeks there was spent learning something new, and I loved it.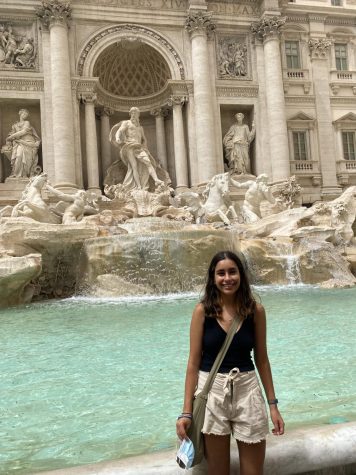 Everything was so different from life in Houston. Most Italians would either take public transportation or a scooter to work, rather than a car. Their everyday attire would be nothing short of an outfit out of a catalog.
While I was there, the Euro Cup was on, and I soon learned that soccer was one of the three major religions in Italy, besides food and Roman Catholicism.
On game nights, Italians would gather in a square called Campo de Fiori and fill the seats in the restaurants as they cheered on the Italian team. They were so loud and passionate that police officers would line the square as a protective measure. Even if you weren't in that main area as the game was being played, you could tell when Italy would score a goal just by the loud cheers you would hear on the streets.
The night that Italy won against Spain I could hear the sirens and see the fireworks on my walk home. The green, white and red flag hung out of cars and people were hugging strangers on the streets. It was like nothing I had ever seen before.
For dinner, I usually ate with my host family and their grandparents, their cousins and their friends. Dinner was a big occasion in Italy, literally and figuratively. It was a time for everyone to get together and laugh. It also consisted of multiple dishes. The meal always began with a starter course ("antipasto") and continued with one or more first courses, one or more second courses (meat or fish), a fruit course, desserts, coffee and liquors.
I always tried but continuously failed to finish everything on my plate, and when my host parents would see me struggling to finish they would say, "Angelina, mangi come un uccellino!" (Angelina, you eat like a little bird!)
The time I spent in Italy was unlike any other experience I've ever had. It sounds cliche, but it opened my eyes to a world outside of the one that I knew. I made lifelong friends, adopted four younger siblings and fell in love with Italian culture. But most importantly I found a home in a city 5,691 miles away.