A king that left us too soon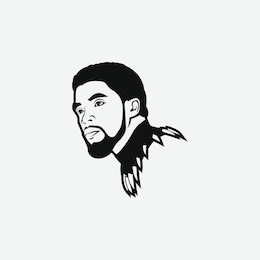 Instagram slowly loaded. Senior Melissa Rosario Alonso and sophomore Dorian Lagos browsed through the page in their usual routines. Neither of them noticed anything out of the ordinary. 
After Alonso refreshed her page, posts of Chadwick Boseman suddenly came up on her feed. On the Instagram post from Boseman's official account, she read: He died from colon cancer. 
"I couldn't believe it," Alonso said. "I was shocked and sad."
English IV teacher Sarah Humphrey got the news differently: her husband woke her up to tell her the news.
"It was such unexpected and shocking news," Humphrey said. "We were both big fans." 
Boseman left a huge legacy from starring in 14 movies, appearing in 14 TV shows, and four shorts, according to IMDb. 
 Fans like Alonso watched him on screen in "21 Bridges", "42" and most notably, "Black Panther". He appeared in TV shows "CSI: NY", "ER" and "Law & Order" as minor roles in his earlier years. He also hosted Saturday Night Live, where he reprised his role as Black Panther in many sketches. As a side note, anyone who hosts "Saturday Night Live" is a pretty big deal. His episode was hilarious, especially the Jeopardy skit.
As a Boseman fan, one of Humphrey's favorite movies that he starred in was "42".
"If you haven't seen '42', stop what you are doing, and watch it right now," Humphrey said. "Unless you are in class." 
Boseman fought colon cancer for four years. He was very secretive about it and only his closest friends and family members knew about his illness, so his death was unexpected. Fans such as Lagos were shocked to hear about his passing. 
"It was unexpected to me due to Boseman's young age of 43 years, and mainly, because the public wasn't aware of his health and condition," Lagos said.
Even the president of Marvel Studios, Kevin Fiege, didn't know about Boseman's illness until the day Boseman died. But, Boseman had shown signs of his illness earlier in the year. According to Independent, on April 17, he posted a video about Operation 42, a project that donated $4.2 million to help out hospitals in Black communities affected by COVID-19. The video shocked fans because they noticed his thin appearance. Thousands of fans wrote comments about his appearance on this post. 
Boseman's iconic character Black Panther broke box office records and stayed in many fans' hearts of the Marvel Cinematic Universe. Black Panther's sequel was underway for production in early of 2021, but the pandemic and his death delayed the release date to May 2022, according to cnet. Fans were speculating what would happen to the mantle. 
"I believe that they should allow him to keep the Black Panther title forever even if it messes up the script of the movie," Lagos said. "I think it wouldn't be right for another actor to play as Black Panther." 
Humphrey has another idea of what should happen. Black Panther's sister Shuri should take the mantle. Disney and Marvel have confirmed that Shuri, played by Letitia Wright, will take over the throne in honor of Boseman.
It seems a number of Marvel fans are happy Disney took this direction because it aligns with the comic timeline. 
Boseman's legacy has impacted and still is opening a new getaway for African Americans and other minority groups to become good role models and influencers. 
"I think he really set the standard of being a true Marvel character in real life," Alonso said. "Fighting his illness behind closed doors but putting a smile on his face everyday and doing what he loved which was acting as well as being a role model to many fans out there. He never let his illness dictate his life."
Nevertheless, Chadwick Boseman was a king who left us too soon and he will never be forgotten. His legacy will still continue.
There is still one more movie that Boseman has starred in yet scheduled to be released on Netflix on Dec. 18.  The movie, "Ma Rainey's Black Bottom", is an adaptation of the play by the same name. Viola Davis and Boseman star in this jazz-age movie.
Find it on Netflix in December to see Boseman's posthumous and very last movie.
In the words of the King (and Lagos): "Wakanda forever."