Corpse Husband: The Mysterious Sensation
Although fame can be nice at times, it can take a toll, especially for people with illnesses like Corpse Husband. He struggles every day. At one time, he could not even move his arms.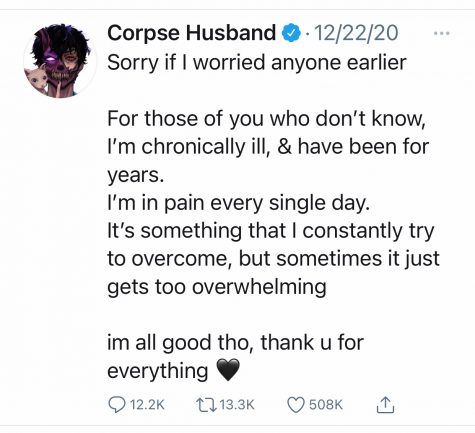 "I'm in pain every single day. It's something that I constantly try to overcome, but sometimes it just gets too overwhelming." – Corpse Husband
Corpse Husband was diagnosed with fibromyalgia in his teens. Fibromyalgia is a condition that causes pain all over the body and sleep deprivation.. 
On his YouTube channel, Corpse Husband shared horror stories until he started to play the popular game "Among Us" in 2020. Fans found him through the Among Us videos he posted. 
Despite being in pain most of the time, Corpse Husband has managed to play Among Us with his friends Sykkuno, Valkyrae and Pokimane. His popularity rose toward the end of 2020 as curious watchers became intrigued by his mysterious, deep voice. Viewers were shocked by first hearing his voice. Alexandria Ocasio-Cortez and PewDiePie reacted to his voice, and both were astonished. 
Junior Norma Callejas is a big fan of Corpse Husband. She discovered him near the end of 2020 and continues to watch his Among Us streams. 
"I was like that is a really deep voice," Callejas said. "I was surprised at first but later on, I was used to it."
Fans want to see Corpse Husband's face since he has never shown it. In fact, fans are arguing about whether he should show his face or not.
"If he feels comfortable sharing his face, I'll be okay with it. However, I feel like we should respect everyone's privacy no matter what," Callejas said.
His voice is not the only thing that attracts viewers, Corpse Husbands' audience is also in awe of his personality. Millions of watchers flooded his live streams when he started gaining his popularity in 2020. His YouTube channel skyrocketed from about 1 million to 6.9 million subscribers. Currently, he gets millions of views on his videos in less than 24 hours. 
In 2020, he grew quickly on other social media platforms with 2.5 million followers on Twitter and 3.1 million on Instagram.  
Before he started playing Among Us, Corpse Husband narrated horror stories on his YouTube channel. Fans sent him these stories from their real life experience.  His deep voice made these stories more frightening, which lured in numerous fans. 
Along with the game plays and YouTube videos, Corpse also makes music, all at home. His most famous song to date is "E-Girls Are Ruining My Life!". His catchy lyrics drew viewers in and the song accumulated 28 million views on YouTube. Other songs like "White Tee", "Cat Girls Are Ruining My Life!" and more have also gained popularity. Corpses's Spotify has 3.8 million monthly listeners.
Although Corpse Husband continues to play Among Us, make live streams and make YouTube videos, he still lives with constant pain. There have been rumors that Corpse Husband was quitting because of his health issues, but he quickly brought that down. 
"Lots of headlines about me "quitting YouTube." In the clips that news stories like Game Rant are all using, I was talking about how I realistically see the longer term. I'm not imminently quitting anything." He tweeted this to turn down all the rumors.