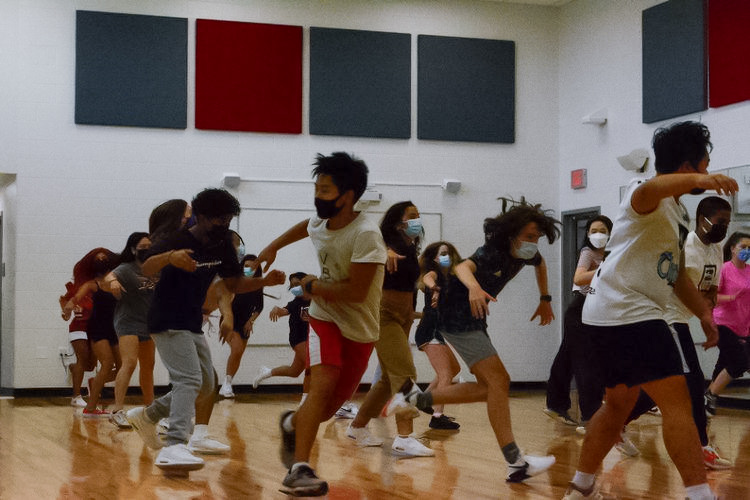 Fresh school year brings new policies
Students to wear IDs, masks
October 5, 2021
After a year of virtual instruction and a new school building, four new policies and expectations have been implemented to help the transition. One such policy is that students will have to wear IDs at all times.
"Though it may be a little annoying at first and just one more thing to remember to do, if wearing IDs everyday ultimately makes the schools safer then I think it's a good idea," junior Renee Navarro said. "But the policy will only be effective if everyone participates in wearing their ID, which I predict will be challenging to make happen."
Unlike last year when caterers sold food every day during lunch, the food options this year dwindled significantly.
"I know some kids can't afford to make lunch at home," junior Kyla Curry said. "And I know, you still had to pay for it when it was catered, but it might have been cheaper to buy lunch at school than to make your own stuff."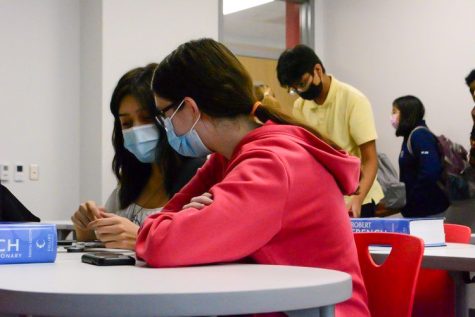 Administrators are figuring out the best way to offer catering options, but for now the lunch lines and the noodle room, a room run by the Business Professionals of America that provides ramen noodles and other snacks, remain an option. Another change to campus is the absence of lockers. Students must carry all of their books in their backpacks.
"I drive to school so I have a purse and I have to carry that with me, but I prefer to have it somewhere that's locked and safe, so it can't get stolen," Curry said. "Also just like my laptop, sometimes it'd be nice to kind of just, like, let it chill cause I don't need it for a lot of classes."
The HUB and online assignments allow for students to leave textbooks at home and lightens their backpack's load. HISD's online platform, the HUB, gives teachers a resource to post assignments and powerpoints for students who missed class.
"We are still using the HUB to provide a nice framework and organization for the course and we're providing weekly folders with a "read me" that details daily activities," AP World History teacher Mrs. Kuhleman said. "We have folders that have all of the resources for the week that are very clearly labeled, so that if a student misses a day, or has to miss several days, they can still reach us via remind, they can reach us via email, but they can also go to the Hub and very clearly see what we're doing for the week."
At the beginning of the school year, HISD instituted a mask mandate, going against Governor Abbott's Executive Order GA 38 that prohibits governmental entities and officials from mandating face coverings.
"It is a little frustrating not being able to read facial expressions too clearly," Kuhleman said. "But you can tell a lot more through the eyes than most people think. I can tell when a student is confused by the furrow in their brow, I can tell when a student is happy or finds something amusing because there's a smile in their eyes."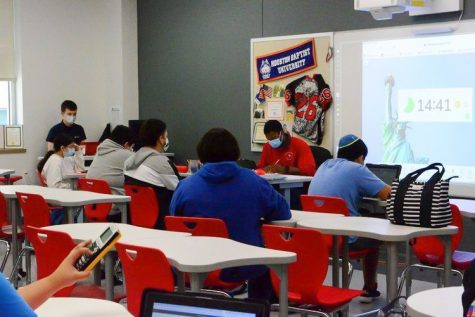 According to Ms. Kuhleman, the classroom environment is irreplaceable. She said that a different type of energy is required than what it would be for online.
"As far as I'm concerned, anything we can do to return to a semi-normal environment is worth doing," Kuhleman said. "The last thing we want is to return to the way things were last year, we've come way too far to go back to that."
Administrators' most recent adjustment reduced passing periods to eight minutes instead of 10 minutes in the morning and five in the afternoon.
"Eight minutes per the schedule is a little bit more difficult to get a hang up if you don't have those fives and tens but we'll manage," Kuhleman said.
Last year's class schedule ran in blocks so classes lasted longer and live instruction occurred only during the first half of the school day.
"I think there's definitely an advantage to seeing more students every day. So I enjoyed the schedule last year. And I think that last year, it really was essential to ensuring that we were able to plan properly and that we were able to support our students appropriately," Kuhleman said. "Having those afternoon sessions for enrichment and tutorials was invaluable and we had very high turnout. And I think that that's reflected in our scores. It's taken some adjustment, I can't tell you how tired I was when I got home. Standing all day as opposed to sitting in front of a computer screen."
This year, the class schedule returned to its original structure, in which students see all of their teachers every day. The energy, flow of children, ability to ask students questions and to see every student in the classroom is an accountability measure that wasn't there last year, Kuhleman said.
Though she's happy to be back at school, the transition has been an adjustment for Navarro.
"The majority of the last 18 months I was by myself at home in my room," Navarro said. "Now I'm back at school, in a new building, with thousands of people every day. This is also the first time since freshman that I have all seven classes in a day. I'm not in the habit of focusing for that long so it's an adjustment for me. My main concern is that we may have to go back to online school just as I get used to my new schedule."