'Trying to blend in'
When his family was selected for the Diversity Visa lottery, they were on their next flight to the United States, but senior Basem Mohamed was hesitant to leave his immediate family and home.
"Only me, my dad and brother were able to travel," Mohamed said. "Our main goal was to search for better education, but I miss my mom."
Mohamed fled his home in Egypt in 2017 due to his discomfort with the corrupt government and education systems.The military took over the Egyptian government in 2013 and assigned Abdel Fattah El-Sisi, an ex-military officer, as the new president.
"They masked the takeover as a protest," Mohamed said. "We thought it was a revolution, so we didn't think much of it."
Living prices and basic needs such as food increased while the paygrade decreased. The value of a dollar became £20 instead of £7. The president started spending billions of dollars to build castles for himself while ignoring his citizens' conditions.
"They're spending billions to build a new capitol right now," Mohamed said. "It's dumb since only government officials will have access to it."
Due to the corruption of the government, school funding became limited, which made it difficult for students in Egypt to get a proper education.
"Teachers could care less about their jobs since they weren't paid enough," Mohamed said. "The administration was strict about a lot of things like prohibiting long hair."
Students were confined to small classrooms and were forced to sit on dirt-covered floors due to the lack of chairs. Mohamed said there was no air conditioning, so the classes were extremely hot and not conducive to learning.
"I remember one time my math teacher collected five pounds from each student to 'buy us a fan for the classroom', but we never got one," Mohamed said. "A couple of days later I went to my teacher's office to turn in a paper and found the fan on his desk blowing air into his face."
Mohamed said American schools are academically less challenging compared to Egyptian schools since it's not as competitive. In Egypt, students are required to be in the top 5% percent of their class in order to go to college Mohamed said.
"You're learning out of fear," Mohamed said. "In Egypt, your whole school career depends on the final exam. If you fail the final, then you fail the class. It's not like you have cycles and the final is only a certain percent. It's really corrupt because you can pay the teacher to pass."
Mohamed went to an Arabic school in Egypt, so learning English was the most difficult part of adjusting to American society. It took about one school year for Mohamed to fully speak and understand English.
"It was scary not knowing how to speak English except for the basic 'hi's' and 'hellos,'" Mohamed said. "I planned to not talk to anyone because I didn't know the language."
Mohamed said American schools are vastly different from Egyptian schools, and as a result, he felt lost on his first day of school.
"My first day in an American school was nerve-racking. I didn't know where my classes were or how to ask for directions," Mohamed said. "Even though I was scared and nervous, I was still amazed by everything around me."
The freedom and luxury that the American school system provided fascinated Mohamed when he first arrived in the U.S.
"The schools were huge compared to the ones in Egypt." Mohamed said. "I was also surprised that schools provide lunches and are generally clean with working air conditioning.
Mohamed started to make efforts to adjust to American society and try to blend in. He said he wanted to make his father proud by taking advantage of opportunities that American schools offer.
"I started trying to talk to more people and created a vocabulary list to learn new words, so I can improve my English skills," Mohamed said. "Eventually, those efforts paid off and I advanced out of ESL (English as a Second Language) classes which made me proud of my progress."
But Bellaire provided opportunities for Mohamed that he never thought of. Mohamed said he's passionate about art and was thrilled when he found out the school offers classes for different forms of the subject.
"I am taking art classes in digital art, animation and photography, " Mohamed said. "Those classes are really helping me to enhance my knowledge and skills in those fields, which I'm really thankful for."
Currently Mohamed is taking Photo 3 with Ms. Quarrels. Quarrels said he's a joy to have in class, and she admires his curiosity.
"He's very thorough with everything in his plans and sketches," Quarrels said. "He always asks intriguing questions even though his table mates might harass him a bit for asking obvious questions."
Last year, Mohamed was learning the basics of photography and photoshop, but this year he has more freedom to exercise his photography skills.
"He's always excited to start with a smart prompt and take it off in his own direction and to make his work his own, " Quarrels said. "I'm excited to see what he does this year."
Sophomore Katherine Keenan met Mohamed her freshman year in Ms. Quarrels' class. Their friendship was built on their shared interests in art, anime and manga.
"We became friends during the full lockdown day," Keenan said. "We passed time by getting to know each other through shows, videos games and at one point we got so bored we created a story by adding to each other's drawings."
Keenan said their friendship thrived by teasing each other, but her first impression of Mohamed was positive because he was kind and talented.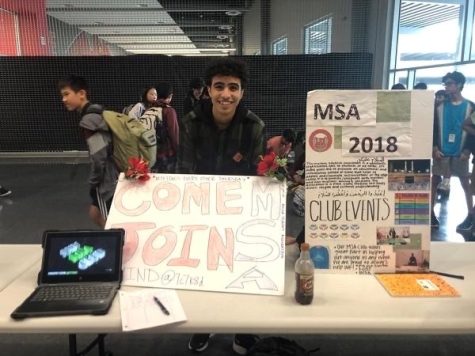 "We make fun of each other light heartedly, but we're supportive of each other's art and give constructive criticism," Keenan said. "Basem challenges himself with every assignment we receive. It seems like his work gets better everytime I see it."
Mohamed is the president of the Muslim Student Association and participates in cultural clubs.
"I joined MSA freshman year and often gave Friday speeches and presentations about Islamic figures and the importance of displaying good deeds," Mohamed said. "I am also part of the Arabic club where we learn about Arabic culture and traditions and the Dabke club. Dabke is a traditional Arabic dance that focuses heavily on leg movement."
Mohamed plans to attend Texas A&M University for Computer Science next fall not only to pursue a degree, but to make his father proud.
"My dad told me all about this country and how he wants me and my brother to get a college degree from here," Mohamed said. "I don't want to let him down after everything we sacrificed."
Leave a Comment