'A little sparkle to their day': Dessert Club raises spirits with spooky meeting
To celebrate Halloween, the Dessert Club hosted a meeting with spooky-themed treats on Nov. 2, 2022. Desserts ranged from googly-eyed Rice Krispie monsters to mummy chocolate pretzel sticks and Oreo cupcakes. Club members devoured the 400-plus servings in 10 minutes.
Vice President and senior Payton Ohler said the officers decided to schedule their Halloween meeting after the end of spooky season to continue the excitement of Spirit Week and keep students in holiday mode.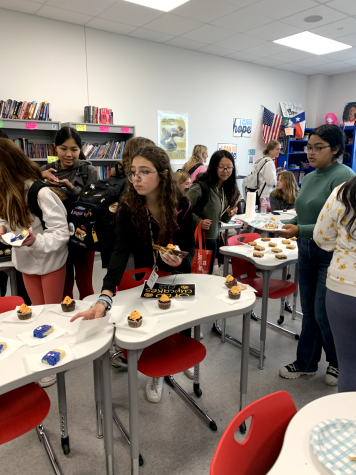 "I feel like there's a gap between Halloween and Thanksgiving and we wanted to try and close that," Ohler said.
Junior Hayleigh Miller has attended Dessert Club meetings since her sophomore year and has continued to come back because she loves the idea behind the club.
"I think these meetings are important because it's fun and gives people something to look forward to once a month," Miller said. "It brings a lot of joy to the students."
President and senior Grace Howard said that the club lowered its entrance fee from $3 to $2 this year so that more students can participate in the excitement.
"It's fun to see everyone come and get desserts and be happy and wait at the door for the meeting to start," Howard said. "These meetings are definitely highly anticipated."
Officers prepare treats the night before the meeting, so the goods are fresh the day of. Howard said preparation for the meetings often takes three or more hours.
"We usually have bake nights with all the officers at the Vestals' house, but if we're all busy we'll bake alone," Howard said. "I usually bake three to four desserts, and so does everyone else."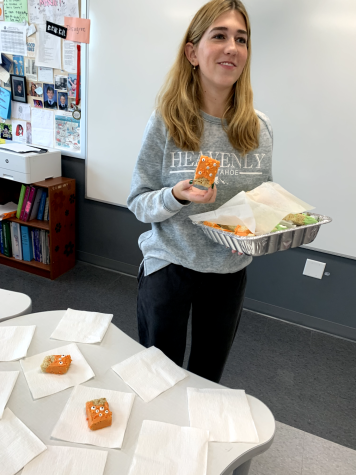 Howard said her favorite bake night memories happen when the Vestals' dog gets involved.
"Sometimes Boomer tries to eat our food and lick the batter," Howard said. "While we were making our pumpkin spice cupcakes, we gave Boomer one to try. He liked it so much that he leapt onto the counter and tried to eat the rest."
Officers send their favorite recipes and coordinate who's baking what in their group chat so there's no confusion. Ohler said all the baking pays off when she sees how happy the treats make students.
"I hope the treats bring people some joy and a little sparkle to their day that is crushed by the hallways of Bellaire," Ohler said. "I hope they find peace and comfort in these delicacies."
Leave a Comment