D.C.-bound
TPP executive editor-in-chief chosen to represent Texas in Senate-sponsored trip to Washington D.C., first from Houston in 42 years
When senior Sonya Kulkarni first got the email, she was walking her dog, Luna. She ran home to tell her parents the news in person.
"They were more excited than I was," Kulkarni said as she explained the moment she found out she was chosen to be one of the two delegates representing Texas at Washington, D.C. during an intensive week-long study of the federal government and the people who lead it. The delegates are chosen by the Texas Education Agency through the United States Senate Youth Program, a merit-based program with the goal to increase young Americans' understanding of the democratic structure of the U.S..
According to the USSYP, delegates must have "outstanding leadership abilities," "a commitment to volunteer work," and a high academic ranking.
This means that in March, Kulkarni will meet U.S. national leaders— including Senator Ted Cruz, Senator John Cornyn, members of Congress, and President Joseph Biden.
"I'm simultaneously nervous and thrilled," Kulkarni said. "With politics, it's easy to get caught up in polarization, especially because I will be meeting with certain members of Congress whom I disagree with. However, I think that there's something to learn from everyone, and I have loads of questions to ask them."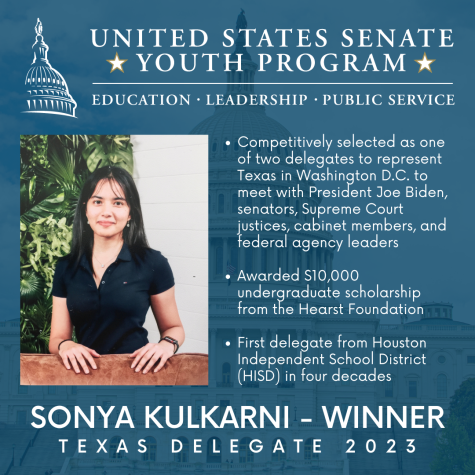 Kulkarni hopes to speak with politicians on Capitol Hill about the intersection between business, science and politics and the need for legislative improvement within the medical industry.
"Both of my parents are in the medical field," Kulkarni said. "As a really young child, reading came with reading medicine. I developed my passion by informally shadowing a few physicians that were friends with my parents. I had this idyllic rose-tinted vision of medicine as this really noble profession that isn't thwarted by any group of people. But then I saw insurance companies grab power from licensed experts and compromise patient health. I realized that I can't stand by and watch as patients are denied care because of anything from red tape to unbalanced power and bad practices. After reviewing all of that, I decided to pursue a career in business leadership in the field of healthcare."
Kulkarni is also a national youth ambassador for the American Cancer Society, founded a nonprofit dedicated to helping students excel on state exams and pursue academic success, and leads Bellaire's school newspaper, the Three Penny Press, as executive editor-in-chief. She was a news editor during her first year on TPP and became editor-in-chief her junior year.
TPP adviser Lillian Harris, who met Kulkarni at the end of her freshman year when she applied to be on the TPP staff, has been impressed with Kulkarni's leadership, work ethic and energy since the beginning.
"I am just so blessed and honored to have taught Sonya and to have had her in my class," Harris said. "She is a very dedicated and humble leader who is also a strong team player. There's nothing that she would ask someone on staff to do that she herself wouldn't do. And if she wants to learn something, she sets her mind to it and figures it out. She's quick too."
Kulkarni is also the president of the UNICEF club. Fellow club officer and friend Sofia Abdalla said she is happy to have met Kulkarni and wants the world to know how great of a person Kulkarni is.
"Everyone characterizes their friends as hard-working, but I'm around some pretty high-achieving people, and Sonya is genuinely one of the most hardworking people I know," Abdalla said. "She's so naturally smart, and she cares so much. I'm very proud of her. I don't know anyone that I would rather have this position than her."
View Comments (1)