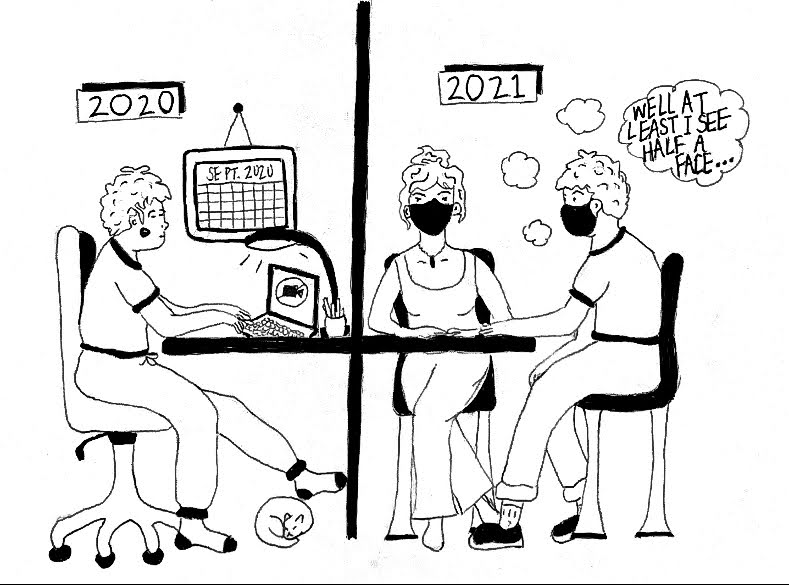 [EDITORIAL] A piece of cloth or a deadly virus: who will win?
October 12, 2021
Texas Gov. Greg Abbott signed Executive Order GA-38 4.a on July 29 saying that "no governmental entity, including a county, city, school district, and public health authority,…may require any person to wear a face covering or to mandate that another person wear a face covering." As a part of HISD's Ready, Set, Go plan, HISD has disregarded this order and mandated masks to be worn in all HISD schools, buildings and buses.
We believe that in-person schooling with masks is better than virtual school without masks.
Mask mandates are crucial in keeping students, staff and families safe. Mask mandates in the U.S have notably slowed the spread of the virus. Face coverings reduce risk of infection by 70 percent. The newest estimate from the Institute of Health Metrics and Evaluation proposes that 33,000 deaths could be avoided if 95% of people wore masks in public. It is fascinating how a piece of fabric is so viable at fighting off a pandemic. We would rather see half our teachers' faces in person than all half of our teachers' faces behind a screen.
Houston ISD is the only school district in Harris county to require masks to be worn indoors. Unlike HISD, Fort Bend ISD does not require the wearing of masks, however, students, staff and visitors are strongly encouraged to wear masks regardless of vaccination status. As of September 28, Fort Bend ISD has 78,000 students and 10,000 staff between all of their schools. While Houston ISD has 197,000 students and 27,000 staff. Now, where things get interesting is the cumulative COVID-19 cases for both these districts: HISD has only 2,450 cases whereas FBISD has 4,400 cases. Houston has twice as many students for half as many Covid cases than FBISD. The only difference: mask requirements.
In-person learning helps students form better connections with teachers and other peers. Seeing half of people's faces is a huge step up from looking at unmoving profile pictures on Microsoft Teams. In-school learning also suits different learning styles such as visual learning, where students retain information better if they can see it or watch the demonstration of an idea, auditory learners, who are at their best when they can hear information, or kinetic learners, who learn with hands-on experience. School is worth the pain of wearing a mask.
Let's be real here. No one likes wearing a mask. It is scruffy, ugly and suffocating. Having a barrier over your face is annoying, but getting COVID is far more annoying. You may experience trouble breathing, persistent pain or pressure in the chest, sore throat, fatigue, fever, chills, confusion, inability to wake or stay awake and pale, gray, or blue-colored skin, lips or nail beds. Masks are just the lesser of two nuances.
Hopefully the end is in sight. Wear your mask to reduce the time we have to deal with COVID. In-person learning is great and if it means having to wear a mask all day then so be it.