After fight with record label, Lil Uzi Vert comes back with twist of space on 'Eternal Atake'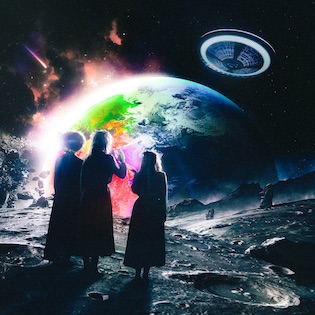 Despite his famously small stature, the weight that Uzi carries on his shoulders is unmatched by any other artist in rap. Since the release of his debut album "Luv is Rage 2" in 2017, he has carried the weight of the lofty expectations of every fan of the genre. 
His fans were presented with no lack of anticipation, as he did not rush his next project, which he announced would be named "Eternal Atake". 
For years, Uzi was engaged in issues with his label and many other delays in his work, even as far as a brief retirement, but in the year 2020 he has finally released his much anticipated album. 
And yes, it was well worth the wait. 
Uzi's unique style and voice puts him in a category of his own. He is fully aware that no other artists can match his vocals, and each time he releases a new project, he takes it a step further. His captivating voice and flow makes his tracks electrifying and exhilarating. 
Setting himself apart from the rest of the rap game, Uzi works almost from a different dimension in the way his lyrics are so advanced and straight forward at the same time. For example, he references how he 'lives his life like a cartoon and reality is not his thing' on the track "You Better Move."
Uzi's chaotic story of the most recent years of his career are in line with just the way his songs seem to progress- with chaos. Yet, as this may seem problematic to some, the unpredictability of Uzi throughout the entire album Eternal Atake is the reason it is so exciting and worth the wait- and it makes the process all worth it. 
As mysterious as so many of his actions were in the year leading up to the album's release, it didn't just stop when he finally gave us the project. The theme of mysterious work shined through in his music, as the album does an artful job giving a hallucinogenic and out-of-this-world experience to all those who choose to listen. 
The album is essentially featureless, as he states that he needs help from nobody to create an album that is more than capable of going "Platinum no features" – almost. It opens with a track titled "Baby Pluto," by which we are thrown into an alternate world, and he does a masterful job making that world visible and nearly tangible. 
The album's greatness comes in the continuous change in style, as Uzi rarely stays with the same style throughout an entire project. His style changes after every few songs. Between "Lo Mein" and "I'm Sorry," Uzi moves from a faster straightforward rap style to a slower and more lyrical track. He manages to keep his hallucogenic, spacey feeling no matter the style of the song. 
He proves in touch with other realities and his belief in the aliens, as the track "Bust Me" explores a world mixing love and aliens. 
On the track "Venetia", Uzi addresses the obvious theme throughout the album that he feels in touch with what he believes to be his alien background in a straightforward fashion claiming "I'm from outer space". No matter how eccentric Uzi may seem, he plays these roles with no lack of investment. He dives into these roles and it can be heard in the authenticity of each and every track. At the end of each track he adds what the industry calls "transitions". But the way he did them on Eternal Atake was unlike any I had heard before. They were spacey and thought out, and worked chronologically at the end of each consecutive track to tell Uzi's story of his own alien abduction. 
What he accomplished and doing so in such a unique and crazy way was the most Uzi thing he had ever done. He managed to produce a movie with visuals completely up to the human imagination. He let his lyrics dictate the way his listeners saw the movie he intended to create as well, and this is something only Uzi could do. Yet, he did all of this and it was viewed as normal.
 That's just Uzi. 
While he may not be creating a "new normal" in the industry, his work on "Eternal Atake" certainly advanced what has come to be Uzi's own "normal."
Leave a Comment