Sam Smith: A Post-Breakup Chef-d'œu·vre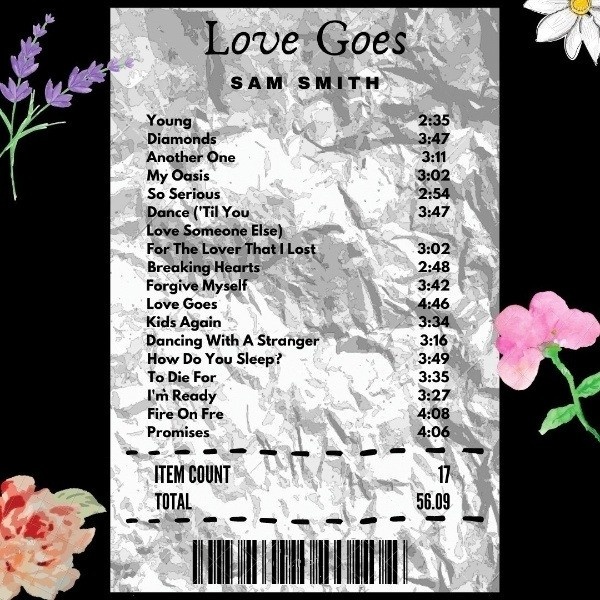 The marvelously queer, non-binary Sam Smith released their third studio album, "Love Goes," on Oct. 30, 2020. Their melodious vocals capture a sound of astonishing beauty that enchants millions.
"Love Goes" took two years to complete. The first track to be released was "Promises" in September of 2018. Smith dropped one last song in 2018, as well as two songs in 2019, and the rest arrived in 2020 with the release of "Love Goes". 
The melodic "How Do You Sleep?" released in 2019, and it was a big hit: the it factor of the album. This was followed by "Dancing With A Stranger" (featuring Normani), which charted number 14 on last year's Billboard's Hot 100, and "Fire On Fire" which appeared in the film "Watership Down". 
Smith's collaboration with Normani on "Dancing With A Stranger" accumulated more than 500 million views on YouTube and over 300 million streams on Spotify. The tune narrates a tale of two broken hearts trying to recover by moving on, but that does not seem to work. They still miss each other, yet they know their love is gone. They both attach themselves to "somebody new" to fill the void they can not escape. 
"Love Goes" opens with the single "Young",which speaks on the ignorance of being an adolescent and learning how to fix each mistake. "Diamonds" comes after, and the trackshows Smith expressing their sentiment about a past relationship that only used them for their riches.
"Another One" and "My Oasis" (featuring Burna Boy) capture Smith's entangling emotions of misery. Smith voices the topic about being ignored during relationships and the mixed feelings that swirl uncontrollably throughout a relationship. 
"So Serious", "Dance ('Til You Love Someone Else)", "For The Lover That I Lost" and "Breaking Hearts" spur immense emotions all around while Smith expounds their pain and sorrow through desolated melodies.            
Now realizing they need to move on, "Forgive Myself" carves the path into the next chapter of Smith's life. Post grievance, Smith now understands how important it is to grow as a person and leave behind past trauma. Forgiving oneself is always the best antidote for curing a heartbreak, and they portray this splendidly. 
The tenth single and album title, "Love Goes" (featuring Labrinth), generates a melodious tune replicating euphonies from the classical music era. Feelings of ecstasy radiate through the body while the tune of this ballad dances around the hairs of arms everywhere. Smith reflects on the notion that sometimes love is not forever, and they choose to forgive and forget. 
Smith collaborates with five extraordinary artists throughout the album including, some as mentioned before: Burna Boy, Labrinth, Normani, Demi Lovato and Calvin Harris. "I'm Ready" alongside Demi Lovato is amazingly queer, but it does not live up to what it could have been. Lovato and Smith did not give their all into this number, and overall their vocals and the soundtrack were not outstanding. Smith becomes a pop icon in "Promises" as Calvin Harris produces a captivating soundtrack. Having collaborations with these acclaimed figures is an amazing accomplishment from Smith's past albums. 
Although the songs were pleasing to the ears, the album itself was a bit let down. Smith's vocals are on point, but they could have embodied a more solid and tougher atmosphere. They went too soft on this breakup album which did not build an incredible connection with the audience. Though, the emotional content is absolutely present with the album constructing a solid 64/100 in ratings. Overall, "Love Goes" was an emotional setback personally for Smith, but it was by far the best album they have published. 
This is the album to listen to after a heartbreak to stir out every emotion. Smith shows learning strategies to revive oneself after a breakup, making this a great self-renewal procedure. After a devastating heartache, Smith shares their sentimental fervor of emotions, resulting in a phenomenal album.