Seasonal special reviews
With the holiday season in full swing, we decided to try some seasonal specials from popular food chains to see if they're worth buying. All foods were reviewed within the Bellaire vicinity, so feel free to try some for yourself!
Starbucks' Peppermint Mocha (4.5/5)
Starbucks' Peppermint Mocha is a classic holiday drink, and this taste test has truly taken it to the top of my list. The warm blend of peppermint and chocolate really makes me feel like it's winter even when it's 80 degrees and muggy outside. There was just the right amount of each flavor; the peppermint wasn't faint at all, which is typical of seasonal coffee drinks. After trying this peppermint mocha, I think it'll be hard to find a coffee that tastes more like the holidays than this one! Even the whipped cream on top of the drink added something, perfectly enriching the taste of the coffee. There is only one downside to this holiday treat — the price. At $5.75 for a grande, it is a pricey drink. Starbucks is fond of making extremely expensive drinks. While I enjoy trying different coffees as often as possible, the costliness of Starbucks can definitely put a stop to that. Is this one worth the price? I would say yes because the peppermint mocha's tastiness is just too good to pass up.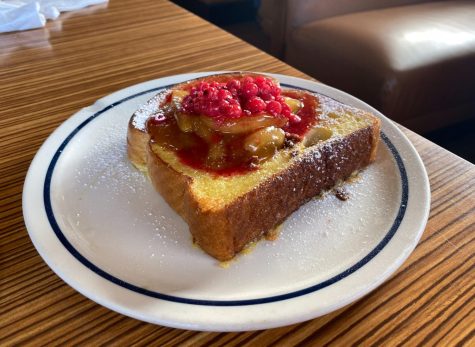 IHOP's Gingersnap Apple French Toast (4/5)
The toast was probably my favorite part of IHOP's Gingersnap Apple French Toast. It was fluffy and just the right amount of doughy, which is pretty fitting for its "thick n' fluffy" description on the IHOP website. While it paired well with the toppings, I found myself wishing I could have some of the toast on its own with some maple syrup.
The toppings themselves seemed to add varying contributions to the meal. The red currants seemed to suck all the moisture out of my mouth from their bitterness. But paired with the powdered sugar and vanilla coating, the currants highlighted the sweetness of the meal.
On the other hand, the spiced cinnamon apples felt like an unnecessary addition to the toast. The flavor of the apples was overpowering and diminished the flavor of the rest of the toppings. I ended up eating the apples off the toast before eating everything else, and they would have had the same impact had they been on the side.
Overall, for $8.99, I would consider the Gingersnap Apple French Toast to be the perfect meal for people who love sweet French toast and some fruit to go with it. As someone who typically prefers pancakes to toast, I'd say it tasted pretty good.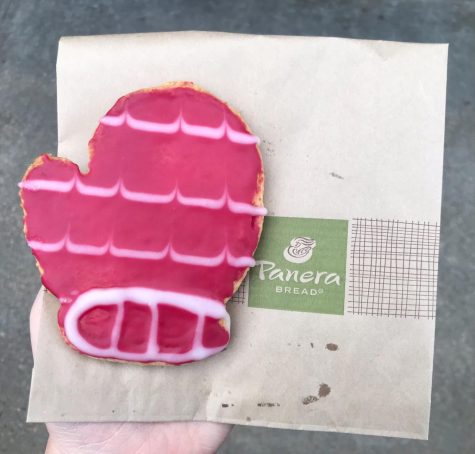 Panera Bread's Mitten Cookie (3.5/5)
Panera Bread's Mitten Cookie has made an appearance on the menu every holiday season since 2014, but it's only this year that I've actually taken the time to try it. The red icing had an appetizing sheen to it, the cookie had a fun shape and seemed to be baked to perfection.
Was it bad? No, not at all. It was a classic, buttery, crumbly shortbread cookie. It had just the right amount of icing with a slight lemony taste to it. It wasn't very unique.
So why was it $3.29? I can make a batch of 36 of these for $15, or I can buy a dozen shortbread cookies from HEB for $2.76. The high price is fairly consistent with Panera Bread's prices for pretty mediocre meals.
The Mitten Cookie tasted good, but I would recommend you go to your local grocery store for a sweet treat, unless you don't mind spending some money on an overpriced cookie.
Wendy's Peppermint Frosty (3.5/5)
The new Peppermint Frosty is Wendy's second attempt at a seasonal frosty, the first being this past summer's Strawberry Frosty. As a huge fan of Wendy's signature chocolate and vanilla flavored treats, I was hopeful that the peppermint flavor would meet or even exceed my expectations. However, I was disappointed. While the taste of the Frosty itself wasn't bad, I would definitely call it lacking. There was an absence of actual peppermint flavor, and I felt like they put a little peppermint syrup in a vanilla Frosty and just called it a day. Needless to say, I was expecting more from Wendy's considering the widespread popularity of the original flavors. While the Peppermint Frosty could definitely use a few improvements, it wasn't entirely unsatisfactory and was only $2.19 for the perfect serving, so I would say it's worth a try.
Leave a Comment