Winter choir and orchestra concert excites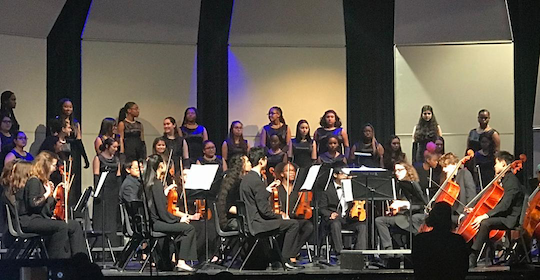 As the drum played the bass of "Little Drummer Boy," the orchestra gradually blended into the song, initiating the start of the concert. This, however, is not a normal concert: he Orchestra and Choir played together on the same stage last Friday, Dec 13. The auditorium was completely packed, with late arrivers standing to watch in the back of the room. The show was a sellout.
After a few songs by the Lyrica Orchestra, the Madrigal Choir switched in place, bringing a different style of music. The voices of the choir fit with the theme of the concert perfectly. 
Singing "Carol of the Bells" by Pentatonix and "The First Nowell" by Dan Forrest, the choir gave both relaxations and chills as the members sang at different vocal ranges.
Soon after, as the stage prepared for the next song, the audience saw that both of the groups will be on the same stage, playing or singing the same song.  When both the orchestra and choir performed together, there was no longer a divide between the groups. Instead, the sense of musical unity prevails for the audience's eyes and ears. The winter vibes flowed through the room as they played classical holiday songs together.
The Choir and Orchestra collaboration was a new take for both of the musical groups, but the combination of different musical ranges only created a brighter and more joyful show for the audience. Joining forces for a concert that was free of charge, definitely expressed the school's musical spirits and talents. Wrapping up the show, the Choir and Sinfonia Orchestra played "This Christmastide" by Donald Fraser. The performance hit the audience that it was the end of the show, however it beautifully signals the beginning of the holiday season.