Where are Bellaire students eating?
The most popular off-campus lunch spots
The bell signaling the end of fifth period rings and senior Blair Dickinson heads off of campus, hopping in her car to begin the short drive home. At home, she keeps her eye on the clock as she makes lunch but she's not too worried – her next class isn't until seventh period. She's eaten lunch off campus almost everyday, usually at her house but on occasion at the Starbucks in Meyerland Plaza.
Dickinson belongs to a group of Bellaire juniors and seniors who have a Home Lunch Permit, a pass that lets them leave campus during lunch. With the typical lunch period being only 50 minutes long, most students opt for something close to school for a quick bite to eat, while others like Dickinson are lucky to have extra time.
"I go to Chick-fil-A on an average probably once a week," junior Juan Rivera said. "Once I get a car I probably will go [more] but it would be more of a pick up and eat at the school situation since there isn't a lot of time."
Like Rivera, the majority of students choose Chick-fil-A. A poll conducted by Three Penny Press showed that one third of students who went off-campus ate at the popular fried chicken restaurant. The fast food restaurant is only a seven minute walk from campus, and even less by car.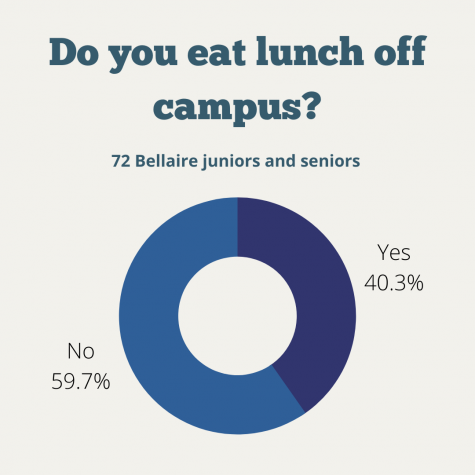 "I drive to Chick-fil-A or Teahouse every other day. I get to school at 6:30 a.m. for swim practice, so I usually have a good parking spot," senior Nicholas Pettit said. "I don't feel like I have enough time; I wish I had an extra ten to fifteen minutes."
Despite the proximity of students' favorite restaurants, students still find the lunch period too short. Senior Fiona Murphy likes to eat at Pho VN 21, a Vietnamese restaurant, but has only been there once this year so far.
"I'll probably only go a couple times a month. I've been trying to save more money, and going out to eat during the lunch period creates a rush for everything I have to do," Murphy said.
Other students feel the same way. Senior Aditya Markan enjoys tacos from a nearby restaurant Tacos la Bala, but the restaurant is a six to seven minute drive away during heavy traffic.
"At the beginning of the year, we would get there and order, so we would get back to Bellaire around 1:15 p.m. with minimal time to eat," Markan said. "Later, though, I figured out I could call an order in and just go there and come back to Bellaire by 12:55 p.m."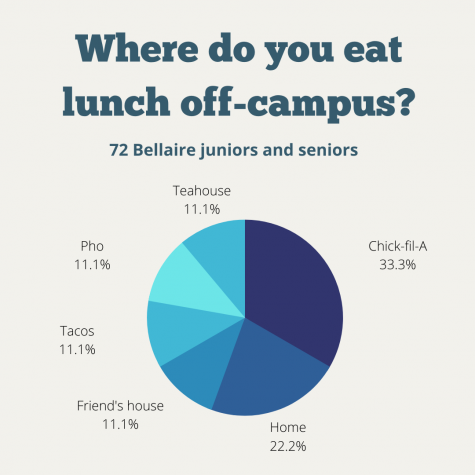 Despite complications with time, students are taking advantage of the newfound freedom. The Home Lunch Permit allows students to get together with a group of friends and get away from the hustle and bustle of campus for a while.
"I had to fill out the form which was pretty easy but the waiting around was frustrating," Dickinson said. "They had to call my mom to confirm her approval which took about two or three weeks, and then another week for them to print my ID. Nothing terribly hard, just a long process."
Leave a Comment