Student attends virtual classes from Israel
COVID-19 forced students like junior Naama Ozeri to attend classes online. Only, she attends from halfway across the world.
In July, Ozeri's family presented her with a decision:  stay home in Houston for the summer or with her mom in Tel Aviv, Israel. This was partly in an effort to protect her at-risk father at home. The choice was up to her. After a few days of weighing her options, she chose to make the 15-hour flight to Israel and her summer vacation turned into an unexpected, extended stay.
"Originally, I was going to come back in August," Ozeri said. "But when I found out that school was online, me and my mom thought I could stay longer and do school here. I wanted to stay with my family longer because I don't see them often and I had more freedom here."
After three months of spending time with family and exploring Israel, the upcoming first week of school ended her vacation.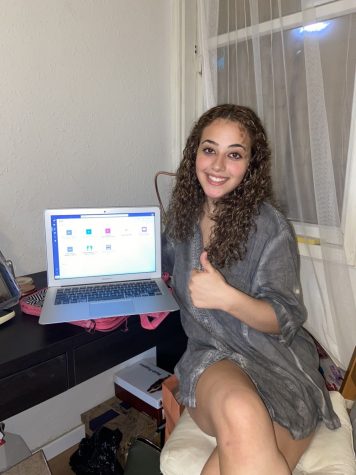 Online school in a different country presents its challenges. Wifi connection is spotty, and it is nearly impossible to access her school accounts. Also, Microsoft Teams and  PowerSchool were both blocked in Israel. 
"It was really stressful a few days before school," Ozeri said. "We called the school and HISD, but they basically told us that they couldn't do anything for me."
Luckily, with the help of a family friend, she fixed her issues. Her solution came in the form of a virtual private network, which gave her internet access to all of the school websites. The VPN, however, still didn't fix the time zone difference.
Since Tel Aviv is eight hours ahead of Houston school starts for Ozeri at 4 p.m. and usually ends around midnight. This presents advantages, like more time to do homework, but it also comes with its drawbacks.
"One thing that really sucks is that content hours are so late in the day for me. I had a test at 11 p.m.," Ozeri said.
Despite the challenges of attending high school overseas, Ozeri is adjusting to her new schedule and is making it work. She wants to enjoy her last few weeks with her family in her second home.
  "I get stressed easily and I freak out easily," Ozeri said. "But I've learned to be patient and trust that everything is going to be ok."