Feeding picky eaters: students become household chefs
After four hours of Microsoft Teams calls throughout the morning, junior Nicole Mao divides a steaming pot of gluten-free pasta between two white ceramic bowls. Moments later, quiet footsteps announce the arrival of another hungry stomach. 
Younger sister Emily Mao enters the kitchen, takes a bite of her sister's freshly cooked meal and scrunches her nose. 
"'Yeah, I just don't think it's for me,'" Emily said. 
Stuck at home for the first two academic grading periods, Nicole started cooking school lunches for her and her sister, who is a freshman. Feeding the picky eater provided quite a challenge. 
"She's usually really critical," Nicole said. "She's really straightforward about what she thinks of my food. For example, she'll complain that it's too salty or something, so when she says that it tastes good, I'm like, oh wow, it's actually good." 
President of Bellaire's Cooking Club, Nicole took advantage of her time at home, with her sister as a test subject, to start experimenting with healthier recipes. 
"During the normal school year, I didn't eat as healthy as I wanted to because I didn't really have time to prepare meals or buy vegetables," Nicole said. "I would just grab the first thing in the fridge, which was usually something very processed that made me feel sick and sluggish throughout the day."
Nicole spent the first two weeks of Cardinal Hour trying several brands of gluten-free pasta — including DeBole's Rice Spaghetti and Barilla's Corn and Rice Penne —  and chopping fresh vegetables, steaming quinoa and eating in the kitchen with her usually reclusive sister. 
"It definitely brings me and my sister closer together," Nicole said. "The rare times my sister cooks with me, it's something special because before, we didn't have time to have sit-down meals. At this point, Emily's so used to my cooking that she kind of just eats what I put in front of her."
Emily, a harsh food critic, overall enjoyed trying all of her sister's new interesting recipes from Pinterest and the web. 
"I don't usually like gluten-free food, but my sister adds a lot of spices and flavor, so it's pretty good. I really liked the gluten-free chocolate chip pancakes she made one time," Emily said. 
For sophomore Sophia Kotlyar, access to a fully-stocked kitchen during Cardinal Hour last spring, along with inspiration from her grandma and dad, inspired her to take her culinary skills to the next level. Watching her grandmother and dad cook traditional Russian meals sparked Kotlyar's interest into the vast culinary world, specifically into Asian cooking.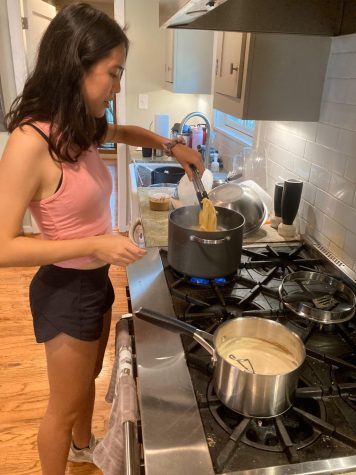 "I've been experimenting with ingredients that I haven't used before," Kotlyar said. "This summer, I was really into Korean cooking, with lots of ingredients like gochujang — Korean chili paste — and sauces. I would create dishes with ingredients that I had no idea how to use. I'm familiar with those things now." 
A healthy recipe advocate, Kotlyar cooks lunch for her 11-year-old little brother. 
"My brother is sometimes upset at the amount of vegetables that I put into everything," Kotlyar said. "But now he gets to experience all types of flavors and new ingredients, even though he'd probably prefer to eat a big bowl of plain pasta."
Happy that she can help out her family by providing lunch and dinner, Kotlyar is also grateful that, thanks to virtual learning, she has more time for her favorite pastime. 
"Cooking makes me feel relaxed," Kotlyar said. "You know those hobbies where the hours just fly away? For me, it's learning about food and preparing it. I don't think about anything else."
With so much time in quarantine, Kotlyar said she is grateful to have parents that emphasized learning to cook from a young age. Since learning to boil pasta and combine ingredients for sauces as an elementary schooler, she branched out over time into a very versatile chef. 
"I think it's one of the most important life skills to have, especially to promote a healthy lifestyle," Kotlyar said. "It's also important for when you move out or begin to care for others. It's the perfect time to start developing your skills."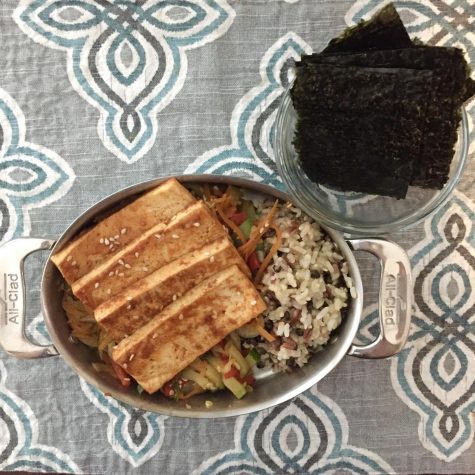 Senior Kate Hester began eating healthier since she started preparing school lunches for her three younger siblings. 
"I was more likely to skip lunch when I was going to normal school just because I would forget it, or there wouldn't be something that I could easily make or bring to school," Hester said. "Now, I can make whatever I want because I'm at home. If I want to make a quesadilla, I can make a quesadilla. If I want grilled cheese, I'll make that. I can kind of just make whatever I'm feeling in the moment."
Completing the beginning of her senior year at home, Hester helps her mother prepare meals throughout the week for her siblings. 
"I see it as a welcomed break," Hester said. "It's a good chance to not be sitting in front of my computer. I can get up, walk around, take a second, move past the morning classes and think about what I need to do for the rest of the day." 
Sharing a roof with a vegetarian middle schooler and a feisty kindergartener, Hester adapted her cooking to cater to her little siblings' taste buds and food preferences. Recently, she discovered a no-meat taco recipe that became a household favorite. 
"It's something I like too, and it's easier for everybody," Hester said. "My little brother doesn't like the fake meat as much as the rest of us, but he likes it okay."
Hester has since embarked on a search for more delicious recipes she hopes her little brother Zach will enjoy. Her Pinterest and web searches led her to experiment with healthier versions of fluffy chocolate chip cookies, shrimp dishes inspired by Forrest Gump, and spicy fried rice. 
"I definitely think it's worth learning to cook because it's fun if you get into it," Hester said. "And, when you can choose what you like, you'd be surprised by how many of the dishes that you like that you can actually make yourself."