Teachers enjoy summer vacation during pandemic
The morning of May 18 came quietly. The last day of school. The signs of a vacation were beginning to show on the roads. Yet, there was a notion of uncertainty. Uncertainty about being outside and the over looming fear of falling ill.  A sense of freedom. Yet, the feeling of confinement. 
A time to enjoy life, restricted by the alarm of getting sick. Summer.
"It was interestingly boring," US History teacher Aranda Jorge said. "I would call it my 'surprising domestic summer'. Everything I did was around the house. It was around the domicile. So I would say just interestingly boring. Boring in that there was nothing to do. But, Interesting that I had to learn to take care of stuff on my own."
Not everything went as planned this summer for the cautious US History teacher. He and his family had planned to go to Smokey Mountain National park this summer. They had booked tickets as well as hotel reservations but just didn't feel comfortable risking it.
"We were really looking forward to that trip in Tennessee over the summer," Aranda said. "We had a chance to get away, we had some family friends there, a chance to meet them, we haven't seen them in like four or five years so it would've been really nice."
This upheaval in his plans taught Aranda to learn new skills. While at home, Aranda learned how to perform basic house repairs, as well as a few complex ones, such as troubleshooting the power generator.
"It has always been kind of a fear," Aranda said. "I would much, much rather have a professional do it rather than me do it simply because they know what they're doing. So changing up the sink was like a big thing because I had no idea how to do that, but in general fixing things around the house, that's basically what gets me out of my comfort zone."
English I teacher Kelly Tomlinson also has had her fair share of strains and joys over the summer. From attending graduate school to her brother's wedding right before school, this summer has been "very monotonous, and not in a bad way," Tomlinson said.
"My days literally just consisted of walking my dog, running, and doing school work," Tomlinson said. "It was also stressful because of a couple reasons. One, traveling, like in this time of covid, there was so much uncertainty, like it was hard to wear a mask four hours in the airport, and on the airplane. So there was a lot of uncertainty like, am I going to get sick? Am I going to infect somebody else?"
This quandary didn't stop the energetic girls soccer coach from enjoying her summer.  She persisted with her plan to attend her brother's wedding in Huntsville, Alabama and didn't regret doing so.
"It was really nice," Tomlinson said. "I did enjoy being around all these people, and seeing my family. I mean, it was nice. I hadn't seen my cousins and aunt and uncle in a while so…I hadn't seen all my family because of covid, so it was nice to be with them. So yeah, it was a bit stressful. But ultimately, we only get one chance at this. So I didn't wanna look back and regret it."
However, uncertainty wasn't the only feeling that lurked this summer. Kelly Quarles, Art 1 and photography teacher, had planned to go on her honeymoon this July. The couple had already been married for a year and had saved money as well as booked tickets for a plane and hotel reservations.
"We were supposed to be backpacking through Machu Picchu in Peru," Quarles said. "So that was really disappointing, that the week we got out of normal school, was the week that we were supposed to be leaving for the trip."
This change in plans hasn't completely drained Quarles' summer. She and her husband were able to go on a replacement vacation to Sedona, Arizona. During the trip, they made a stop in Amarillo and went to Cadillac Ranch. Once they were in Sedona, they went hiking.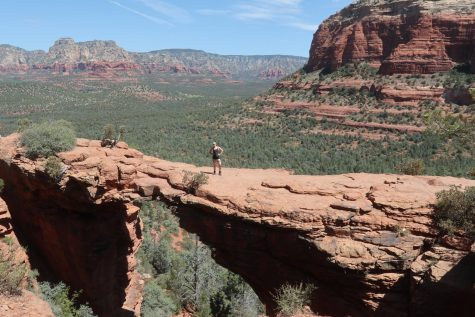 "There were so many hikes to do," Quarles said. "I want to go back so bad, it was so beautiful, and it's a dark sky city. Like, a certified dark sky city. So at night you can see every star in the sky, it was so beautiful."
Though she had to switch her plans, Quarles said that she went through quite a few emotions. 
"I would say disappointed but thankful," Quarles said. "Thankful that I had access to a vacation, so I could go and do those things. So yeah, I would say disappointed but thankful."