COVID-19 affects college admission process
By his freshman year, senior James Li had his sights set on colleges on the West Coast. As his senior year approached, colleges in the northeast began to appeal more to him. Despite not having the opportunity to visit his top colleges in person, he was still able to narrow down his choices.
"Not being able to visit the schools is definitely the biggest challenge we have to work around as it is harder to get a sense of the community, the way of life, the teachers, the people and the classes," Li said. "This ultimately makes it more difficult to see how you would fit into each school because at the end of the day, you have to ask yourself if you can imagine spending the next four years of your life there."
According to Li, the pandemic should be the last thing you consider writing about in essays. 
"While the virus may have a large impact on your life, it is important to remember that it is also having a similar impact on millions of other people's lives," Li said. "Your college essays are what separates you from the thousands of others in the application pool, so it is important that they are unique to you and are about topics that nobody else could write about."
Senior Saumya Jhaveri said that brainstorming ideas about what to write for college essays is the hardest part of applying. He began filling out his common application at the beginning of September. 
Since visiting campuses is not an option right now, seniors can either attend virtual tours or informational Zoom calls in order to gain a better understanding of each college. 
However, the importance of writing unique, individualized essays remains despite the pandemic. 
"You have to leave yourself enough time to complete all of the essays," Jhaveri said, who is still working on some of his essays.  Aside from the Common Application essay, Jhaveri was required to complete nine supplemental essays and said those are the longest ones to complete. 
"Word limits for the supplemental essays are more restrictive than the essays for the common application," Li said. "This is incredibly challenging as the prompts tend to be very open-ended leaving you with so much to write and very little space to write it."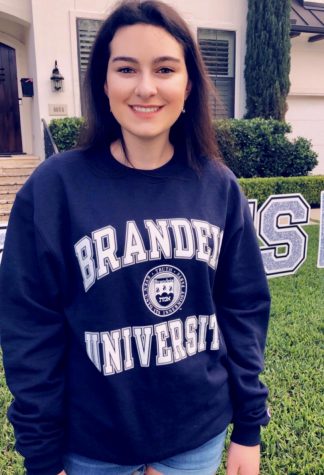 For recent graduate Makayla Wigder, now a freshman at Brandeis University, the process looked a little different. 
Wigder turned in all of her college applications by Thanksgiving of her senior year at Bellaire. According to Wigder, the most important factor in applying is grades. 
"You need to work hard throughout high school and be sure that you are applying to colleges that you can realistically get into," Wigder said.
After hearing back from the colleges where she applied, she made her decision based on the campuses she visited during her sophomore and junior years.  
"A big factor that also really helped me decide which school was the best fit for me was speaking with upperclassmen from Brandeis and the other colleges I was considering," Wigder said. "Since I was stuck online at this point, I used this as a way to get to know the community. Trust your own instincts when it comes to schools. At the end of the day go to the school that is best for you, not for anyone else."