Bellaire principal Michael McDonough considers every hurdle a learning experience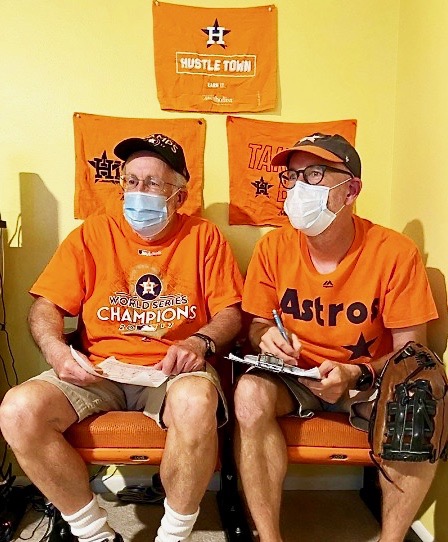 Ralph, the 3-foot red ceramic cardinal, peered over the top of his shoulder as Bellaire Principal Michael McDonough filmed his first-ever COVID-19 announcement video. With his signature earnest gaze and grizzled goatee, McDonough offered valuable information and reassurance to thousands of students and parents.
"The first three months of 2020 have certainly brought challenges to Bellaire High School, to me as your principal and to our community as well," McDonough, in his March 23 video, said. "What's been important through all of that is how we have communicated and how we have worked together."
After approximately 47,600 received emails, 238 days of distance-learning and 46-morning announcement videos later, McDonough is proud of the Bellaire community in handling the COVID-19 pandemic. 
"We are learning so much from this experience," McDonough said. "I don't want us, as a school, to come out on the other side just to go back to exactly how things were before, emotionally and physically."
McDonough has worked with his administrative team to combat the hurdles presented by the pandemic. One thing he wants to introduce is senior-class time, which he believes should be more flexible in order to accommodate the interests of these "budding adults".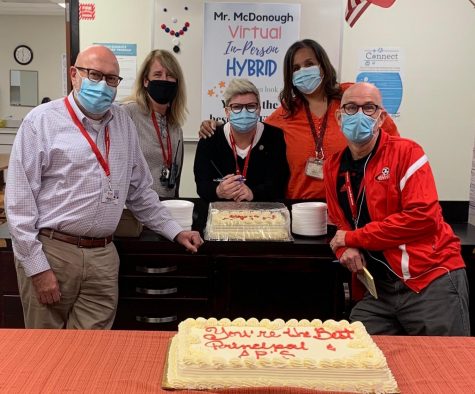 "How cool would it be, if, in senior year, if you're close to finishing your credits, you could take virtual classes?" McDonough said. "This would really give students time to do the amazing things they're doing and develop their passions beyond traditional schooling."
In addition to his devotion to Bellaire and being principal for eight years, he is also a dad, husband, and lover of Billy Joel, The Office, and the color red.
An avid runner and sports aficionado, McDonough said the secret to his motivation in training is patience and developing a strong routine.
"If you just have these two virtues, you not only feel your increased strength and endurance, you get a kind of peace, and that's something I love about exercising," McDonough said.
McDonough, who trains in rain or shine, said he never regrets a workout.
"I feel that running outside is a complete disconnect from the vast amount of time we all spend online," McDonough said. "I like to turn off my music, leave my phone at home, and just experience nature. It sounds weird, but I really value this small piece of time where I can clear my head and be with myself." 
Despite the social challenges of COVID-19, McDonough has found a unique way to stay connected.
Since April 1979, McDonough and his father have attended every Astros home opener together, and have never let any obstacles get in the way of their time-honored tradition. 
"Sure, throughout the years, my dad and I didn't always get along or see eye to eye on everything, but baseball was something we really valued and could still talk about," McDonough said.
Due to safety precautions of COVID-19, McDonough and his father have not been able to attend the opener in-person to celebrate the 42nd year of their beloved custom, but they did not let these restrictions dampen their experience.
"I actually got, as a Christmas gift years ago, some of the old seats from the Astrodome Stadium, so my dad came over and we watched the game together in our masks and Astros gear — I tweeted out a picture of it, too," McDonough said.
The tweet, which received 3.5k likes and "overwhelmingly positive support", stands testament to "overcoming the social costs of the pandemic" as McDonough said.
One of the things McDonough cherished most about pre-COVID-19 Bellaire was greeting students as they filed into the building.
"It's a great way to see kids, it's a great way for them to see you and it's also a great way to see how people are doing in a day," McDonough said. 
McDonough, whose warm attitude stands out in the hustle-bustle of gray Bellaire mornings, is equally adored by students. 
"He's extremely positive and welcoming," sophomore Anthony Nguyen, who recalled an encounter he had with McDonough on his first day of school, said. 
"He immediately allayed my nervousness and encouraged me to visit him if I ever passed by his office, and he even remembered my older brother. I think it was so amazing how he is able to be understanding of someone through the relations they have with others," Nguyen said.
Another favorite part of McDonough's day is Cardinal Hour when students can be found scattered around the school.
"Even though there are some days when I don't have much time, I love to walk around the school and pop into club meetings or check in with students and what they're up to," McDonough said. "It's one of the times that I realize how much I admire what we have here at Bellaire."
Despite his eagerness toward his job and students, McDonough never planned to become a principal.
"When I was in high school, I was going to be a lawyer. I was gonna become a judge, and I was gonna go to the Supreme Court," McDonough said. "That's not how it worked out, but I think ultimately, through education, I'm able to achieve the same effect."
McDonough, who writes regular entries for his blog, M Squared at the Microphone, said that if he wasn't a principal, he would try his hand at journalism.
"I think, especially in recent years, we've seen the importance of journalism in our democratic society," McDonough said. "I have a lot of respect for people that can get to the core of a complex or large issue and help people understand it. I try to do that through education, and what we're doing here on campus, too."
McDonough's favorite author is Maya Angelou, one of the many people he derives inspiration from as a quote-connoisseur.
"She said: 'Do the best you can until you know better. Then, when you know better, do better,' and I identified with that very strongly," McDonough said. "Whenever I work with my team to try new things, I use this quote. When we want to go 10 yards, I say: 'Let's go 40 yards!', and they laugh, but I really believe that better is better, whether it's a little bit or a whole lot."
Being 'better' applies to students too, said McDonough.
"In a school the size of Bellaire, if you want to slip through the cracks or skate by in your learning without drawing good attention towards yourself, you most certainly can. But just know, if you're bombing, we'll notice you," McDonough said. "But I worry, especially now, that it can be easy to fall into some habits that are not quite healthy, mentally."
McDonough encourages students to stay connected with friends and family and reach out to the Bellaire administration for support if needed. 
"It's really important to me to be able to assess the conditions of students and see how they're doing. I miss that sense of togetherness," McDonough said. "But then again, any time when it comes to you guys [at Bellaire] and the situations we've had to handle over the recent years, I don't want to be afraid of what could go wrong. I want to focus on what could go right."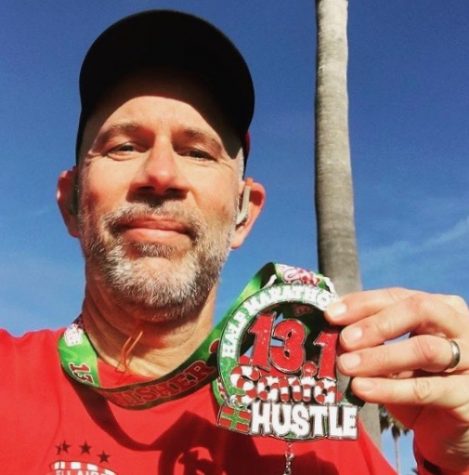 Senior Shirley Zhu said that she loves McDonough's good-natured spirit.
"His enthusiasm is so contagious and I think he has a way of brightening the room or even a short conversation – it's really amazing how he is able to share that energy too," Zhu said. "When we were back on campus, if I stopped by during lunch to say hello, he was always so positive, and I thought that optimism was outstanding." 
Zhu, who often works with McDonough in the Student Council, admires his willingness to meet and discuss ideas with members. She emphasized how, though McDonough maintains a busy schedule, he appears at Council meetings to engage with students and listen to their feedback.
"We had a lot of these new projects that we wanted to implement this school year, and even despite COVID-19, Mr. McDonough was always very open-minded and willing to collaborate — he's always so supportive of students and all of our endeavors," Zhu said.
Quick with a smile, a great laugh, and a generally affable demeanor, McDonough attributes his success as principal to his students.
"I think people underestimate how powerful y'all are," McDonough said. "I mean, seriously, man, you're gonna change the world. Your generation doesn't wait for permission to change, and that's what makes you unique. You're gonna make your voices heard, impact change, and bring down the systems you disagree with; if adults underestimate that, it's only going to be to their loss. I just have so much confidence in you guys, and I feel honored that I am able to work together with y'all to put things in place to support that."