Studying abroad transforms teacher's life
Elizabeth Chapman stares in confusion at the unfamiliar letters posted around her on the airport walls. She is only 17, carrying a suitcase full of business clothes, suits and long-sleeved button-down shirts. Surrounded by crowds of people with whom she cannot communicate with, she realizes she is no longer in a small suburb of Texas, but instead on a small island of Japan.
Much like her father, Chapman never left the the United States until her junior year in high school. She received a scholarship to study abroad on a rural island in Japan called Okinawa. It was very different from League City, where she grew up.
The experience was very humbling to Chapman, as she didn't speak any Japanese and her host family didn't speak any English.
"I remember one day my host family poured this brown liquid in a tea pump," Chapman, who teaches English I, said. "I assumed it was tea and so I picked it up and drank it down. And it was soy sauce. It was horrible because it was very hot."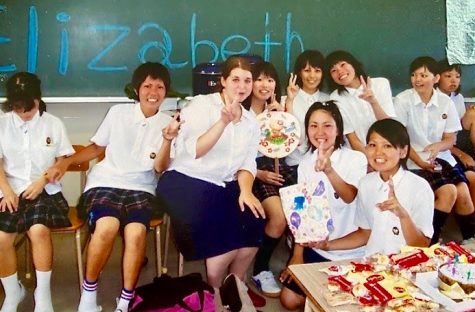 Chapman said it was a great lesson and now laughs about the experience today. While in Japan, she attended a technical school in which she studied culinary arts.
"The high school that I attended was a technical school," Chapman said. "Meaning the students were training for careers instead of college. I was in the culinary program, and the teacher was a really stern Japanese chef. After watching me try to chop an onion the first day, he told me that I wasn't allowed to use a knife anymore. Instead, he gave me another job. Okinawa is famous for their wild boar, so I was responsible for using a tweezer to pluck the bristles out of the meat."
Chapman lived in Japan for six weeks during the summer before her senior year. 
"When I arrived, I didn't speak any Japanese whatsoever, but by the time I left, I was able to use maybe 100-200 words," Chapman said. " I think there's something about immersing your brain in another language when you're young that makes it stick." 
Chapman's curiosity and love for travel were inspired by her mom. She was amazed at the stories she would hear about her mom's experiences. 
"I remember hearing about how my mother had traveled a lot as a young girl with her family in the 1960s," Chapman said. "They had taken a VW bus all over Europe. And I was curious, because that wasn't something that my family did, and my father had never left the country. So I wanted to know more. And one day experience it myself, so I took the risk of applying for that scholarship to go to Japan, and then my whole life changed."
Through that experience, Chapman not only grew and realized that she wanted to make travel a part of her life, but she also wanted to find ways to make it a part of students' lives. As the study abroad coordinator at Bellaire, she has worked with travel companies to give students the same opportunity she had when she was in high school.
"Over the past five years, we've sent about 150 students abroad," Chapman said. "Bellaire has worked with organizations like the Council for International Educational Exchange, EF Tours, the Congress-Bundestag Youth Exchange, Rotary International, AMIGOS and the Puranik Foundation. We're a Global Navigator School with CIEE, which means that we're guaranteed between $25,000 and $50,000 in scholarships for our students every year."
Outside of her room, students can find a map with stickers in different countries that represent the places students have traveled. 
"The names show the students who studied abroad with CIEE over the summer of 2018 – I'm hoping that we can add more names to it soon," Chapman said. 
Chapman said she believes that traveling abroad is key to overcoming cultural boundaries and forming relationships across borders.
"We are living in a global society today," Chapman said. "And every choice that we make has implications for the world beyond our national borders. And so I think that by interacting with other people, it helps you understand those systems, which is important, but I think maybe even more important is that it opens your heart. It helps you to understand the fundamental goodness of human beings all over the world. I have learned that people are fundamentally kind and want to help. And, regardless of our differences, we are looking for ways to connect." 
Chapman chose to teach at Bellaire due to the diversity of the students.
"I'm at Bellaire because I think that it's important to have lots of different kinds of people that surround you," Chapman said. "I hope that Bellaire might be that kind of place that people feel like for the rest of their life was somewhere where they really belonged. Somewhere where learning was fun and relevant."
Ever since she was young, Chapman has been curious and loved to learn. She said that learning is how you grow and improve.
"I'm really proud of the fact that I consider myself to be a lifelong learner," Chapman said. "That's why teaching is so much fun for me because I get to continue to learn alongside my students."
Chapman attended Texas A&M University and graduated early in 2006 with a bachelor's degree in political science. She regrets not studying for the full four years and wishes she would have taken her time.
"I graduated college in three semesters," Chapman said. " I just wanted to start taking more challenging and interesting courses. And if I can do it over again I would take the full four years and do multiple majors, and just enjoy the time to be a student and to learn about things, even if it wasn't necessarily connected to a career plan."
She earned her graduate degree at the University of Houston in 2012. Chapman then came to teach English at Bellaire in 2013. 
Passionate about her job and the influence she has on her students, Chapman said her happiness in life is directly correlated to her work.  What she wants more than anything is to do meaningful work. She wants to feel like she's doing something that matters every single day.
"Happiness is really connected with your work," Chapman said. "I feel so fortunate to have a job where every day, I'm happy to come to it. It's not a struggle to get up in the morning and come to work, because I know what I'm doing is important. And I get to interact with students and other teachers. Happiness is finding meaning in the work that you do."