Virtual piano competition pushes pianists beyond their comfort zone
Both sets of hands stop, the quick pounding of the boys' hearts cease to a slow rhythm and the echoing of their music resonates to a silent ring. The piece is over.
In their matching black suits, both stand up and face the front of the stage like they have done for the past 11 years, puff out their chests in pride and bow. But unlike their duet concerts of the past, this time, they bow to an empty crowd. 
On Oct. 28, senior Andrew Sun and senior William Fan recorded their 12-minute duet piano piece at a piano gallery for the yearly Music Teachers National Association competition. Because of COVID-19 restrictions, the competition, usually held at Brandeis University in Waltham, MA, was moved online. 
"We had to record our repertoire and send it into MTNA for them to judge," Fan said. "The entire process was so nerve-racking. The entire time I was paranoid that the recording would fail some way."
To have the best chance of proving their talents in the competition, Fan and Sun rented a musical studio, a choice they said was necessary to help them uphold their performance quality.
"We had to record at Kawaii Piano Gallery, one of the best recording studios in Houston, in order to make sure our recording was presentable," Fan said. "It was insanely expensive, $175 an hour, but the recordings needed both video and audio for security purposes."
Sun recalls that the atmosphere of an empty hall, the silent empty seats and the eerie tension in the air, was a situation he had never experienced before.
"Jeezus, I was nervous out of my mind," Sun said. "We have two hours to record a flawless 30-minute repertoire so it's a very high-pressure situation. I swear I almost punched William a couple of times because someone couldn't do their runs." 
Fan, who has played piano since the age of 6, found that the tight time frame created a more stressful situation than in an actual concert. He considered this a challenge that created more conflicts in their competition.
"For some reason, recording ourselves somehow felt more stressful than a live audience because I knew that if I messed up once we would have to restart the entire recording," Fan said. "Other teams we would compete against would also have near-perfect recordings because they have the liberty of replaying the piece over and over until they are satisfied with the recording. That pressured us to do the same, as if we didn't have near-perfect recordings we were sure to not make it to the next round."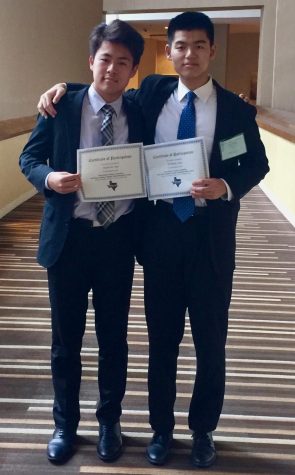 For each of them, recording in this unusual environment was the most challenging part of the entire competition. The initial nervousness before playing was followed by a wave of anxiety, clammy hands, rigid shoulders and quivering fingers.
"First recording was a massive flop," Sun said. "Hands were shivering all over the place and everything felt out of place. Tons of mess-ups and the first piece took 30 minutes alone. But slowly, it got better and more comfortable.
After several tries, Sun and Fan finished the recording. They had lifted the burden off of their shoulders. Fan recalled the journey that had led him to his position now. While the younger version of himself may have resented piano at first, he said the path he took to obtain these successes in piano were a result of his hard work and devotion. 
"I started playing piano when I was about 6 years old because my parents forced me into it," Fan said. "I remember I cried my first few lessons because I just didn't want to do it, and I even quit for a few months because my piano teacher yelled at me every week and it scared me. But, I found a new teacher, the one I still have to this day, and she helped me realize the importance of music in life and the talent I had, and eventually I came to enjoy playing the piano." 
Sun said he started playing piano when he was 4 when he thought he might not be able to keep his childhood toys. 
"I started playing at age 4 because my parents threatened to take away my GI-JOE action figures," Sun said. "Piano makes me feel good now. I just play for fun and myself. Especially playing at home, it's much more chill because I can play in my underwear while scrolling Instagram."
Now, Sun and Fan see music as a stress reliever. While they each started their individual paths in different situations, their combined experiences have consolidated their partnership in piano. 
"I feel less pressured whenever I'm performing a duet piece when compared to a solo piece because I know that Andrew will shoulder some of the anxiety with me," Fan said. "Duet music is technically easier than solo music, but musically harder because we have to make sure every alignment is perfect and our chemistry has to be on point. Otherwise, it just sounds like two people playing on a piano instead of one cohesive melody."
Fan and Sun have developed a strong friendship over their four-year partnership. Sun cherishes these moments because he gains motivation from his friend. 
"I prefer duets over solos any day of the week," Sun said. "Anyone who disagrees has never played duet music. I think Will is one of the biggest reasons why I didn't quit music in high school. One, I wanted to prove that I was better than him and two, we could have fun while making good music anyways." 
Because of the challenges during these competitions, Fan and Sun miss their usual concerts in front of a live crowd. For them, bowing to a sea of empty seats makes them nostalgic for the bright lights and the roaring applause after their pieces. 
"The applause at the end of performances reaffirms that all my hard work has paid off. And there's also the energy of the crowd," Fan said. "There's an old Chinese proverb that roughly translates to 'one minute on stage takes years of work'. Without an audience, it kinda feels like no one is able to appreciate the technique and the music."
"I miss the applause at the end," Sun said. "I know it sounds egotistic, but when that light shines a little too bright for your eyes, and you hear that applause. That's what makes performing special. And then the embrace afterward with your supporters and family, that's what I miss the most."
With the MTNA competition behind them, their motivation is unfazed and they hope to start preparing for the next competition ahead.
"Quarantine has definitely made it harder to focus on piano, as I'm always sitting in front of my computer," Fan said. "Piano was my outlet inside of my house that I could spend outside of the reality of the world, but ever since quarantine, my reality of the world has been my house. But I know I have to work hard for myself and my partner, Andrew."