Bellaire's Selfless Servant
Ms. Flores shares her story of love, dedication and sacrifice
The wailing of her baby wakes her up. In the pitch black, she navigates through the mess of her bedside desk to find her phone. It's 5 a.m. 
The crying comes from her second child, whose whining wakes up the first and the third. In her 6th year of college, she begins her day in San Salvador, El Salvador. She fights ear-splitting cries and drowsiness. 
Meet Marta Flores de Gomez, more fondly to everyone at Bellaire as "Ms Gomez or Ms. Flores," who unlocks the doors, blows the leaves out from the courtyard and empties the trash cans, all before the first student arrives on campus. 
Her typical day might include moving tables in the courtyard, fixing broken ceilings in classrooms, supervising her 11 workers throughout the day and hauling boxes of shipments for the main office to the building. This is all done without a voice of complaint, but plenty of sweat and enjoyment to help the school.
Principal Michael McDonough said Ms. Flores embodies the best attributes as a leader and there are many times that he observes her and learns so much.  
"Ms. Flores entered Bellaire when we were at our lowest point in terms of cleanliness and overall functionality of this building.  She saw Bellaire as an enormous challenge and simply got to work.  She is selfless, leads by example, and incredibly gracious in all that she does.  It is important to her to build relationships and that endears her to everyone on campus."
But before she arrived in the U.S. 11 years ago and learned the halls of Bellaire, her journey started in El Salvador. Flores worked at the El Salvador Supreme Court in the morning, a job she got in her third year of college. She earned her first bachelor's degree in legal science at the same time. 
"I had all three of my kids when I was getting my bachelor's degree for five years," Flores said. "It was very difficult. I had to wake up at 5 a.m. because I started working while going to college after I got married."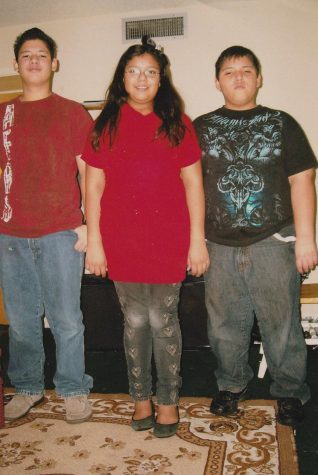 Despite the fatigue, Flores drops her kids off with her mother-in-law. Just the night before, her day ended at 9 p.m, as usual, after the end of her college classes. She goes to work in the morning and rushes to college in the afternoon. 
"I had a lot of complications with my first pregnancy because he was born premature," Flores said. "He was born in my 8th semester of college. In the meantime, I had to travel 45 minutes to an hour from home just to get to work."
Jostling on the bus ride, Flores has time until she arrives to work. She distracts herself by catching up on assignments to not fall asleep and miss her stop. Here, she fights her heavy eyelids and incessant yawning. 
"After I dropped my kids off, I had to be at work at 8 a.m," Flores said. "I would leave at 4 p.m. and have to be in class at 4:50 p.m. But it would take me an hour to get there so I would always be late."
Officially known as the Judicial Collaborator in El Salvador, Flores worked under the judge to write down events that would happen in court, talked to criminals to determine their sentence, and discussed when prisoners were set to be free. That is, only in the first half of her day. The rest, from 4 p.m. to 9 p.m. was to be a student at Francisco Gavidia University, striving to be the best student despite the burden of her kids and profession.
"Even though it's a blur to me now, I remember it was so hard," Flores said. "One day I was working on my college thesis on my computer while I was charging it. My kids went under the table and turned the computer off. I lost all my work. It was so hard."
Now, Flores fought the urge to give up while her cramping hands desperately tried to recover the work she had by typing as fast as she could. She declined a friend's offer to borrow their computer in fear that her children would do the same mischief and suffered through the consequences which were not her own. 
Flores graduated in 2004 after nine years. 
"After I finished all my required classes, I had to take three oral tests to graduate. I also had to take four more written tests. And I finally had to write my thesis."
To Flores, the job she maintained through college seemed perfect. Her husband worked at the bank close by, and her children seemed content with living in El Salvador. Until her father, who had left El Salvador to escape poverty, acquired her family residence in the U.S. 
She was going to join him, but leave her mother, culture and past behind. 
"I didn't want to come," Flores said. "When I got the news that we got it, my blood pressure was high at the moment because I wasn't ready." 
To Flores, leaving El Salvador was to leave her life. The country which she had grown up in and cherished. 
"My husband worked at a bank for 17 years. He had a great job. My mother lived in El Salvador even though most of my family lived in the U.S."
But, the move was inevitable. On March 9, 2011, Flores and her family arrived in Houston. Her first job came the next year: a custodian at Wisdom High School. Here, Flores fought an immense culture shock and the nostalgia of her childhood home. 
"We had our lives done," Flores said. "But we thought about our children and their future. They were sad at the beginning because they missed their family. At the time, my two boys were 11 and 12, and my daughter was 9."
After several promotions, moving up to Senior Plant Operator, Flores finally arrived at Bellaire High School in May 2017, six years since her family had moved to the U.S. For Flores, the time passed quickly and her kids grew up to achieve her dream: to succeed. 
"I have achieved my goal," Flores said. "My kids are doing great. My oldest son is going to graduate from Emory University in a few months, my second son is in his second year at HBU, and my daughter is studying to become a mechanical engineer at Bates College in Maine."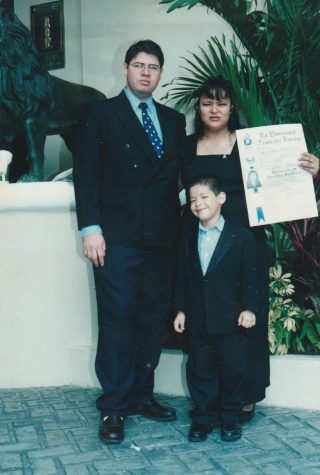 This is what Flores strived to achieve. Her times in the late night train back home, the aching of her body when she woke up to her daily alarm of crying, and the agony of seeing her work erased by the product of her own pain. Half of her life was focused on her children. Now, she aims to strive for a grander future for herself. 
"I am planning to go back to college," Flores said. "I already got the transcript of my grades from El Salvador and I'm planning to take the TOEFL test so I can continue studying. I would like to study to become a paralegal, a Spanish teacher, or a dental assistant."
McDonough sees Flores as an integral part of Bellaire High School. Her work is not overlooked by the principal. 
"She is the hardest working person at 5100 Maple, and I can't imagine Bellaire without her."
View Comments (2)