Teacher embraces Mexican-American roots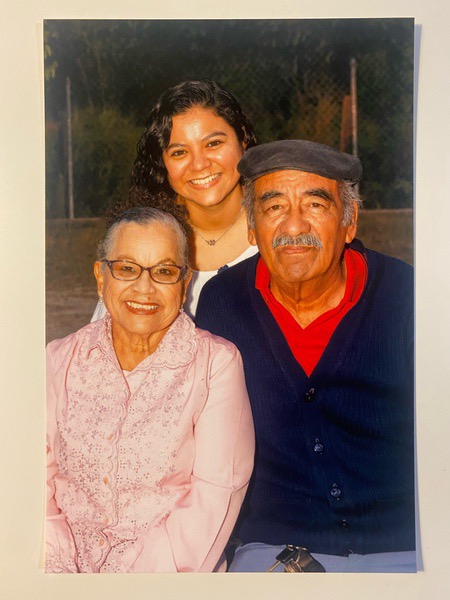 Every summer, she ran barefoot on the rocks under the shade of the tall trees before being called for a warm, home cooked meal with a Coca Cola beside her grandmother, Tita. Here, on her grandmother's ranch in Tamaulipas, Mexico, just 20 minutes from the border, she felt at her second home. 
The youngest daughter of five and born to Mexican immigrants, World Geography teacher Juanita De Jesus Camarillo was born and partly raised in the Rio Grande Valley, just 50 minutes from the U.S.-Mexico border. She frequently crossed to visit her grandmother, and therefore considers herself raised in both the United States and Mexico.
"Most of my family was over there, so when we could afford it, we would cross the border, drive 15-20 more minutes and be at my grandma's ranch," Camarillo said. "I just have two homes. I am a child of both worlds, and I'm still figuring out what that means but I'm so thankful that I'm past the stage where I let people tell me what that means."
Camarillo said being Mexican-American means biases and overgeneralizations about who she is. However, she doesn't let that stop her from knowing in her heart the person that she is.
"I have a couple of friends who were born in Mexico and who are derisive whenever I say I'm Mexican," she said. "It kind of hurts that they don't recognize me as Mexican, but I am who I am, and my heart knows that and my mind matches that, and they can think what they want about that," Camarillo said. 
Camarillo doesn't allow others to affect how she labels herself, and is the only person who knows how her Mexican background played a role in her childhood and in how she was raised.
"I grew up seeing El Chavo and Pedro Infante on TV. I love soccer in general, but my heart always roots for the Mexican national team when the World Cup rolls around," Camarillo said.
While her parents and siblings were born and raised in Mexico, Camarillo was the only one born in the U.S.
"My parents came to this country so we could have better education opportunities," Camarillo said. "My dad says we suffered a lot, and sometimes he cries when he thinks about everything they did without and all the sacrifices my mom made over his decision to move us here. My mom contends we did not suffer. We lived and worked and learned and loved and were loved. I choose to see it with my mom's eyes," Camarillo said. 
Her family's journey of moving to the United States without speaking any English taught Camarillo about hard work. 
"I value my dad teaching me that nothing is free, that hard work is honorable if it's honest and sincere, that a faithful and committed man is a blessing to his family even through the hardships, and that a good father is more than someone who is "there" but someone who is willing to sacrifice and give and serve to love and honor his family well," Camarillo said. "I value my mother's smile. I value her strength of mind, body, and character. She is a noble, virtuous Proverbs 31 woman."
Camarillo acknowledges that her parents' journey and sacrifices shaped her into the person she is today.
"My parents in particular instilled in me a strong worth ethic, a love for family, and a humility born of experiencing need and submitting to it without becoming resentful for it. I work hard for what I want," Camarillo said. "I know that has its limits too, and God meets me in the middle to help me the rest of the way," she said.
In the face of hardships and sacrifices, Camarillo learned the most important part was not materialistic things, but love.
"We were poor but we had food. I had clothes. I had a roof over my head. I always had papers and pencils and uniforms. I had shoes," she said. "They were not top of the line nor was I trendy and cute while in school but I was well-loved, and that matters more," Camarillo said. 
In addition to morals and values taught by her parents' sacrifices, Camarillo found another love close to her heart: carne asada.
"I enjoy carne asada because we didn't always have money to buy meat so we ate a lot of beans and rice and lentils and soupy things," Camarillo said. "But every now and then, my dad would buy us meat and cook it for us. Those were the good days." 
The values Camarillo gained throughout her childhood and into her adulthood helped guide her towards the path of becoming a teacher.
"My mom always said she would have liked to be a teacher. I come from people who didn't have a chance but have a mind and a heart to help and serve. So I always did that when I was in school," Camarillo said. "Even when I was an evil bully in elementary school, I would help and serve in the classroom. I was the teacher's pet for the power high but I genuinely enjoyed 'tutoring' my classmates and helping them understand, whether they were my friends or not." 
Camarillo was sure of her decision to become a teacher and narrowed her subject choices down to English and social studies.
"I love people, and connecting the dots, and figuring out ways to help people remember plus I can have my kids read and write in Social Studies," Camarillo said. "And I did not expect falling in love with geography in particular but I do," she said.
Moving to Houston to achieve her goal of becoming a teacher offered its hardships for Camarillo.
"Moving away from the valley and coming to Houston was a huge change because I was away from my family physically," Camarillo said. "And when my Grandma Tita got a stroke, I was here at Houston Baptist University and could literally not afford even the bus ticket to go back home and see her. That was hard. When my sisters both miscarried within weeks of each other, and I was here at HBU, and again could not afford a trip back home to hug them and kiss their cheeks, that was hard. Struggles and hardships are just part of living," Camarillo said.
Although Camarillo teaches in Houston, where the main language is English and not her native Spanish, she has not let her Mexican roots nor her childhood values disappear.
"In the valley, everyone speaks Spanish. Sports, band, drive thru's, the movies – everywhere, everyone speaks Spanish for the most part," Camarillo said.
Still, her Mexican roots play a major role in her day -to-day life while teaching at Bellaire.
"This is my third year at Bellaire. I wake up and come to work ready to grind it out until the end. I eat a lot of spicy things. I attend my church's Spanish service because it's the language my mom sang to me when I was a baby, and it has always been sweet and dear to me," she said.
Camarillo considers her Mexican heritage her "home." 
"I walk into La Michoacana and Fiesta and feel at home. Like in my heart and in my soul – kind of like when a cat goes around in circles and then settles in and starts purring? My soul does that when I listen to Spanish music, when I smell watermelon and avocado and carne asada, when I see a soccer ball rolling by… it's just home," she said.
However, this doesn't imply she isn't American either.
"My soul purrs with a lot of American things. America is home," Camarillo said. "I cannot deny the reality that as the fifth child, fourth girl of two people who did only have some elementary school education… I'm not sure I would have been able to go to college. This country means an education for me," she said. 
Being raised by two hard working parents meant family was important. Camarillo's sister, Alicia, played an essential role in her childhood, while she was still close with her other sisters, Dalia and Eli.
"As soon as I started Head School, my mom started to work with my dad in the fields – so Alicia would take care of me," Camarillo said. "She's the reason I can read and write Spanish too. She's always been a second mom to me, and if I die for her, I still would not pay back all she's done for me," she said.
Camarillo is still close with her mother and other sisters. 
"I call my mom every day. My sister Eli was always the strongest of us, physically and in will but she's now a mom of three girls so I think she's been humbled," Camarillo said. "I think she knows how hard it is for me to live far away, and she has always tried to help and love and support me extra," she said.
Her sister Dalia is more private, but Camarillo has maintained a strong relationship based on movie marathons.
"My sister Dalia is the one I am closest to, both in age and just in our walks and lives," Camarillo said. "She is the most private of my siblings, the most introspective and the most shy. But when she wants to, it's me she'll talk to. Except now that I'm far, she has to wait until our movie marathons to get us alone and talking," she said.
Growing up surrounded by a loving family with a blend of two cultures molded Camarillo into a Mexican-American teacher who upholds family values and love for people.
"I love my kids for who they are and for what they're not. I get to love and cherish, support and encourage, walk with and pray for them while we're here," Camarillo said. "And all the while, they get to figure out who they are, what they stand for, who they want to mimic, and what their legacy and contributions will be. 
"I am just blessed to be a part of it all, with my Mexican American queer heart."