From the court to the sidelines
Collegiate athletes become coaches, teachers
Returning to Bellaire baseball, this time as a coach
Head baseball coach Nick Ozuna directs the play from the dugout, watching his shortstop slide safely into home plate.
Returning to Bellaire to coach boy's baseball is a nostalgic experience for Ozuna. A Houston native, Ozuna started playing Tee-ball around age 6 before moving on to Little League baseball and training competitively under Kyle Chapman.
"The last 10 years, things have changed the landscape and kids are getting into select ball at a younger age," Ozuna said. "But for me, I was primarily recruited just through playing for Bellaire High School."
Ozuna was a member of the Bellaire baseball team from 1991 to 1994. As a senior, he helped lead his team to a state championship.
"We went to the state championship in Austin and we were playing on a field at the University of Texas," Ozuna said. "Looking back on it, I can vividly remember the amazing experience that the state tournament was."
Prior to this tournament, Ozuna received at least five offers, yet none caught his attention until he received a Division 1 offer from Sam Houston State University.
"The coach actually saw me playing in the state championship game looking at somebody else and ended up liking me," Ozuna said. "That's why I always tell my players, you never know who's watching."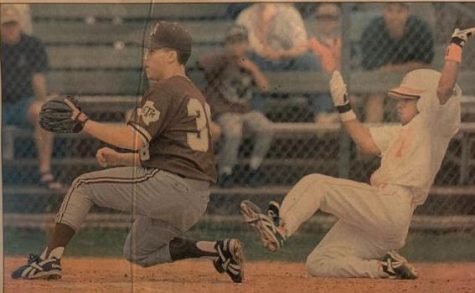 Ozuna played baseball all four years of college, spending the first three at Sam Houston State University before transferring to Houston Baptist University where he graduated with two degrees: Business Administration and Business Management.
"Baseball taught me how significant hard work is to your success," Ozuna said. "It also taught me the value of teamwork. I'm still friends with several of the guys I played with in college."
Playing collegiate baseball also came with its challenges.
"You have to learn how to manage your time effectively," Ozuna said. "This includes doing homework on the bus, plane or anywhere else you can find time. It's something I tell my players every single day."
Ozuna briefly considered a professional career in the Texas Louisiana Baseball League, but he soon realized his calling was education.
"My real passion was coaching baseball and teaching kids," Ozuna said. "For those kids trying to play collegiate sports, the best advice I have is to take care of your business on and off the field and just keep pushing the rock forward."
Anthony Kirk's home away from home
Head tennis coach Anthony Kirk is proud to say that he was a member of one of the winningest tennis programs in history.
Kirk first started playing tennis around age 9 before he began training competitively around age 14.
"When I was in high school, I was ranked number 21 in Texas. The coach at Kalamazoo College sent letters to everyone with a state ranking expressing their interest in recruitment," Kirk said. "I filled out the form and sent it back. And then within a couple weeks that coach called me and told me about the program and that's when I became interested."
Kirk ultimately committed to Kalamazoo College, graduating with degrees in history and psychology.
"College tennis gave me instant camaraderie through the hours and hours of practice that we had to go through together," Kirk said. "Kalamazoo is in Michigan, which was pretty far away from where I grew up, so it was really nice to have a family away from my family."
Some of Kirk's fondest memories are the team dinners he and his teammates would share at their coach's house to spend time together on the weekends.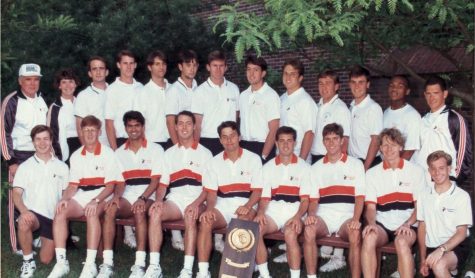 "Our coach made us work for everything. Before we ate dinner, we'd go to his house and mow his grass and rake his leaves and do all that kind of stuff," Kirk said. "Afterwards, he would reward us with a big dinner, so the idea of hard work was a life lesson that he instilled in all of us."
Kirk's favorite memories include three national championships in four years. Additionally, Kalamazoo won 74 consecutive conference championships from 1936 through 2012, the longest known conference championship streak in any sport at any level in the world.
"Playing a collegiate sport is an incredible amount of time that you have to commit and college is difficult anyway," Kirk said. "But if you take it seriously and commit, it's an amazing experience."
Kirk and his teammates who won three NCAA Championships were all elected into the Kalamazoo College Athletic Hall of Fame on Oct. 18, 2013.
"I don't remember anything negative about my time at Kalamazoo," Kirk said. "Nothing, nothing, nothing!"
From childhood to adulthood: basketball has stuck by Nakazi Glover
Nakazi Glover grew up surrounded by basketball. Her earliest memories involve practicing with her dad.
"He always wanted me to become a basketball player," Glover said.
Glover continued playing basketball on her middle school team. She played AAU alongside high school basketball at Royal High School in Brookshire, Texas before transferring to Bellaire her senior year.
"I think AAU gave me a lot of exposure," Glover said. "We went to a lot of places throughout the United States, and I think that helped me out with that."
Glover received offers from Memphis, Boston College, University of Texas at El Paso, Arkansas, Oklahoma and Southern Mississippi before ultimately signing with the University of Houston. She transferred to Kilgore Junior College her sophomore year and finished at A&M- Commerce where she graduated with a degree in Health Education.
"[College basketball] taught me about being a good teammate and being resilient," Glover said. "When things aren't going your way, it really taught me how to handle that and prepare for the real world."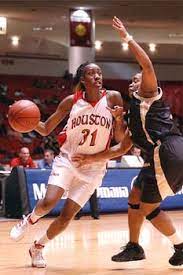 College basketball also taught Glover several life lessons.
"I was kind of negative during that time. I was that teammate that would have an attitude and my teammates would have to run for me," Glover said. "I had a lot of growing up to do, but within those four years, it really did help me."
Glover never considered a professional career.
"I went through a stage where basketball was all that I've known all my life," Glover said. "When I got to college, I kind of realized, I like doing this, but it's not something I really want to do as a career."
Glover said aspiring collegiate athletes need to learn how to manage time.
"Time management is really big; you have to have a strong mentality. You're going to think about being prepared physically, but they'll help you with that. You have to think about being prepared mentally."
Leave a Comment