'Everybody deserves their own classroom'
Tensions high among floating teachers
The bell rings and Bean Burr, science teacher, scrambles to collect his papers and laptop to bring to his next classroom. Burr is one of 25 floating teachers which means he doesn't have his own room and, according to Burr, this has pushed him to the limit.
"It's incredibly detrimental to my students, and it wears me out," Burr said. " I want to be able to do my best job for my students, and part of that is being organized and doing labs."
Floating teachers don't have their own classrooms and instead switch between different rooms every day. Bellaire had eight floaters in the old building but that number has now more than doubled.
"We have fewer classrooms than we had in the old building," principal Michael McDonough said, "but now we have some larger shared spaces."
As one of these floating teachers, Burr teaches in five different rooms every day. He often scrambles from room to room moving lab equipment, at times being forced to leave his students unsupervised in order to get equipment.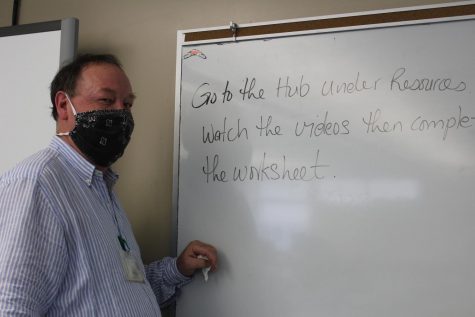 "Nobody wants to float. It's hard work," Burr said. "Everybody deserves their own classroom."
Burr is not the only one that feels frustrated teaching in multiple classrooms. Ann Linsley, 30+ year IB Coordinator and AP Humans Geography teacher, switches between two classrooms and a cubicle every day.
"I am absolutely unorganized," Linsley said. "I cannot teach out of a backpack."
Without a classroom of her own, Linsley said she struggles with storing all her teaching materials. She has to move her supplies into a storage locker that she pays for out of pocket.
"It's not ideal. I think everybody would love to have their own classroom," says Principal Michael McDonough.
While some teachers have openly voiced their frustrations about floating, McDonough said that Bellaire will always have 15-20 floating teachers, but explains that there is a thought process behind it.
"…we did it with seniority, so two brand new [teachers] that we hired will float their first year here on campus," says McDonough.
A big factor in deciding who will float is seniority. First-year and newer teachers float, along with coaches or teachers with not as many classes.
"It's the people that have been here the longest that don't have to float, even if they only have 100 kids," Burr said. "Whereas I have 150 students to serve [but] I still have to float." He said he doesn't agree with this method of deciding who should have their own classroom.
AP Language and Academic English 3 teacher Jennifer Blessington has been at Bellaire for six years and teaches in her own classroom, although she does have someone float into her room during fourth period.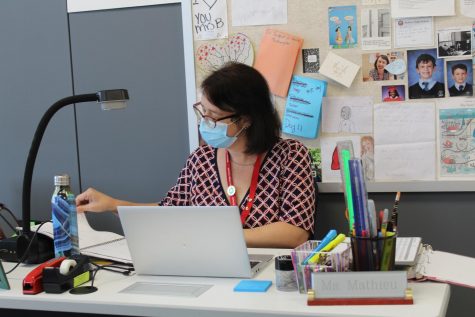 "I try to be really welcoming to the floaters because I've had to float before and I know that it can be very discombobulating," Blessington said. "It's not all negative though, it has some positives, it gets you out of your own little room."
Blessington and new science teacher Lizabeth Richter became friends after seeing each other in the halls because they both leave their rooms during fourth period.
"I was under the impression that the new building would house almost all teachers with a room," said Spanish teacher Freddy Davalos. "[That] wasn't the case."
According to Davalos, having to float is stretching some teachers' limits.
"[Bellaire] was built on academics, yet it seems like in all of this, the academics are what is taking a hit," Linsley said. "A building is not an education."
Burr said floating has become too much for him to bear, and plans to leave Bellaire next year.
"I'm not happy with it," Burr said. "I'm going to transfer to somewhere that has enough rooms for their teachers."
View Comments (11)