Deeper than ink: students and the stories behind their tattoos
Freshman Ashley Arevalo nervously walked into the tattoo artist's parlor back in 2020. At age 15, Arevalo was about to get his first tattoo.
As the tattoo artist punctured his skin, Arevalo said it felt like he was "getting poked a thousand times." He doesn't regret lying down for hours letting a needle drill his ear with permanent ink. In fact, the instant he saw his finished tattoo, he wanted to get more.
"I was always fascinated by art and when I found out I could have it on my body, I knew I had to as soon as I got the chance," Arevalo said. "I will be getting more this coming year."
Arevalo has a black flower tattooed on his ear.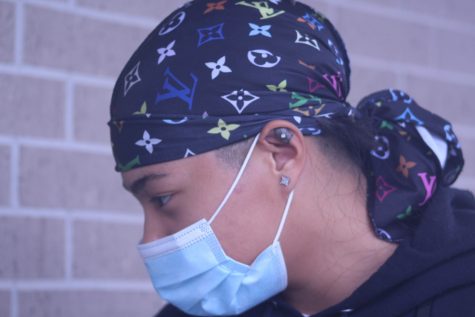 "I put it there because it is a family symbol for the women in my family. My mom and my aunts have it in the same spot," Arevalo said.
Those couple centimeters of ink shaped as a flower right underneath the helix of his left ear are a symbol of importance to Arevalo.
"It is a flower and it means that no matter what is going on in my life, I will always have my family," Arevalo said.
Arevalo suggests teenagers who want a tattoo should get one from a trusted tattoo artist. He explains that, if not, the tattoo might not come out as they envisioned.
Senior Prince Fernandez  has a little bird on his neck. One of six tattoos on his body, he has tattoos on his ears, chest, neck and hands.
"I thought that they looked the best there," Fernandez said. "They had the best placement. I got half of them because I personally wanted to, and I got the other half for a friend who passed away."
When Fernandez walked through the front door of the tattoo parlor for the first time, he felt nervous. As the tattoo artist stuck the needle into the first layer of his skin, he thought, "Damn, I'm going to have this for life."
Fernandez said he would tell other teenagers who want a tattoo to get one if they wanted.
Senior Aaliyah Brown really wanted a tattoo, but she was still a little nervous when she was getting it. She said that during her first time getting her tattoo, she was too scared to look at the needle.
"I just wanted to get it over with," Brown said, who got the words in red ink, "Self Love" on her collarbone, a reminder to "love herself.'
Brown wanted a tattoo to help her feel better about herself.
"I didn't love myself before because I was in a really toxic relationship that was hard to leave," Brown said.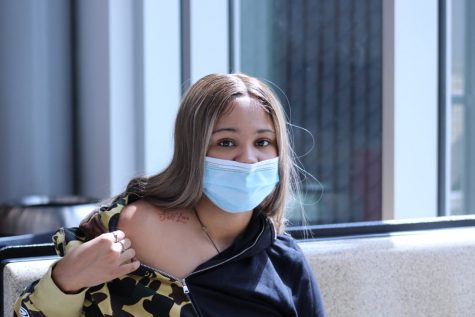 When she got out of the toxic relationship, she said her mental health improved and she was finally able to start loving herself again.
"I started to focus on myself and try to make myself better as a person," Brown said.
After she got her tattoo, she finally began to accept herself.
"I got 'Self-Love' tatted because growing up, I didn't love myself and I am gradually learning how to," Brown said.
Brown's second tattoo on her right collarbone says: "With Pain Comes Strength."
"I wanted people to see this one because it meant something to me and because I was in a really toxic relationship that I was able to get out of," Brown said. "I just felt like, I don't know, it's a lot to explain, but I overcame that situation."
Her tattoo embodies her strength to be able to endure the pain and the strength to walk away from the toxic relationship, she said
Her parents were okay with her getting tattoos because they were, as Brown put it, "meaningful and not anything crazy." Brown said other teenagers who want tattoos should wait until they are 18.
"Know if you really, really want that tattoo because it's permanent on your body. You can't take it off.  You can't erase it," Brown said.
View Comments (2)