A life-changing coincidence: weightlifting's effect on senior
Senior Tim Walter never knew how much lifting weights would change his life.
Before he started lifting, Walter's anxiety made it difficult for him to even attend school. But when Walter picked up his first weight, his anxiety faded away and he became hooked on lifting.
"After working out, somehow, I was able to get rid of all this built-up anxiety in the gym. A lot of people describe it as 'free therapy' and it really helps you with mental struggles," Walter said. "Before I first started out, my anxiety got to the point where I thought I couldn't go to school anymore because I couldn't sit in the classrooms."
The first time Walter lifted wasn't even on purpose. At first, he only did cardio to improve his low blood pressure. Everything changed when he picked up his first dumbbell.
"Back then, I mainly just had low blood pressure and realized that doing cardio helped get my blood pressure up," Walter said. "Then, one day, because I had a few dumbbells at home, I decided to pick them up after doing some cardio. I found it really fun to just do weights, and as I went harder over time, I got this dopamine rush from doing sets and that's when I started enjoying it."
Walter semi-consciously began his lifting journey by lifting up his first dumbbell. "It wasn't really my own decision," Walter said. "It was a slow process of coincidentally getting into it."
Walter said that curling that first dumbbell was one of the best choices of his life. Lifting not only relieved Walter of anxiety but also built his muscular physique. Walter said he has come a long way from when he started his workout routine two years ago at age 16.
Now, Walter feels he reached his "genetic limit." His current goals aren't physique-oriented, but rather to push himself to stay disciplined. Through working out, Walter has built a daily routine that he sticks to. Walter said he works out now to maintain his routine and keep his anxiety levels down.
"Aesthetic-wise, I'm pretty content with how I look right now," Walter said.
As he progressed physically and mentally, Walter's reasons for working out changed throughout his fitness journey.
"When I first started and I got into it, I was really skinny, close to being underweight, but I ate a lot and started gaining weight and confidence," Walter said. "I felt a lot better and healthier, having gained a lot of weight from muscle growth. First my goal was to bulk up and gain weight, but now it's really just about my mental health and keeping a routine going."
Walter said he is a lot happier about his body as well as being mentally stronger. He said working out early in the morning also contributes to keeping him on a strict routine.
"I feel like if this is what I accomplish in the early mornings, I can do so much more throughout the day and also to keep my mental health in check," Walter said.
During quarantine, Walter worked out at home. He didn't have a professional setup or advanced training equipment, but he made do with what he had in his house. Even though he didn't have the machines at the gym, Walter said he was still able to enjoy lifting and getting bigger overall.
"I had a bench and a few dumbbells, which I made work for almost a year," Walter said. "I go to the gym, LA Fitness, now after the gym centers reopened."
Walter said his favorite moments throughout his fitness journey were when other lifters, especially those that look like they are more experienced than him, compliment him about his build.
"Once, I was complimented on my forearm and another time a guy commented, 'You're working so hard,'" Walter said. "Those little words as a lifter make you feel immensely happy. It was a memorable experience. Compliments from other lifters really stick in my head."
The worst experiences for Walter were injuries. Injuries hinder a lifter's progress because it prevents them from working out, whether it be the injured area or even working out at all. Having to rest an injured muscle wastes precious time that could be better spent lifting weights and building muscle.
"I would say injuries are pretty annoying," Walter said "After getting injuries, you know what good pain is and what bad pain is, so when you feel that injury, I think 'Oh no, I've got to rest this muscle.' That's really the worst moment."
For Walter, the pros of weight-lifting greatly outweigh the cons. He is extremely passionate about lifting. Every day, Walter wakes up at 5 a.m. just to go to the gym which has immense benefits. Getting up that early enforces discipline into Walter's life and allows him to fit gym-time into his busy schedule.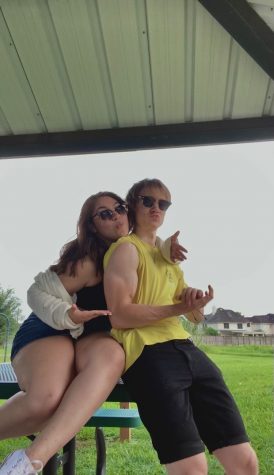 "Originally, I planned to work out after school but realized that I had both homework and work to handle," Walter said. "I think a good way to balance out my tasks is to incorporate gym into my schedule and make time for it by going before school."
"I would recommend anyone to give lifting a shot. I'm a lot more organized and disciplined, and have more of a routine in my day now." Walter said.
Walter said other teenagers who are interested in lifting should be realistic and informed. Setting goals too high might lead to being discouraged from working out. Also, fitness models and influencers give teens unrealistic body standards.
"There's a lot of social media influencers out there that spread a lot of false information, and it's usually utter nonsense," Walter said. "When an influencer tells you a shortcut and it sounds too good to be true, it is too good to be true. I would say, 'There's no shortcuts, if you want to get into it, just start and make it a routine,' that's really important. A big mistake everyone makes, whether they are teenagers or not, is they want to start but they don't make it a part of their routine and they stop after like three weeks." Walter said.
Working out can help other teenagers with problems such as anxiety as well as a way to improve overall physical health. Brett Gordon, Ph.D, a researcher at the University of Limerick, found that "Ecologically-valid, guidelines-based resistance exercise training significantly improved anxiety symptoms among young adults." However, lifters, just like any person, can be unhappy with how their body looks.
"I think that most people go to the gym and see their body changing so rapidly that everyone develops a certain kind of body dysmorphia," Walter said. "Occasionally, I would still look at myself and see the scrawny me no matter how other people say I look but overall, I'm pretty content with how I am right now. This sort of body dysmorphia still comes through sometimes, but I'm happy with myself."
View Comments (3)