Activist clubs host drive to fight period poverty
'This is a really important and positive step forward in creating a more equitable education environment'
On Friday, Nov. 5, Feminist Club, Girl Up, Period Club, Medical Club and NHS volunteers gathered in room 3714 during Cardinal Hour to package menstrual products for the Houston Area Women's Center. This event was held in efforts to spread awareness over menstrual health and lack of menstrual products at Bellaire.
The products packaged were supplied by the collaborative club-hosted period drive from Oct. 15 to Oct. 29. Donation boxes were placed across teachers' classrooms, and students were encouraged to donate disposable products such as pads, tampons and liners.
Senior and President of the Feminist Club Phoebe Hulen said that the drive prompted many students to take initiative and educate themselves over menstrual health.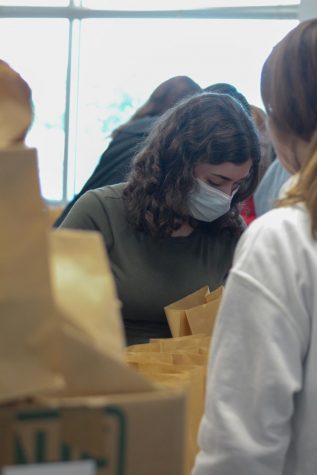 "I've had an influx of students who've come and talked to me personally who have shared about our club and spoken about menstrual health issues," Hulen said. "It's really made an impact within the Bellaire community."
Hulen said that she understands the difficulties that inaccessibility to menstrual products creates.
"Between joblessness, homelessness and school absences, there's a lot of different facets within the issue of not having access to menstrual health information and products," Hulen said.
Zoe Kass, senior and President of the Medical Club, is involved in menstrual equity advocacy outside of school and said that she knows that lack of access to menstrual products is common amongst schools.
"I'm a part of Period Pack Houston and through my work with them, I've seen that schools are a huge place of need for menstrual products," Kass said. "If you expect somebody to get an education and do well in school, they need to have that support."
As of right now, there are no bathrooms at school that supply machines for pads and tampons, leaving students to seek products from the nurse.
"I wish you could see how many people come in for pads," nurse Chanthini Thomas said.
In the past, Thomas used to supply menstrual products out of her own pocket.
"I would just buy and buy and buy," Thomas said. "I quit because you get a little jaded— I'm not a mean person, but I feel like there are other things I need to buy."
Now, Thomas dedicates her money towards buying food and snacks for kids who are diabetic and water for dehydrated students.
"To me, that's more important, so I put it behind," Thomas said.
Thomas suggests machines that dispense pads and tampons around campus that'll encourage students to be self-responsible.
"I would be willing to put the machine in the clinic, and then the kids could put their quarters in and get their pads," Thomas said. "I think that would give them a little more responsibility."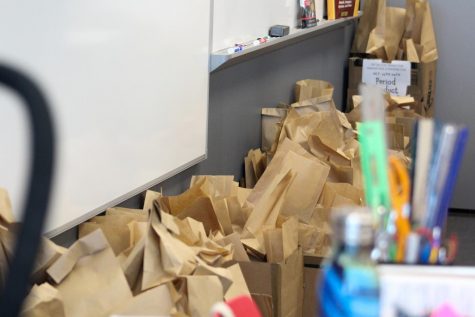 Thomas said that pad and tampon machines would also keep kids in class longer, as they wouldn't have to search the school for menstrual products.
"My goal is to keep kids in class," Thomas said. "I don't want to be a part of the mess up, I want to be a part of the solution."
Concern for lack of menstrual products at school has also led Zoe Kass to work with Maria Borsa, Italian National Honor Society sponsor, to launch a Donors Choose project on Oct. 7 in order to supply school bathrooms with baskets of menstrual products. On Nov. 4, the project was fully funded by donors from all over the country that contributed to a $687 total.
"I think that this is a really important and positive step forward in creating a more equitable education environment," Kass said.
The Italian National Honor Society expects to stock the girls bathrooms across campus with free period products within the next two weeks.
Leave a Comment