Is STEM For You?
Two seniors share their experiences in the STEM field
Senior Albert Zhu draws an intricate graph on the white board. His back is to his audience, but his voice rings clear. Ten minutes pass and he is still explaining the same problem. Math club members are hunched over their notebooks, scribbling away. 
Zhu is preparing for upcoming math competitions in December and the spring. As president of Math Club, he leads 20 members at after school meetings on Wednesday held in room 2700.
Yesterday, Nov. 8, was National STEM Day, celebrating individuals and organizations involved in the field. Zhu, president of the Computer Science and Math Club, has always been involved in Science, Technology, Engineering, and Math, more commonly known as STEM in Texas.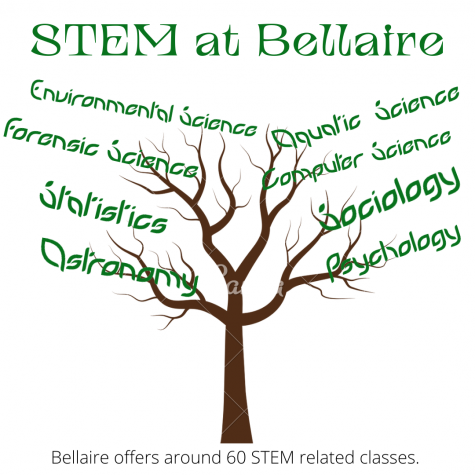 "My dad is a software engineer and my mom is a doctor, so I was sort of raised in a STEM environment," Zhu said. "My brother also did STEM so I guess it runs in the family."
Zhu said he enjoys both coding and math although he thinks of them as opposites.
"The fun part of computer science is being able to optimize tasks that would take humans hours to do, and then implement a program that runs much, much faster and can take just a few seconds," Zhu said. "Math is a little bit different because math is a lot more problem solving and critical thinking and doing it on your own."
Zhu hopes to major in math in college.
"I am probably going to go into software engineering or finance in the future," Zhu said. "I am mainly looking at UT Austin right now, because it has a really good computer science program, but I also want to go to MIT but there's not really a good chance."
Senior Maggie Schwierking, president of Women in STEM and vice president of Girls Who Code, comes from a family of engineers.
"STEM has always been extremely prominent in my life," Schwierking said. "I remember building LEGO sets and Lincoln Logs with my brothers, starting at a young age. I later attended coding summer camps that furthered my interest in computing."
Schwierking said she enjoys the problem-solving aspect of math.
"Math has always been one of my strong suits so I've always thought STEM and engineering would be a perfect fit for me," Schwierking said.
Schwierking plans to major in engineering in college.
"What really draws me into engineering is its capacity to impact society." Schwierking said. "It's all about making improvements to benefit society which is something that I highly value."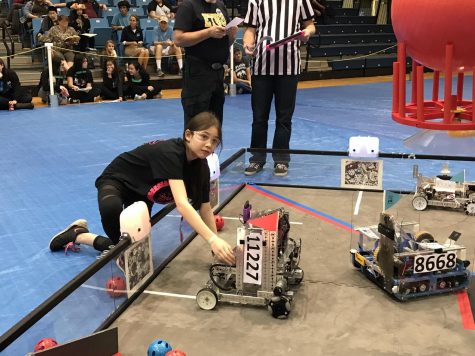 Zhu and Schwierking's AP Computer Science teacher, Alice Fisher, enjoys computer science because of the gratification she feels after completing a puzzle.
"I personally like to solve problems," Fisher said. "I like puzzles and logic problems, so I find solving and writing a program like a puzzle. If I work on a problem I get kind of obsessed and I just want to solve it for the sake of solving the puzzle. I also like the immediate feedback that you get and the idea that you can always make you program better."
Although Zhu said he struggled with distance learning last year, he is happy with how he is doing in school this year and with the jump in membership of the Computer Science and Math Clubs.
"I am proud that I am on the path to valedictorian because COVID was not good for me," Zhu said. "I am also happy with where the Computer Science and Math clubs are going because I feel like the clubs have really grown a lot since I came to Bellaire."
But STEM isn't always easy for Zhu and Schwierking.
"Sometimes it's really hard to find motivation to really practice these difficult computer science and math problems," Zhu said. "You have to spend hours on a single problem sometimes, so it's sort of frustrating."
Schwierking said she encourages people to explore the STEM field but to expect impediments.
"Not to dissuade anyone from entering a STEM field, but pursuing a career in STEM isn't easy," Schwierking said. "Because of this, a lot of mental health issues arise like stress, anxiety, and imposter syndrome. Tackling whatever obstacles and challenges come your way will only make the reward of graduating with a STEM degree that much more gratifying."
Fisher, also a former math teacher, agrees that STEM can be hard but will help in the long run.
"I think that kids should definitely take a fourth year of math in high school because I know some students opt to not take a fourth year of math and I think they are going to go to college and they're going to need that," Fisher said. "I think if you have a gap year without math, you may regret it."
Schwierking's word of advice to STEM students is to never give up.
"It's important to remember that you belong and that you're not alone, so find a community of like-minded individuals who can share some of the experiences you're going through, especially women and minorities in STEM," Schwierking said. "Find something that you're passionate about in STEM, delve deep, and when things get tough, take a deep breath, remember why you're passionate about STEM, and power through."
Leave a Comment