From poppets to play rehearsals, a backstage look at 'The Crucible'
The stage is lit with harsh red light and a hush falls over the audience as the play begins. Onstage Reverend Parris, played by Aiden Nash, is praying over his young daughter's bedside. The daughter Betty, played by Audery Tanzil, has fallen ill after dancing in the woods with her cousin Abigail Wiliams and a host of other girls from the village of Salem.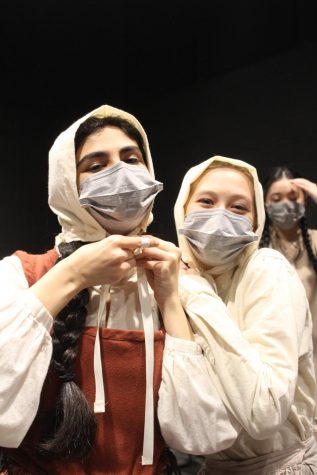 Abigail Williams, played by Ria Nanjundan, insists to her uncle that nothing sinister happened while the girls were in the woods, but as she and Tituba, played by Curstin Brown, are questioned by the adults, it is revealed that many of the village girls were practicing witchcraft.
At the end of the scene, Abigail falls to her knees and Betty sits up in bed for the first time since falling ill.
"I saw Goode dancing with the devil!" Nanjundan and Tanzil take turns saying, accusing women of the village of witchcraft, setting in motion the main conflict of the play: the Salem Witch Trials.
"The Crucible" was Red Bird Productions third theater production this year and ran from Nov. 11-13. Approximately 400 people went to see it during this time, including Evelyn Bell, senior and RBP member.
"I loved the dedication and originality each actor brought to the courtroom scenes," Bell said. "I thought that John Proctor, played by Glenn, did an amazing job of creating a complex and believable character."
Glenn Carter, who played the main character John Proctor, said that "The Crucible" was his first time in a lead role.
"It was stressful at first," Carter said. "I had a lot of relationships I needed to work with and a lot of people I needed to work with. Some people I'd known for years but others I didn't know as well so working with them to make this performance was really fun and amazing."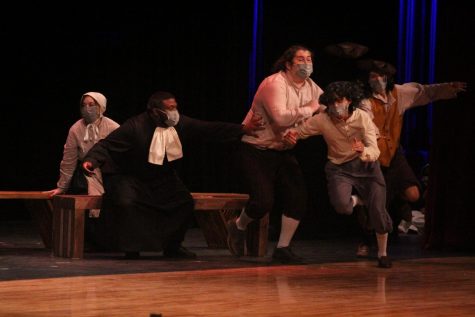 Though Carter said he enjoyed the role, he also acknowledged his character's flaws.
"My character is very problematic if we're being honest," Carter said. "I'm thirty years old and I cheated on my wife with a minor. I've kind of groomed Abigail and led her on so I'm part of the reason the conflict is happening. In the end I'm trying to make amends for what I've done, trying to save my wife, and ultimately, protecting my name."
One of Carter's co-leads, Brooke Kayl, who played his wife Elizabeth Proctor, said that "The Crucible" was also her first time playing a lead role.
"I've always played supporting roles like ensemble in other shows," Kayl said. "So this is my first show where I had so many lines to memorize and I had to be present at all times which was really nerve-wracking."
Despite the added responsibility, Kayl said she enjoyed the overall performance atmosphere in the time leading up to opening night.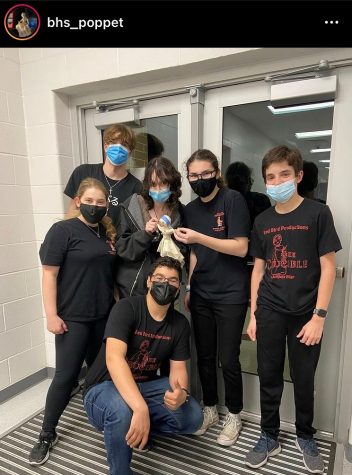 "A big part of theater is the chaos," Kayl said. "There's a lot of stuff happening at once, and sometimes it does get overwhelming and stressful but I think at the end we had a good show.
One of the most popular 'characters' in the play wasn't actually a person at all, but a stage prop that was given a life of her own by Ms. Boffone and Ms. Underhill.
Poppy the poppet was a hand-stitched doll used in several scenes of "The Crucible." In the play, she was created by Mary Warren and used as evidence of Warren's witchcraft in the courts. Outside of the play however, she was the main subject of the @bhs_poppet Instagram page, which showed Poppy engaged in various shenanigans on set.
Poppy the poppet's first Instagram post was on Oct. 31. Two weeks later, the account gained 88 followers.
Most of the posts showed Poppy placed in various spots on stage, or posing with Bellaire students and staff, similar to Elf on the Shelf.
Madelyn Carrillo, one of the run crew members for the show, was featured in a picture with Poppy on the page.
"It was cool being on the poppet page, and helping get pictures for it since it helped hype people up for the show," Carrillo said. "Poppy basically became a mascot for the show which was very entertaining. Go team!"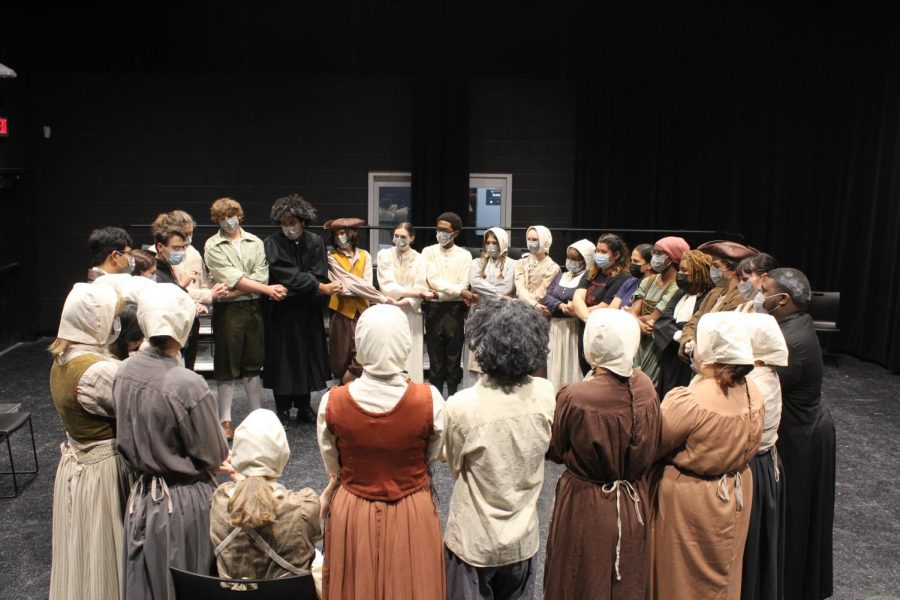 View Comments (7)