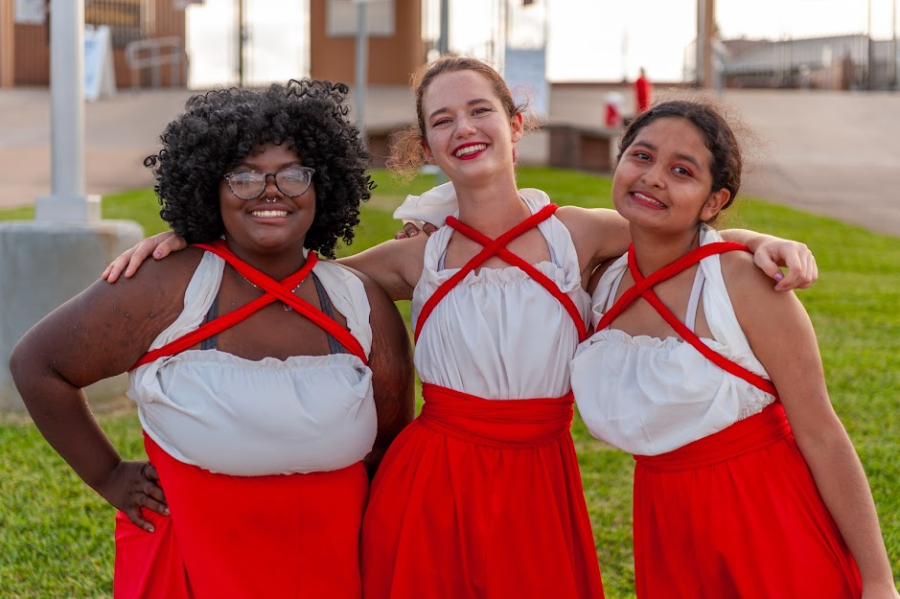 Photo provided by Norma Callejas
'We're overlooked sometimes, I wish people knew more of us'
A look into the Color Guard
January 6, 2022
As she steps up to the gym floor ready to toss the flagpole, the October winds betray her; the swift breeze over-rotates the flag and hits her head. Seconds later, she loses consciousness.
In autumn of 2019, senior and co-captain of Winter Guard Jasmin McGee suffered multiple concussions from a flagpole toss accident at a band clinic that impaired her speech and memory.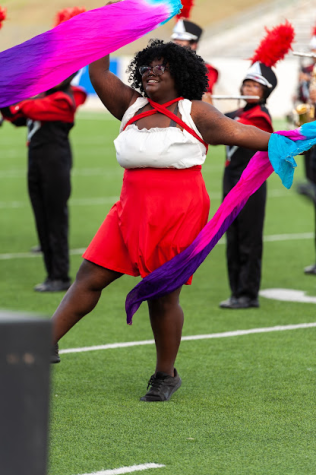 "It was terrifying," McGee said. "Once we had to start our fall season again this year, I was afraid to toss again."
Despite the physical and mental trauma McGee faced, she continued to show up to practice whenever she could and dedicated herself to learning the toss that injured her two years prior.
"I don't like quitting," McGee said. "I'm a huge perfectionist when it comes to certain things, and I did not want to be the only one not doing the Parallel Toss in the show."
Assistant band director and Color Guard coach Stephanie Chen is in her sixth year of teaching the program. As a mentor, she witnessed McGee's perseverance throughout her time in guard.
"I like to see the growth that my students make over the years that I'm working with them," Chen said. "Jasmin had some injuries early on, and I'm really proud of her for overcoming those trials."
While McGee loves performing in guard, she said she wishes more people showed support for the lesser-known sport. Winter and Fall Guard are sects of Color Guard, a sport that involves intricate tossing, raising and spinning of flags, sabers and rifles. Since the sport requires such specialized skills, coordination amongst teammates is key. Additionally, upper-body strength is needed in order to carry the items used in the shows.
"A lot of people don't know what Guard is," McGee said. "If they go to football games, they don't stay for halftime when we perform."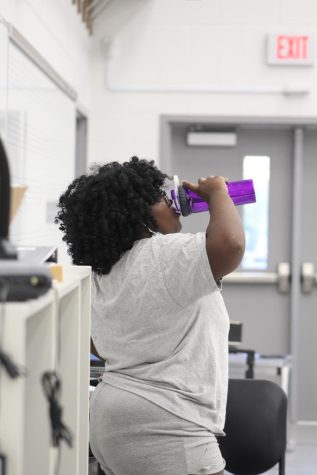 Senior and co-captain Larissa Hawker, who joined guard in the eighth grade, said that the sport offers a united community and is worth the time and effort.
"There's a billion movies about cheerleading and soccer, but none for guard," Hawker said. "It takes a lot of time and effort, but it's really worth it. Since it's so niche, the community you get to be a part of is a lot more connected."
Coach Chen said that people have misled ideas about guard as a sport.
"It's not just for girls," Chen said. "People think it's a 'girl thing' because it's dance, but that's definitely not all it is. It's also a lot of hard work and requires a lot of commitment."
The newest addition to the Color Guard team, freshman Elijah Johnson, who started performing in band and dance since middle school, is one of the only boys on the team. Although most high school Color Guard factions have an increasing number of boys, Johnson still said he faces judgement from other students.
"People try to humiliate me for doing stuff that's considered feminine," Johnson said. "But, I don't dictate who I am or who I identify as based on what people think of me."
McGee said that while there is a general interest in Color Guard from students, most people fail to notice the sport and people in it. McGee
"We're overlooked sometimes," McGee said. "I wish people knew more of us as a whole."