Wolf's pack
Teacher by day, dog trainer by night
January 9, 2022
When Brian Wolf got the call in late September of 2020, he didn't expect to hang up with a new puppy on the way home.
Dogs have always been a big part of his life. For over 10 years, the Pre-AP English II teacher participated in dog obedience training competitions with his pack of six Australian Shepherds. By the time they stopped competing, they had won 19 performance titles and appearances on Animal Planet and Channel 11 News.
"Viola was the first dog I had as an adult," Wolf said. "I wanted to choose the kind of dog that was very active and one that I could do stuff with. I didn't want a couch potato. She had so much energy and drive that I knew she needed some kind of training."
He enrolled her in obedience training, and she showed an immediate aptitude for it. But despite Viola's — and his other dogs' — later successes at dog shows and competitions, Wolf hadn't begun obedience classes with competing in mind.
"Someone said to me, 'this is a dog that you can really take far; she has the capacity to succeed,'" Wolf said. "And once I was spending so much time training, really just because it was so much fun, I decided I might as well give competition a try."
From there on, Wolf's pack grew.
Wolf's pack members
"Once I saw how much energy Viola had and how much she loved playing with other dogs, I knew she needed a companion," Wolf said. "I added my third dog Pearl to the pack with the intention to show her in conformation — the beauty pageant part of dog shows. And I also explored breeding — I ended up breeding Viola and keeping two of her puppies."
Wolf's dogs are all Pendleton Australian Shepherds. As each dog joined the family, they entered the world of competition as well. Wolf said the dogs learned well from each other and naturally picked up behaviors and tricks. With six dogs in the house, there was always something happening and something to be done.
"Having a pack of dogs is constant entertainment; there was always shenanigans and playing and being silly," Wolf said. "There were some things that I had regimens for and the dogs understood them. At feeding time, each of the six knew where their spot was and knew to wait until I gave them a release command before they could eat."
Juggling teaching and dog training got hectic at times for Wolf. He would come home from school and load his dogs up to head out to the training field, where he attended training classes from 7 p.m. to 9 p.m.
"Teaching in and of itself is always stressful, but having the dog training was very cathartic and a way to get some distance so that I wasn't doing school things 24/7," Wolf said. "I think the more I trained dogs, the more I understood a lot of things about myself in terms of teaching as well."
No one loved seeing the dogs more than Wolf's grandmother.
"She would get so excited every time we'd win something," Wolf said. "This was at the point where she was in assisted living and in nursing home care. She was in the early stages of dementia, and the two things that she would keep track of were the Houston Astros and what was going on with the dogs. Other things, not so much."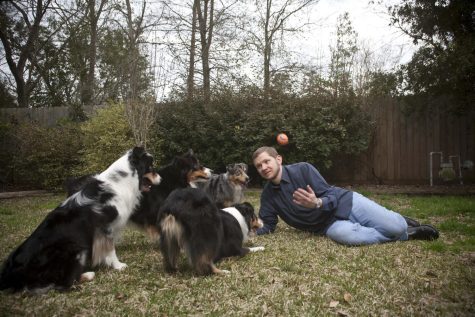 Just like with the pack, in a classroom, Wolf is constantly aware of how his interactions and responses can influence what's going on with his students.
"You have to think about how every single second you're reinforcing something," Wolf said. "You're making it more or less likely that something's going to happen depending on what you're doing."
With many successes under their belt, Wolf and his pack's competition journey came to a close 10 years ago. He shifted his concentration away from competition and onto teaching and other parts of his daily life.
"I felt like we had reached our goal and that I didn't need to spend every weekend at a dog show working on another title," Wolf said. "Another factor was that I had a hip surgery, so I wasn't able to compete for a while."
During a year of unfamiliarity in 2020, dogs remained a constant in his life. After the passing of the last dog in his pack in October 2019, Wolf welcomed home a new Australian Shepherd puppy in March. His new puppy, Deacon, had only settled in for a few months when he got a call from the same breeder in September.
"The breeder reached out to me because another puppy from the same litter had gone to a home where they really were not able to give him what he needed," Wolf said. "There was just no one who was able to give him the time. The breeder asked me if I would be willing to take him, and I said absolutely."
Building a bond with the second puppy took a lot of time and patience due to the lack of socialization at his previous home.
"Knox didn't have a primary person or relationship before, so he almost immediately attached himself to me, seeing that I was interacting and wanting to work with him," Wolf said. "He's a little more velcro than the other one. He has come a long way."
Wolf planned to start training the new puppies, but things didn't go as planned.
"I had Deacon for a week, and then we were in distance learning and everything was shutting down," Wolf said. "The obedience facilities and training places just weren't doing it. I haven't done the formal training, but I train them a lot at home, so they've got a good foundation and basics."
To train or not to train
Although dog training gets stressful at times, Wolf still encourages others to experience the joy of being around animals.
"I think anyone who's looking for a form of physical activity that isn't as demanding as sports should try it," Wolf said. "But it involves a certain kind of brainwork because you really do have to be thinking about things creatively when you're working with an animal. If you enjoy the companionship of an animal, I would say give it a shot."
Wolf said he took away a number of things from his experience as a trainer and owner of six animals.
"When you really get into it, you kind of learn your limits and discover some of your areas where you can grow, whether it's being more patient or sometimes being more consistent or more dedicated," Wolf said. "You learn a lot about how you handle frustration and obstacles. I think there's a degree of self-learning that comes with training."
As Wolf welcomed more and more dogs into his life, he said he realized that when you treat your pet as more than just a pet, you experience something unique.
"For a lot of people, their pets are just that – their pets and their companions – but you certainly don't have that degree of connection with an animal. And when you get to that level of communication, it's really, really a profound experience, and it's unlike anything else."