[Q&A] Catching snoozes
Q&A with @bhs.caught Instagram owners and "caught" students
Francesca Camerlo (9)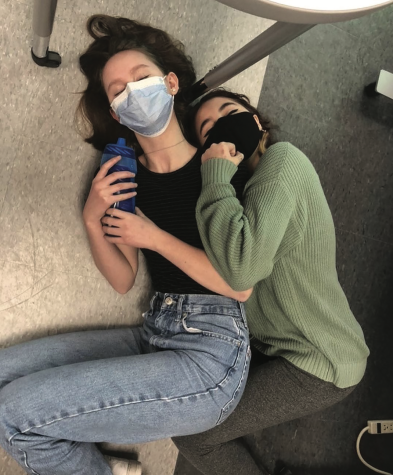 Q: Did you know you were being caught?
A: Yes, I did.
Q: How did you feel?
A: I was fine with it because I didn't think that it was anything special since a lot of people have been featured on the account, and it's something everyone was doing. I thought it was really funny, so I thought I'd include myself in the excitement.
Q: How do you feel about having hundreds of people see you sleep?
A: I thought it was just funny for my friends to see. I don't really mind having other people see it because it's nothing too embarrassing, especially since this was not a candid photo, unfortunately. I think people realized because it was quite obvious, but it was something funny that the school was doing, so I wanted to participate.
Q: When was the photo taken?
A: During lunch. We had found the account, and my friend, Rachel [Carrillo] (9), and I thought it would be fun to do it ourselves, so we just became big spoon and little spoon on the floor.
Q: Is there anything you want to add about bhs.caught?
A: I think it's really amusing, and I like the creativity that I see along with it. It challenges people to think outside of the box and allows them to be creative and think of different and interesting ways of sleeping at school.
Q: Do you think you'd submit another picture?
A: I don't think I would anymore, especially since I feel a lot of the excitement has died down; This is one of those things that last for a good couple of weeks and then, there's no new content coming out so people don't pay attention to it anymore. I think it was nice while it was at its prime.
Kennedy Kyle (12)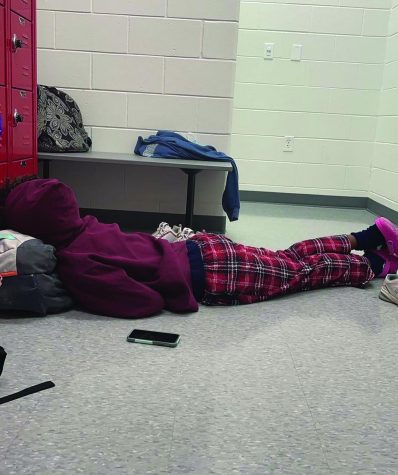 Q: Did you know you were being caught?
A: Yes, I could hear people snickering about it in the background in my sleep.
Q: How do you feel about having your picture on the Instagram page?
A: I think it's funny. I think it's very accurate of school life.
Q: Was this picture candid?
A: Most definitely, I was taking a little nap while I wasn't dancing [for eMotion] that day. That's what I spend my time doing.
Q: How do you feel about the fact that hundreds of people can see you?
A: It was funny; I forgot about it, but when I first saw it I was like, 'oh my goodness, you little rascals'. –it was entertaining. I would do the same thing to somebody. That was my first time hearing of the Instagram page, so that was a cool introduction.
Q: Is there anything you'd like to add about bhs.caught?
A: It's funny, keep it up.
Luke Brandt (10)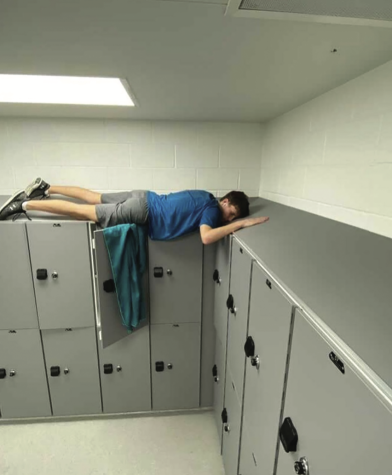 Q: What do you remember about taking the picture?
A: That it was staged. They [Andy, Max and Luca] just thought that'd be funny, so they made me hop up on the locker and took a picture of me.
Q: Were you excited to do it? Why did you do it?
A: Originally, I did it because I thought it was funny. I didn't know they're actually going to post that on @bhs.caught. We were just messing around in the locker room, passing time in seventh period, and I thought it would be amusing if I got on the locker because one of my friends left his locker open, so I got up there.
Q: What were your feelings about being on the account?
A: I mean, I really don't care. Most of the content on that account is staged anyway. I don't even think I follow them–I might, but whatever.
Q: Do you think that you would like to do it again?
A: No, I wouldn't do it again because I almost fell. It was slippery on the lockers.
Q: Is there anything else you want to add about the account?
A: It's a little old by now, if I had to say, but I mean, it's chill I guess.
Naama Ozeri (12)
Q: Was this a planned picture?
A: It was kind of posed. I was already sleeping in the bathroom and my friend picked me up and put me on the toilet.
Q: What were your feelings seeing yourself on the bhs.caught page?
A: I was ecstatic and so happy that I could be featured on the same page that had icons I looked up to who were also caught at their most vulnerable state.
Q: Why were you sleeping?
A: I was sleeping because I've had "senioritis" since freshman year, but as a senior it's reached its highest and most difficult point of exhaustion. I also find that position the most comfortable.
Bhs.caught Administrators
Q: How many people run the account?
A: Two of us run the account. One of us started it but the requests started flowing in at a faster pace, so the other jumped in to help.
Q: What was your inspiration for starting this account?
A: We saw a lot of funny accounts trending within our school and on TikTok. We thought that a sleeping account would be harmless and funny, and if the people in the pictures didn't want to be on our account, then we would take down their picture with no questions asked. Our main inspiration was Carnegie Vanguard's sleeping account @carnegieshlumped.
Q: What problems do you face running this account?
A: Lots of people think that we're being immature posting pictures of other people, while the majority [of people] find it very funny. We've had fights in our comments between followers debating whether or not our content was funny. I personally think the problems aren't that big and the number of people finding our account entertaining outweighs the hate we sometimes get. Keeping anonymity has also been a slight struggle. We know lots of our friends that follow and submit photos so it's been a challenge to keep the secret.
Q: What is your favorite part of running this account?
A: Our favorite part is seeing how many people enjoy what we post and talk about our account at school. We love that our account is a funny and harmless way to make school more enjoyable. We love seeing the funny, fake napping poses people come up with to submit to our DMs.
Q: Is there anything you'd like to add?
A: If people don't want something on our account just DM us and we'll be glad to remove it! We want our account to be a fun and safe place that students can come to and get a good laugh. Making someone uncomfortable for having their picture on the account is the last thing we want.
Q: What's the process behind a post?
A: We go through and screenshot our DMs, then we'll usually group similar photos together unless there's a lot of stuff to sort through so we can caption it together.
Q: How long do you plan on running this account?
A: We plan on running it until people stop DMing us, but we might change our content a little or add new things.
Q: How did it feel seeing the growth of your account?
A: It feels great seeing growth and unity within our school.
Leave a Comment