[FEATURE BRIEF] What is JROTC?
WHAT IS JROTC?: JROTC stands for Junior Reserve Officer's Training Corps. The organization fosters a team building experience where cadets exercise self-discipline and leadership. There are different teams that make up the entire JROTC club.
The Service and Drill Team spin rifles, the Unarmed Team marches while performing hand movements and the Step Team marches. The Color Guard showcases synchronized flag tosses and rifle spins while marching and also presents the U.S. and Texas flags at football games. Lastly, the Physical Training Team competes in exercises, such as running, sit-ups and curl-ups.
Every Monday through Thursday, JROTC practices their drill routines in the church parking lot near Bellaire. Every Wednesday, members dress in their uniforms.
JROTC held a meeting on Mar. 9 to plan upcoming events and discuss what they wanted to improve for the remainder of the year.
Earlier in the school year, JROTC members teamed up with Wreaths Across America to visit a cemetery for veterans, where they hung purple wreaths on the tombs of fallen soldiers.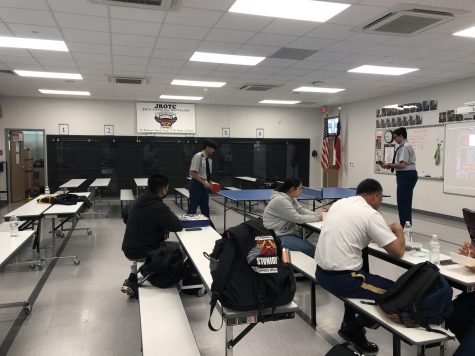 JROTC also volunteered at the Chevron Houston Marathon and completed a Service Learning Project at Sea Star Base Galveston — a beautification project where members cleaned the docks and set up conference rooms.
Senior and Battalion Commander Lelean Jahlul, first in command, oversees every event and meeting.
"A lot of it comes with Christian [Olguin]'s help, if there is a decision that needs to be made, I'm able to decide what steps to best take," Jahlul said.
Jahlul joined freshman year and wants to do ROTC in college. She said isn't sure about her decision but sees the military in her future.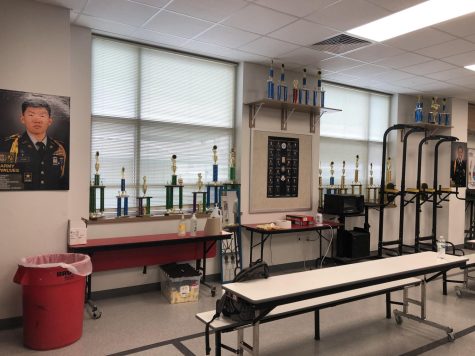 Senior and Battalion XO Christian Olguin, second in command, organizes staff meetings and ensures staff members are fulfilling their duties. He joined JROTC his freshman year as well and sees his club as one big unit.
"We're like a family," Olguin said.
Junior David Garcia Sanchez, an S5 PAO, takes photos, uploads newsletters to the JROTC website and is responsible for publicity.
Currently, JROTC's teams are gearing up for Army Nationals and High School Nationals on Apr. 14 in Daytona, Florida. At Nationals, teams complete an inspection where cadets are interrogated, which is followed by a synchronized march, then they show off their skills in a performance phase.
Leave a Comment