[NEWS-FEATURE BRIEF] Debaters reflect on state-wide tournament
The debate team sent two Public Forum teams and eight Congressional debaters to the TFA state tournament at Gregory Portland High School last Thursday. In order to qualify, each debater had to earn 10 points which they would collect at local tournaments and regional tournaments up until the end of February.
Though they had only two weeks to prepare, congressional debater and sophomore Michael Sheth, said he "was definitely more prepared than most people." Sheth said that he stayed up until 1 a.m. practicing his speeches and got only three hours of sleep the night before the tournament.
"Sleeping that little was an interesting experience because it was an odd combination of being extremely tired, but more focused, but also having this sort of mental lag where it took me longer to think of things," Sheth said. "Overall, it was bad, but also being up at 1 a.m. and doing work, I had a very interesting level of focus, like nothing was distracting."
Sheth said that his lack of sleep eventually came back to haunt him the next day as his thoughts began to blur from lethargy and he began to "falter in his speaking at the tournament."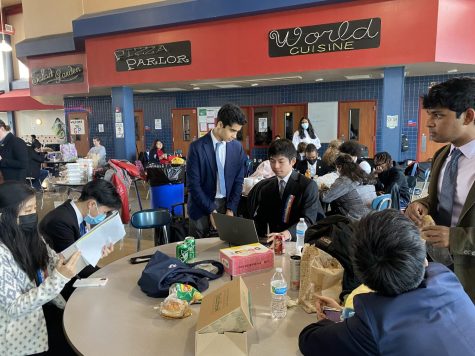 But Sheth said he still had some good moments in his round and overall, was very eager to compete at TFA State.
"I was eager, very excited," Sheth said. "I was excited to prepare for it, and surprisingly, I actually did. Even though I didn't do as well as I expected and made some stupid mistakes, I still had some high points in the round, like with my speech on whether or not Washington, DC should become a state. I think it was very well planned and very clear. Overall, I'm happy with what I learned, and am looking forward to next year."
For senior and Public Forum debater Milan Narayan, TFA state was his last tournament ever. Narayan said he is "grateful of how much debate has taught him since sixth grade. "
"Debate has helped me enrich my research skills, taught me to think on my feet and allowed me to craft and learn about issues and topics that affect people outside my bubble," Narayan said.
For Sheth, debate has taught him important communication skills, educated him on significant real-life topics, and allowed him to meet new people.
"Debate has helped me improve myself just as much as I have improved in debate," Sheth said. "If I can get the execution of my speeches on hold, continue working hard and practicing, I think there'll be some results."
At the end of his high school debate career, Narayan says he is happy about the time he's spent in debate. Though he's a little disappointed in how it went, Narayan said he is proud regardless of the results
"Though my partner, Aditya, and I lost in the octafinals (top 16), I truly believe we debated well enough to win the whole tournament," Narayan said. "Sometimes, small slip-ups or mistakes can lose you a round, and that's what happened to us."
For Sheth though, this was his first TFA state experience and only the start of his debate career.
"Honestly, it's about how I expected it to go," Sheth said. "I expected it to be harder, but it was not as insane as I thought. And, a lot of people beforehand were telling me how hard it was going to be. I think it wasn't as 'insanely hard' as most consider it to be, though it's still something to be extremely proud of."
Final Places:
Congress: 160 entries
Prelim Seeds (out of 160 debaters): Karis Chen (21), Mitsuki Jiang (41), Layla Campbell (63), Joshua Cheng (64), Theo Hunt (65), Yanke Wang (74), Yeong-En Andy Shen (110), Michael Sheth (123)
Public Forum: 76 entries
Speaker Awards (out of 152 debaters): Varun Manickan (33), Rayleigh Nam (36), Milan Narayan (37), Aditya Markan (60)
Final Places (out of 76 teams): Bellaire Aditya Markan & Milan Narayan (10), Bellaire Varun Manickam & Rayleigh Nam (21)
Leave a Comment