The fastest show in the world: student shares journey to becoming an F4 racer
Apr 7, 2022
He sits in the open-wheel race car with its distinct open cockpit and halo trying to extract the most from the machinery under him. The vibration of the tires against the track rattle the entire car, and the sound of the engine is a constant shriek against the howling wind. At any moment, the car could be pushed too far, too fast and careen right into the barriers.
Senior Preston Kimbrell lives for these moments. Whether in go-karts or single seat racers, Kimbrell often lives to push the limit. Nowhere is this more prevalent than in the world of Formula One.
As one of the staples of European culture, Formula One started to become increasingly prevalent in America. Formula One branched out with races in Miami and Austin, and the results speak for themselves. The 2021 Austin Grand Prix broke the Formula 1 record for largest attendance with 400,000 spectators.
Kimbrell's initial foray into the sport was through video games such as Need for Speed.
"I've always loved racing, like the need for speed games and going fast.When I was a kid, I loved the movie cars," Kimbrell said.
Kimbrell slowly became interested in karting, and said he quickly found a love for it.
"It mainly started out as an outlet, and then it turned into a hobby and then slowly a passion," Kimbrell said.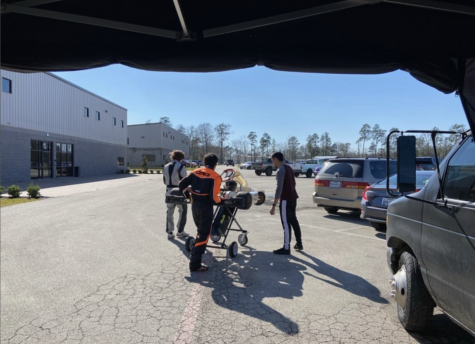 He is now working on driving faster machinery.
"I plan on spending a little time in the U.S. Formula 4 Championship. Then I'm going to be moving to Europe to do Formula 3," Kimbrell said.
One of the first steps in the process of becoming a professional driver is getting experience, and the Circuit of the Americas, just a few miles north of Austin, hosts both an F1 Grand Prix and its feeder series.
"When I raced in COTA, I think there were half a million people there on race day," Kimbrell said. "I could feel the heat from the crowd, it was crazy."
Having a friend in karting and motorsport can be nerve-wracking, especially while watching them hurl across a track at the limit.
"I'm glad Preston found something he really enjoys to do, just as long as he doesn't get injured," senior and friend of Kimbrell, Andrea Estrada said.
Making it into European motorsports requires a demanding training schedule.
"I do normal cardio to stay thin, racing regularly and working on abs, arms and legs," Kimbrell said. "For my racecraft, I am in my simulator for hours and on track for as long as I can."
The hours he puts in on the simulator are vital to his improvement as a racing driver.
"It helps keep me in sync, as well as improve race craft and car control," Kimbrell said. "Over COVID, I invested a lot of money and have gotten a lot better."
The simulator also provides a secondary benefit: the opportunity to make money by streaming racing games on Twitch.
"Once I started racing, I realized, 'yeah, I can also start streaming this and try to make some money," Kimbrell said.
Not only is the road to F1 filled with challenges, but every step of the ladder requires continuous financial backing.
"I am on the lookout for potential sponsors right now, and working on finding some solid support," Kimbrel said.
Motorsports is known for its exclusivity, but if someone is dedicated enough, they can reach any goal.
"Anybody can learn, put in the work, stop complaining and be consistent," Kimbrell said.
The American racing community continues to grow, and one of the movement's biggest driving forces is a Netflix TV show known as "Drive to Survive." The series is currently in its fourth season and has expanded the reach of the sport to anyone with a Netflix subscription.
"I think it's [Drive to Survive] adding to the growing popularity in America and kind of introducing more users to it," said sophomore Layla Campbell, a loyal fan of the Ferrari F1 team.
The TV show is not only introducing new fans into the sport, but also allowing new and old fans to fall in love with the different personalities around the paddock.
"I fell in love with the cars and the actual drivers themselves," Campbell said. "They all have really good attitudes and love what they do, and the cars are just beautiful."
Campbell said she thinks that it's not just the speed and exhilaration that entices people to join, but the worldwide community that has been created based on a shared passion.
"I would say overall it's a really cool thing to get into because you meet a lot of other people who are so into it and it's something you can just get really hype over," Campbell said.