'Bellaire does have talent, for sure'
Red Bird Productions holds auditions for Bellaire's Got Talent after three year hiatus
After three years, Red Bird Productions has returned with its annual talent show — Bellaire's Got Talent. Auditions took place during Cardinal Hour and after school on April 25 and 26.
President of Red Bird Productions and senior Abbie Hart said Bellaire's Got Talent illuminates everything RBP stands for in terms of inclusivity and uplifting students. Hart along with officers of Red Bird Productions judged the 23 audition acts.
"The last time we did BGT was prior to COVID, so it's been really interesting to see a completely new group of people come in with their talents," Hart said.
Seniors Jack Whitehead, Jason Beveridge and Nour Regalia, senior at DeBakey High School, performed the rock 'n' roll song "Layla" by Derek and the Dominos. Whitehead sang and played the piano while Beveridge and Regalia played the guitar. The trio worked on their part individually and met up the day before auditions to fix any issues.
"I first heard the song ['Layla'] when I was a freshman," Whitehead said. "I really liked old rock and roll stuff, so it was a lot of fun to play. For me the piano part isn't too bad, and the singing part isn't too bad either. I think there might be more stress on the guitarist because it's crazy. They played a lot of single notes really fast, so we all tried to stay together. That was the big goal."
For her audition, junior Emely Scott sang rhythm and blues song "It's So Hard to Say Goodbye to Yesterday" by Boyz II Men. A challenge for Scott was making sure she remembered the lyrics during her audition.
"As someone with very bad anxiety, it's not an easy thing, but I'm not going to let myself be sheltered," Scott said. "I love to sing, and I want people to see this gift that God gave me."
Scott said signing up for the auditions would be a good way to challenge herself. She said the audition helped her grow as a person and a singer.
"Sometimes you gotta push yourself out," Scott said. "You know how mother birds push their baby birds out the nest, sometimes you have to be that mother pushing her baby self out of the nest to learn to fly. I want to fly."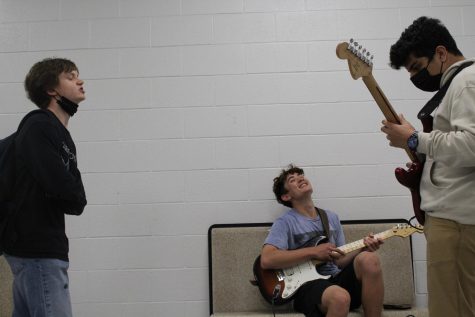 For Whitehead, auditions were also special since this is his senior year.
"I needed to get uncomfortable for a little bit because I don't really like doing stuff like this," Whitehead said. "It's also my senior year, so I wanted to have something to take with me to college."
Though she felt nervous, Scott said the judges were supportive.
"I was very anxious because I don't usually show my talent to people and this is my first time doing something like this," Scott said. "But they helped me, kind of gave me a pat on the back throughout it, so it's not as bad as I thought."
Junior Charles Truitt auditioned twice, first with a band and then as a solo bassist. For his solo audition, Truitt performed the jazz song "Teen Town" by Weather Report.
"I already auditioned with a few friends as a band, but the bass part in that was kind of boring, so I wanted to go for my own bass playing," Truitt siad. "I don't know if it's good enough to compete with the other musicians, but I hope people like it."
Although his solo auditions didn't go as planned, Truitt played alternative/indie song "Dean Town" by Vulfpeck as a backup song.
"I was just super nervous, and I messed up the opening, so it kind of spiraled from there," Truitt said. "The first one was a lot harder. The second one I think is going to be a crowd pleaser, they [the judges] seemed to like it."
The Bellaire's Got Talent final performance will take place on May 26 at 6:30 p.m.
"I think auditions went incredibly, and I'm so proud of Bellaire," Hart said. "Bellaire does have talent, for sure."
Leave a Comment