Cardinal Crafts Club makes sugar scrubs, donates profits to Ukrainian family in need
Members of Cardinal Crafts Club made sugar scrubs at the club's first meeting on April 14 in Room 2707 with the goal of donating all profits to a Ukrainian family in need. In total, the club made 19 sugar scrubs to sell, priced at $5 each and sold them the next Friday during Cardinal Hour at a table on Main Street.
"The best part was seeing everyone working together, making scrubs and eating them when the president wasn't looking," sophomore and club historian Vivian Jenman said. "I was taking pictures so I really got a whole view of everything. There were all the different stations from mixing to tying the bows with yarn and it was nice to watch it all come together."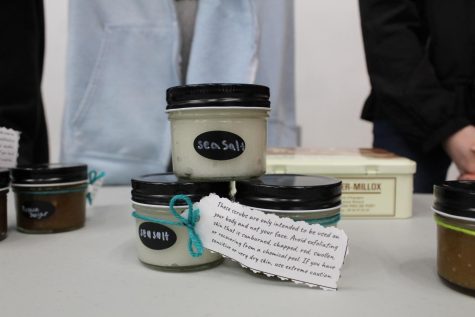 Members of the new club were invited to try their hands at making three types of sugar scrubs: brown sugar, sea salt, and honey. At the end of the meeting, the homemade scrubs were packaged neatly in glass jars, labeled with stickers, and tied with yarn. Sophomore and president Isabella Kincaid said that with Mother's Day around the corner, sugar scrubs would be a perfect gift to buy for students and teachers alike.
"We mostly sold to teachers and students that we knew," Kincaid said. "We set up the table, but we also sold through word of mouth and asking people if they wanted to buy."
AP World History teachers Ms. Kuhleman and Mr. Houle, Dean of Instruction Ms. Campbell and Mr. McDonough stopped by to purchase a scrub. Kincaid said that the scrubs were more difficult to sell to students, as most people would see the scrubs, make eye contact, and then walk away. Despite obstacles, the Cardinal Crafts Club managed to sell all their scrubs.
"Selling the last scrub was really amazing," sophomore and manager of marketing Nur Makdisi said. "It was like we actually accomplished something and raised money for a good cause."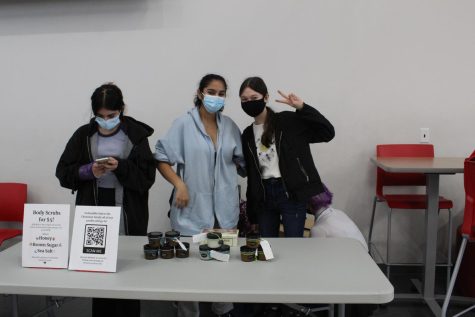 The profits of the sale will be going towards Kincaid's personal family friends in Ukraine. Kincaid's childhood friend's half sister moved to Ukraine a month before the war started, and her family fled the country hours before the border closed.
"They had just bought a new apartment, so they still had loans," Kincaid said. "After leaving Ukraine, they had to walk on foot for more than a day to get to other relatives. The husband of the family is still in Ukraine because no men are allowed to leave. Neither of them have jobs, and there's two young children, a four and a six year old."
Kincaid said she wanted to do something to help the family. Although the club had a rough patch when getting started, it was still able to raise around ninety dollars.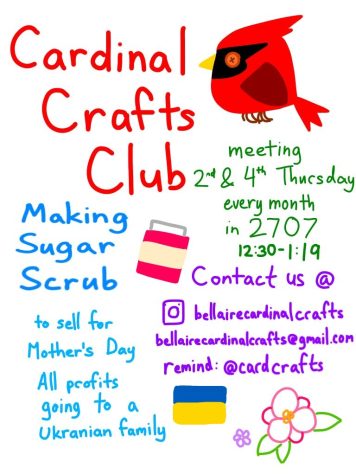 "Since the club was started so late, it was very difficult to find a sponsor since most teachers we knew had multiple clubs already," Makdisi said. "Thankfully, after two weeks of looking, Ms. Kuhleman agreed to be the club sponsor."
With the first meeting and event being a success, and AP exams right around the corner, Kincaid said the Cardinal Crafts Club has decided to take a break from planning new events for now.
"A lot of people are trying to study right now, and we don't want to distract them from that," Kincaid said. "Next year, we're thinking about teaching people how to crochet or knit – projects that will be more long term but still fun. Cardinal Crafts Club is a place where you can make crafts for a good cause."
To learn more about Cardinal Crafts Club, follow them on Instagram @bellairecardinalcrafts or join their Remind by texting @cardcrafts to 81010.
Leave a Comment