'It's our future': Students speak out for youth involvement in climate action
He gets out of bed and gets ready to go to Rice University.
Junior Varun Manickam attends the Houston Community Climate Summit for the first time.
Manickam, Houston Youth Climate Strike's political and research lead, has rehearsed his speech, taking place in a small lecture room at Glasscocks School of Continuing Studies. Until then, he has six hours to meet fellow climate activists and learn more about the movement in breakout rooms.
"My personal favorite part of the summit was seeing different individuals that can help provide opportunities for students like us," Manickam said. "Houston, unfortunately, is not the largest climate community and has the potential to be, but it's not there yet. I really want to preserve Houston the way it is."
Manickam walks down the pathway to the stage with his fellow HYCS members: senior Gargi Rakhade, junior Grace Cruz and senior Anika Shethia from St. Agnes Academy. Professors, college students and clean energy entrepreneurs were numbered among the audience.
"A lot of the time, the climate justice movements are usually run by adult groups," Cruz said. "Their whole thing is about bringing justice for the younger generations. However, they don't actually do it with us, they do it for us. And while it is really noble and really courageous that they do it for us, whenever they don't get us in there, it just defeats the purpose."
Cruz knows what the effects of climate change are like. The mild winters of Houston suddenly turned to freezing cold last year because of Winter Storm Uri, causing Cruz's house to lose power.
"We had to wait until it was really warm the next day so we could drive to someone else's house and we drove to my aunt's house," Cruz said. "My tia's house lost power too. So then, we all got cold again and then had to come back to my house. And then there were about 20 of us in my house on one of the days and our power was still out. But, we're all together trying to keep warm. So it was just like a fear of not knowing what was going to happen."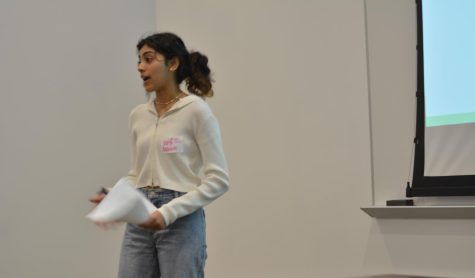 Rakhade's personal experiences dealing with climate change inspired her to pursue climate activism.
"Winter Storm Uri was really difficult," Rakhade said. "We, like most Houstonians, lost all of our power. It was really cold and we were not used to it at all. Our water wasn't working and it was like this for like, two or three days. And luckily, my family and I had the financial means to go and stay in a motel for a night, which wasn't ideal. Obviously, it's better than staying in a freezing cold house, but a lot of my friends, a lot of my neighbors didn't have the same opportunity that I did. It's just really sad to see that."
Last October, HYCS members rallied at Tranquility Park and marched to Chase Bank, HYCS's biggest target. Chase Bank is one of the most active fossil fuel funders in the world.
"We do something called 'Let's Talk Tuesdays' and different things like that, where we educate people on what's going on in a very nonbiased way," Cruz said. "We even did a curriculum for younger kids. That's something that I think is really important to me, and something that I hope that we can just build up over the next few years."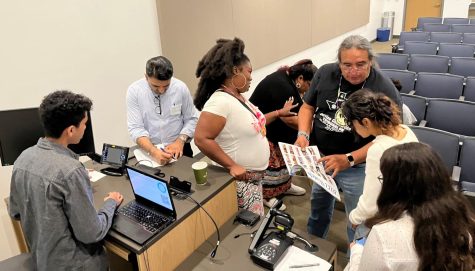 In order to further the climate change movement, Cruz decided to help educate kids on the climate crisis.
"We did a summer camp for fourth or fifth graders and it was to teach these kids about climate change in a way that wouldn't be boring," Cruz said. "We had arts and crafts and these kids were super, super excited to just come and learn about this. But at the same time, we were real with these kids on the fact that this isn't all like sunshine and rainbows. This is something that's very scary."
Now, at the Houston Community Climate Summit, the HYCS speakers use the platform to speak out to the predominantly adult climate community. They explained why youth involvement is so important and shared their experiences with climate anxiety.
"It's our future," Rakhade said. "You know, it's up to us. It's scary, but it's up to us to save the Earth. We're the people who are inheriting the Earth. We're the people going into the job force and we're the ones defining the future of the Earth and the future of other generations. It's our responsibility."
View Comments (1)