A new code: Bellaire's new computer science department
Bellaire welcomes two new computer science teachers
A powerlifting computer science teacher is in Room 1704.
New teacher Jose Trejo has lifted weights since he was 13 but began powerlifting as a freshman at the University of Houston-Downtown.
"I used to train for competitions when I was in college," Trejo said. "It was offered at my school at the time in college, so I joined the team."
With a personal best of 606 pounds, Trejo traveled to places like Las Vegas, San Antonio and even Illinois for powerlifting competitions. But he eventually decided to remain in Houston so he could pursue a career in teaching, though it was not a part of his original plan.
"I wanted to go into the software industry," Trejo said. "At first, I couldn't really get the opportunity, but over time, I just decided I like being a teacher. That's when I made that change to computer science."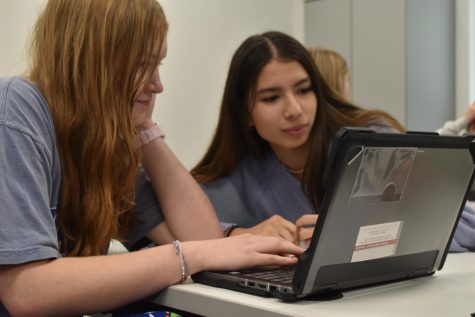 Trejo didn't start out as a computer science teacher. He used to teach mathematics at George I. Sanchez Charter School in southeast Houston before he eventually convinced the school's administration to add computer science classes.
"I've always enjoyed solving mathematical problems with computer science," Trejo said. "That's always been my area, combining those two."
Trejo's education reflects his love of both subjects. He earned a bachelor's degree in mathematics and is pursuing his master's in statistics with a specialization in big data.
"Graduate school is way more difficult," Trejo said. "You have much more stuff to do. It's more research. It's hard to balance graduate school, work and family time."
Though it may be difficult for Trejo to balance different aspects of his life, he's succeeded. Sophomore Amelie Rozowski developed a new point of view on computer science after becoming Trejo's student.
"He's a very helpful teacher who makes computer science interesting," Rozowksi said. "I honestly was not interested in taking the class initially. I was placed in it because my first choices were full but after a few weeks in the class, I got acclimated to the material and I started to enjoy it more."
Trejo is joined by Wesley Thomason in teaching the future of coding.
Thomason originally applied to Bellaire for an art teacher position. Now, he teaches AP Computer Science Principles and Computer Science Fundamentals.
"I just got a call out of the blue one day and [Bellaire] asked me if I wanted to do computer science." Thomason said.
Before Bellaire, Thomason's teaching career mostly consisted of teaching art classes. He taught at Alvin High School and James Bowie Middle School before switching to Outschool.com, a homeschooling service based in California.
"I was teaching 3D Modeling and Animation online," Thomason said. "Mostly Blender. Then there was some Photoshop and Illustrator."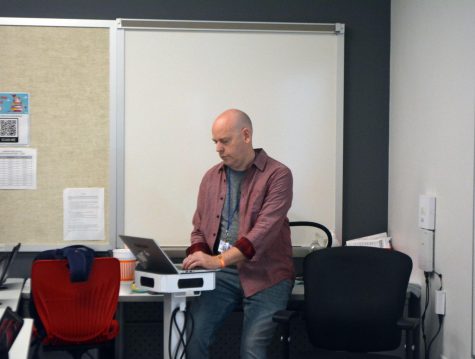 This sudden switch of subjects might have been unexpected, but Thomason is by no means new to the subject.
"All the jobs that I've had before I taught were more technical jobs: IT based jobs, blueprints for hospitals and things like that," Thomason said. "I just kind of decided one day to get a certification for computer science and just computers in general."
His familiarity of the job did help stop the hurdles when confronted with a new occupation.
"I like teaching computer science," Thomason said. "It's definitely challenging, but it's also very rewarding. And there's so much that students can do with it. I was told, when I was in high school, that I wasn't smart enough to take computer science by my counselors. Technically, it was true. I did kind of struggle when I was in high school."
A Houston native, Thomason attended Westbury High School in the 90s. Not only was Westbury Bellaire's rival at the time, the school contained a familiar face.
"Mr. McDonough, who was the principal here, was my algebra teacher," Thomason said. "I probably wouldn't have passed that class if he wasn't my teacher."
With nothing but praise for his old teacher, Thomason expressed his disappointment towards the fact he never got the chance to work with McDonough.
"He was very kind, very patient, very prepared," said Thomason. "It was very important to him that everyone in all of his classes could succeed. He would do anything to make sure that happened. I was really looking forward to seeing him and talking to him again."
Thomason might not be able to work with McDonough in news of the latter's retirement, but Thomason's students never fail to make the teacher love his job.
"I just enjoy how smart everyone is," Thomason said. "[I enjoy] being able to facilitate the more technical preparedness and fill in the gaps in guiding them."
Leave a Comment