Heirlooms, Youtube, history drive junior into Historical European Martial Arts
On the return home from her father's funeral in the Philippines, she unpacks a newspaper-wrapped package. Beneath the yellowing, flaky newspaper revealed a vintage Navy saber.
Covered in rust and grime, evidence of its 30-year mummification in newspaper.
She hands her son, Jerome Chen, the saber — a family heirloom commemorating the death of his grandfather, a former Navy soldier.
"I wasn't too close with my grandfather," Chen said. "But it was emotional for me to get his sword, which hasn't been taken out of the newspaper since he retired."
For Chen, the sword doesn't only symbolize his grandfather's legacy, but it's also a mirror that reflects the impact of many members in his family.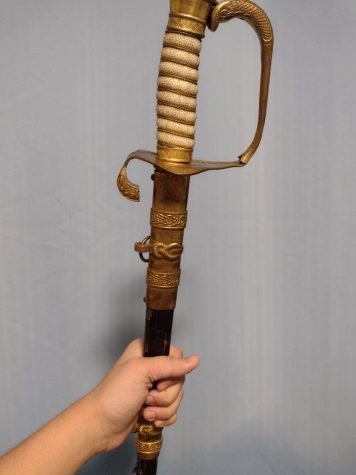 The pommel of the sword, a round fitting on the end of the handle, shows the rank of the Navy Marine. However, on his grandfather's sword, the pommel vanished.
"My mom and her brothers took it off and played with it a lot," Chen said. "Then it disappeared forever."
His grandfather's Navy saber doesn't stand as the only family heirloom that Chen has: he also received a recreation of a Chinese jian from his paternal grandfather. The sword originally came from a movie set in Taiwan. It has red jade and a brass handle embedded with a floral pattern.
"When I was really young, this sword was always hanging on the wall," Chen said. "It got me into weapons, but I never really practiced sword techniques. I was just knowledgeable about it."
That changed over the pandemic when his cousin gave him a wooden training sword, similar to the one hanging on the living room wall.
"I started practicing with this sword and getting more and more into it, " Chen said. "I know a lot more stuff now, mostly longsword fighting and spear techniques."
Chen's newfound interest in learning sword techniques coincided with his growing love for history.
With a lot of free time during the pandemic, Chen started getting into history and learning about the rise and fall of empires.
"Learning about history is cool because it's real life," Chen said. "It's really interesting because no one is the good guy or bad guy. Everyone's constantly evolving, and there are different factions all rotating and fighting each other."
According to Chen, his interest in weapons and history led him to discover Historical European Martial Arts.
HEMA encapsulates multitudes of European martial arts such as epee sword fighting, longsword fighting, spear techniques and Italian long swords.
Practitioners look at treatises and manuals created by old swordmasters, such as Fiore dei Liberi, to see how certain attacks are carried out and how different stances are demonstrated. Practitioners will also reenact different battles and have sword fights at Renaissance fairs and conventions.
HEMA competitions vary because the organization does not have a strict code that members follow. Meetups pop up anywhere a community forms.
"Competitions vary since everyone does whatever they want," Chen said. "Sometimes you fight for points or sometimes you only need one hit to win. Sometimes they're reenactments of huge battles with 100 people rushing at each other."
Chen's interest in history and fantasy Youtubers such as Shadiversity and Skallagrim also contributed to his passion for HEMA.
Apart from in-person reenactments, HEMA also encompasses a spirited online community that engages in historical debates. As a member of the YouTube and Reddit community, Chen frequents these online discussions.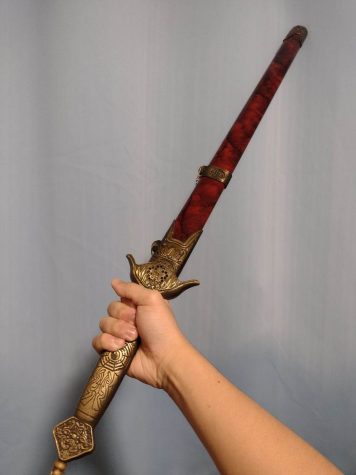 "We'll have discussions about Italian treatises from sword masters and argue over whether a certain treatise should be read this way or which master is better than the other," Chen said.
Despite their shared interest in historical armor and weapons, Chen says that there exists hypocrisy in some practitioners.
"There's a culture of bashing 'shinies' which is someone who spends $3,000 on shiny new armor," Chen said. "And then a guy who does not have $3,000 to spend on shiny new armor will try to put as big of a dent in it as he can. Many frown upon that because you'd think that people who love armor and swords would not attempt to smash in this shiny piece of equipment."
Chen plans on going to in-person HEMA meetups and competitions in the future, but at the moment, his lack of equipment and the price of armor holds him back.
"I would love to join competitions, but there are two things stopping me," Chen said. "Armor is expensive, and if I do get armor, I don't want to get it smashed up."
A helmet can range from $60 to $200. Breastplates can reach $500, and a non-fitted full suit of armor costs from $300 to $700. Despite the costs, Chen still looks to buy armor in the future.
"I'm thinking of getting a breastplate along with armor, like thigh guards and bracers," Chen said. "I also want a bunch of different helmets from different cultures and time periods because I love the history of the entire world from Africa, Asia, Europe and Native Americans."
Chen hopes to drum up more interest in HEMA at Bellaire and possibly start a HEMA club next year.
"You should take up HEMA because it's like sports," Chen said. "You can train your cardiovascular system, get stronger, increase your stamina and learn self defense. It offers all the benefits of exercise."
Junior Michael Sheth wants to join the prospective HEMA club.
"I really loved AP World History during my sophomore year," Sheth said. "I would definitely be interested in joining a HEMA club to further research European history."
Leave a Comment