Activism in and out of Bellaire: 'Everyone together makes an impact'
She knew something had to be done, but she didn't know how to go about it. This past summer, with nothing but a computer and a passion for activism, she began her mission to make a change. Since that pivotal day almost four months ago, senior Sarah Ding has been helping campaign for local candidates in preparation for state senate elections. 
"I'm on a state senator's campaign," Ding said. "I post on social media platforms like Twitter and Facebook to help to increase voter turnout and boost a candidate's following."
Despite some doubt with where to start, Ding opted to help any way she could. 
"I volunteered through Bluebonnet Data, and got started really easily," Ding said "No experience was required. If you're hesitant, just go for it, because before I did this, I knew nothing about politics."
Bluebonnet Data, founded in Texas, is a nonprofit organization that mobilizes students with knowledge of computers to volunteer their data skills for Democratic campaigns.
Ding emphasizes the importance of getting involved in the political scene, especially in swing states like Texas. 
"It's time for change," Ding said. "I really want to support the Democratic candidates to help turn the swing states blue."
Although most states tend to vote along party lines, swing states are subject to be won by either the Democratic or Republican parties in statewide and national elections. These states, as seen in the 2020 presidential election, can be crucial tipping points, and can even determine an election's outcome. Also known as battleground states, they are the main sites of campaigning, as competing candidates focus most of their time, attention, and resources trying to sway party allegiance.
Ding isn't the only one working to turn Texas blue. This past year, Junior Grace Cruz decided to throw her support behind Beto O'Rourke, who is currently running against an incumbent Greg Abbott for Governor of Texas. In addition to attending protests, Cruz wrote letters for his campaign.
Letter writing is an important part of campaigning to inform the general public about candidates and their stances.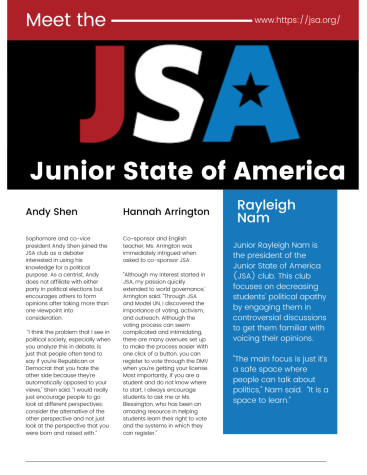 "In my letters I would explain who Beto is, and then I would put why I think you should vote for him," Cruz said. "I explained that I wanted my vote to go towards him because of the things that he's doing in our community for minorities."
Since Cruz and O'Rouke share common views on the environment, Cruz got involved in helping O'Rourke.
"O'Rourke is really interested in keeping up the environmental policies and working towards a greater environment and a greener world," Cruz said. "I support him because he believes in the stuff that I believe in."
For some people however, passion for political activism can start in unexpected places. Senior Owen Bell's journey began on a bus ride; with the yearn to learn coming from having a sister in debate.
"I got politically active last year because I had a lot of free time," Bell said. "I downloaded a news app and just went from there."
From working as a poll worker last year at the Linkwood Community Center in Houston, Bell developed a deeper understanding of politics. He now finds himself partaking in debates or conversations about the topic on a more in-depth level.
"Simply put, being politically active is such a blessing," Bell said. "I find debating and sharing ideas a lot of fun, and being politically knowledgeable makes my arguments stronger and lets me understand more perspectives."
While Bell himself remains unable to vote due to age restrictions, he strongly encourages others around him to do so, giving them a chance to improve the state of their country.
"Voting is such a fundamental process for a democracy, and I think a lot of people take that for granted because they don't think [their vote] will do anything," Bell said. "But everyone together makes an impact. You should care about voting because it's your best way of making your life and government better."
Leave a Comment