Teach for the stars
Former NASA employee begins his teaching journey
Another day passed.
The Gulf War continued in Saudi Arabia.
As night time approached, he gazed up at the sky. Stars radiated like beacons above him. A lifelong interest turned into a burning passion.
Ex-Marine and former NASA employee Stephen Shadle is a student-teacher helping astronomy and physics teacher Jimmy Newland teach this year.
"I have always wanted to become a teacher, but they don't pay well," Shadle said.
After his retirement, Shadle could finally follow one of his lifelong passions for teaching.
"Because I've retired now and I have a retirement pension, I feel like I'm finally able to pursue what I've always wanted to do," Shadle said.
As a student-teacher, Shadle prepares his own lessons and leads the class on his teaching days while Newland watches. During these days, he experiences what it's like to be a teacher and receives advice from Newland.
"Having someone in the classroom who knows the content very well makes it easier to make sure I'm doing it right," Newland said. "It's making the students more interested and he's interested in the same things so it makes the class more exciting."
One experience that has always inspired Shadle to learn and teach about astronomy was his deployment as a Marine in the Gulf War. In Saudi Arabia, Shadle would spend his nights observing the stars in the sky with the other Marines.
"In Saudi Arabia, we were very far from the city lights with very dark skies," Shadle said. "So every night, I would look for Orion. Pretty much every day that I was stationed in Saudi Arabia I would look for something in the night sky, so astronomy has always been a passion of mine."
Even before his time as a Marine, Shadle always enjoyed learning about astronomy and physics.
"I've always been a fan of astronomy and I was lucky enough to take astronomy in high school, which is not offered in every school," Shadle said. "So I'm very glad that it's at Bellaire, and I was really happy that I had it at my high school."
After the Marines, Shadle attended Texas A&M University and majored in computer science as an undergraduate. He then went to graduate school for his master's degree in physics. In college, Shadle said he learned valuable lessons that inspired his teaching style.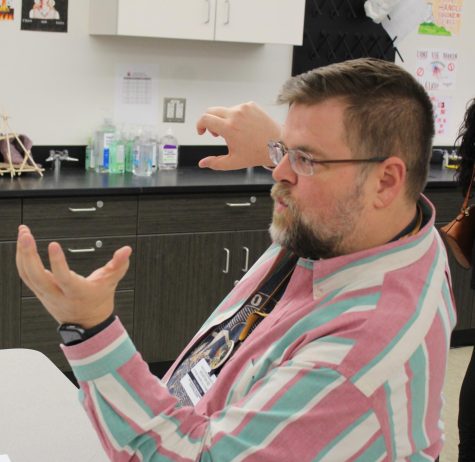 "My teachers would go through some math or physics topics, and they would show work examples for the class," Shadle said. "But every once in a while, I would find that they made a math error. I would point this out to them, and I never got the impression that they were mad or annoyed."
Shadle replicates this attitude when he teaches his students.
"If somebody catches me making a math error, it's a very positive thing," Shadle said. "It doesn't hurt my feelings. It doesn't embarrass me because everybody makes mistakes. So if they're paying enough attention, I'm very happy to be caught making mistakes."
After college, Shadle joined NASA for two years testing flight and landing simulations.
"I would go into the simulators on off hours when the actual astronaut crew weren't training," Shadle said. "I would essentially fly the missions. I would deploy a payload somewhere, or I would land at some contingency airport in Guam because we were trying to make a change to the software and I would test the simulation to make sure it did that."
During class, Shadle has used a similar style of interactive lessons to help students visually understand a concept. Junior Akshay Kapur said he enjoys Shadle's style of teaching because it provides a different perspective from Newland's lessons.
"I remember learning about ellipses in Pre-Cal last year but not really understanding what was going on," Kapur said. "But with Shadle's explanation, I understood how we made the ellipse and why the orbits are ellipses."
After completing his student teaching, Shadle hopes to work at a high school or community college.
"To me, 11th and 12th grade is the sweet spot between students who don't know how to do this stuff yet, but they're excited and have just the right amount of skills to start learning how to do it," Shadle said. "I really want students that are just about ready for the material that I'm challenging them with, without it being too crazy hard or too simplistic."
As Shadle works to become a full-time teacher, he said he is excited to start a new career and continue to follow his passions.
"If you find yourself hating what you do, hating what you study, or if you know that something is not for you, listen to those thoughts," Shadle said. "I've always wanted to student-teach here at HISD, so I'm very happy to be here. I'm very lucky to be here."
View Comments (1)