Teacher by day, student by night
Hosting star parties with the Astronomy Club. Helping students with NASA internship applications. Sponsoring three clubs that encourage students to work in STEM.
Now add to the mix working on a Ph.D.
Meet IB Astronomy and AP Physics teacher Jimmy Newland.
After joining the Bellaire community in 1996, Newland's jobs have ranged from teaching computer science to being an IT director to finally becoming the AP Physics and IB Astronomy teacher. During the 27 years, Newland witnessed development from the classroom to the student body.
"The demographics of the [classroom] have changed [since I first taught here]," Newland said. "I would say the classroom has become more inclusive in our AP and IB courses [in which] they do not reflect our demographics, and I'm excited to see that it's not all one kind of student or just a couple of different kinds of student, but also the minority of the students' demographic."
His passion for physics and astronomy was sparked after he watched an episode of Cosmos, hosted by Carl Sagan, at the age of eight.
"It explained how the universe and galaxies have evolved after the formation of our solar system, and I was immediately transfixed," Newland said. "It was weird. It was zany. It was emotional. I was drawn to all of those things immediately and so at eight years old, I [thought to myself] I'm going to be a scientist, I want to do astronomy, and that became from that day to this day."
Newland pursued his strong passion for science by getting his Bachelor in Science from the University of Houston but said he was soon overwhelmed by the prospect of continuing school.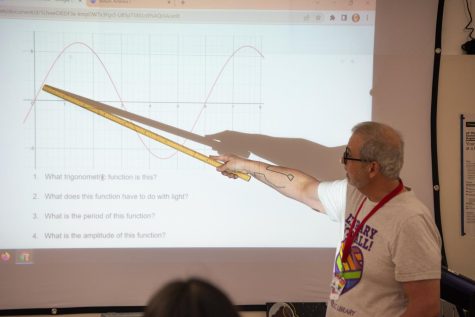 "I became a science major thinking that's what I wanted to do," Newland said,  "I got sort of derailed in 1995. I was sick of school and I was just really, really tired. So I went over and visited the University of Houston Education Department, [afterward] I thought, maybe I should try this, it's a job I could do and I ended up switching from the Physics Department to Education Department." 
Yet, the thought of attending graduate school was a lingering thought in the back of Newland's mind. But while juggling job prospects and parental duties, it remained just an idea.
"The idea of graduate school was there in my head," Newland said.  "Then my oldest made it out of school, and I thought, 'I'm going to do this', so I went to graduate school. I looked for something that would allow me to teach and do research."
Newland set out on his Ph.D. journey in 2019. His dissertation aims to research students using computer programming to build models of things like motion and forces to positively impact physics learning. He has been working to find a new way to approach the field of physics by incorporating computational thinking and is interested in studying how students feel about computer science being incorporated into daily lessons. 
"I knew I wanted to study the relationship between computers and physics because that had been a thing I've been doing here and astronomy," Newland said. "So [classes] become the forefront and the graduate degree has been afterward, but I've really enjoyed the research aspect that I'm doing now." 
The COVID-19 pandemic revealed an additional difficulty for Newland to face as he continued to grapple with his responsibilities as a teacher and a student.
"The juiciest and nastiest years of the pandemic, not only was that bad as a teacher of Bellaire, but being a grad student, it was awful," Newland said. "[Now] I think I'm in a good place, but my big deal with this graduate degree is that I can't let it get in the way of teaching."
Newland said he was inspired to adapt his time-management skills because the novel addition of his graduate research clashed with his full-time job as a teacher and his four to nine-hour graduate classes per semester.
"You have to plan, you have to stay structured," Newland said. "I am a teacher and part of a family; I make time for each, and all three of them have their own space. I try to keep them from interfering with each other. And it's very hard. It's a wear and tear on my mental health. So, I schedule my days extraordinarily heavily. My weekends are scheduled, my classes are scheduled."
Starting his pursuit of a Ph.D. changed many things, especially his teaching methods. Newland said he applies his graduate-school knowledge of computer science and current events to his teaching. 
"When it comes to education and all the other subjects, there's a lot of research, but for computer science, it's cutting edge," Newland said. "There's so much new stuff; how to do it, why to do it, when to do it." 
For this reason, Newland made it his mission not only to advance his Ph.D. in the applications of computational thinking but to aim to create a diverse community within his classroom to deliver his expertise.
"There are a lot of barriers for black people and women doing STEM, and it's being persistent, finding a good community and keeping your eye on the prize, knowing that it's what you want to do," Newland said. "And fighting through the discouragement, it is part of the culture that [people] still have to work against. We have to take the [barriers] down constantly."
Junior Jingyu Wu, a student in Newland's AP Physics C class, said her experience in the classroom has always been positive and engaging.
"Mr. Newland is a pretty funny teacher," Wu said. "Even though physics is so hard to understand, he always uses simple language and jokes to let us understand the concepts."
Similarly, senior Samantha Lee, a student in Newland's IB Astronomy class, said she finds Mr. Newland's class to be the highlight of her day. 
"Mr. Newland is super passionate about science and astronomy which makes his class exciting and interesting," Lee said. "His class is very engaging because he encourages us to seek out astronomy beyond the classroom, like the star parties he hosts. I always look forward to the [Astronomy Picture of the Day] he shows us at the beginning of each class."
Leave a Comment