Marching to success
Mighty Cardinal Band receives perfect scores this pre-UIL season
Anticipation surges amongst every section at the Delmar Stadium.
A sea of Cardinal red, clutching their instruments close, stands ready for command.
Holding their instruments high, they take a deep breath as the countdown commences.
Playing a custom piece, Thrones arranged by John Fannin, the 75 members are second to last to perform at the HISD Festival Contest on Oct. 10.
Later, bodies are huddled together after the all-day event, anxious to receive their scores.
Cheers ripple through the crowd as assistant band director Jafedh Martinez announces the perfect scores this pre-UIL season: straight 1's.
"The feeling you get when you realize that all of the energy you've put into something finally paid off is one of the best feelings in the whole world," sophomore saxophone player Elijah Johnson said.
Beginning on Aug 1, 8 a.m., the Mighty Cardinal Band practices every day for this moment. Ranging from five to nine hours Monday through Friday a month before school starts, the band undergoes intensive training.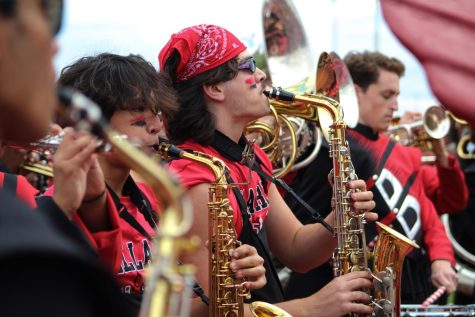 When school starts, the band attends every football game, adding up to nine total games this season. During practice at Pin Oak Middle School's football field after school, students go through drills over marching fundamentals and performance rehearsals for two hours.
"Two hours doesn't sound like a lot, but you do a lot within those two hours," Cadena said.
"Repetition, do full show, water, full show, water," junior and head drum major Sophia Duran said. "That would go on from 4:30 p.m. till 6:30 p.m."
Receiving awards is just one part of  band. Band director William Waltemath said attending football games is one of the most essential aspects of the high school band experience.
"I think that that's a very important part of our job," Waltemath said. "Matter of fact, I'd put that above any marching contest. We purposefully make sure we're at every single game to be part of the community; we'll play for the Belles, play for the football team and do our part for the Bellaire family."
Weekly football games transform a free Thursday, Friday or Saturday into a packed schedule. For a game at the end of the school week, members leave their sixth or seventh period to arrive on time. During the weekend, a game day entails an early start with the band expected to get to Bellaire by around 8 a.m. in order to practice before their performance.
"I feel like it's very time-consuming sometimes," freshman Valeria Flores said. "It is very stressful when it comes to after school being on the field and not being able to do your homework."
With challenges encompassing the heat during practices and the lack of time to complete homework, there is still a balance of work and play. Before a football game, the band hangs out at the Galleria Mall to eat, ice skate and relax before loading the bus.
"Bus rides there are what I imagine football players do," Duran said."Listening to loud music and hyping each other up so we can have a pumped game."
Once at the stadium, the band's excitement builds up.
"Football games are a blast," president Nina Wallach said. "We are cheering, playing and dancing in the stands."
Along with the exhilarating moments of fun on the field, the band also offers a close-knit community.
"In a lot of ways, band saved me," Johnson said. "I couldn't ask for a better group of people to hang out with and share experiences with on a day-to-day basis."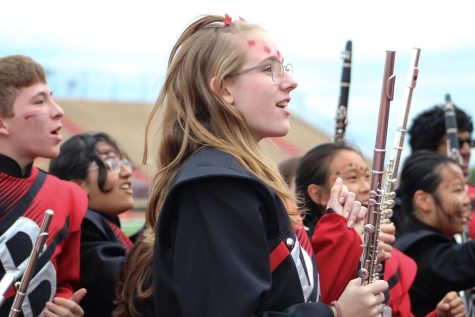 Sophomore Samuel Deng thinks of the band as more than just a school organization.
"The community of the band is really like a family," Deng said. "We're a family band."
Waltemath said by spending time with each other, the band members acquire opportunities to lead and communicate as a team.
"I don't think it changes the world if you know how to finger an E-flat on a flute or make a great sound on a tuba," Waltemath said. "What kids get the most value in being in a team environment of any kind is learning how to work together as human beings and how to uplift each other and work through adversity.
The time the band spends together develops strong relationships between not only the students but between them and Waltemath as well.
"Weirdly enough, the thing I enjoy most about this job working with kiddos has nothing to do with music or the instruments. My favorite part about being the band director is getting to watch the kids grow over the many years," Waltemath said. "They're my kids."
Along with the hours of hard work, members also gain many lessons and memories from the band. Duran feels that tackling hardships, developing teamwork skills and delivering performances are what the Bellaire Mighty Cardinal Band is all about.
"I wouldn't trade the band for anything else," Duran said.
View Comments(1)